Advertisement

In a 2006 speech Cambodian Prime Minister Hun Sen praised China, saying that 'China talks less but does a lot'. China is certainly doing a lot in Cambodia, becoming the country's largest aid donor and source of foreign investment. Between 1994 and 2013, Chinese investment in Cambodia was about US$10 billion, focused mainly on agriculture, mining, infrastructure projects, hydro-power dams and garment production. Since 1992, China has also provided around $3 billion in concessional loans and grants to Cambodia.
China's policy of 'non-interference in domestic affairs' means that it offers assistance without conditions being placed on democratic reform, human rights or environmental protection. China has never talked about, let alone been critical of, human rights issues or elections in Cambodia. This gesture has garnered appreciation from Cambodia's government.
Unlike that of the United States and other western donors, Chinese aid is primarily allocated directly to the Cambodian government and usually does not carry requirements to report development results. Unsurprisingly, it has been argued that Chinese aid is not transparent and there is no standard operating procedure regarding its disbursement.
China's current approach to development with Cambodia offers opportunities, but also entails some risks for Cambodian foreign relations and development policy. As claimed by the Cambodian government, Chinese aid and investment is important for social and economic development. They present it as coming without conditions, helping develop the Cambodian economy while enabling Cambodia to maintain sovereignty and pursue an independent foreign policy on the international stage.
China's Role in Cambodia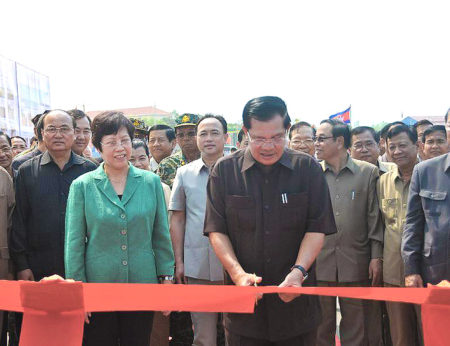 But the rapid growth in Sino–Cambodia relations over the past decade has heightened trepidation about China's actual role in Cambodia. It has been argued that Cambodia's overdependence on China has been significant in shaping Cambodia's foreign policy, current and future reform agendas, its political system and relations abroad.
Chinese aid provides an opportunity for Cambodia to dodge the efforts of the international community, in particular the United States, to get Cambodia on the right track for democracy, good governance, and human rights, since Cambodia can ultimately turn to China when it disagrees with these initiatives.
The recent harassment of Cambodian opposition figures illustrates the ineffectiveness of Western attempts to exert leverage by making aid contingent upon human rights. In response to European politicians' calls to cut EU aid after the regime's crackdown on its political opposition, Prime Minister Hun Sen warned foreign donors that 'you threaten to cut off aid, please cut it … the ones who die first are the nongovernmental organisations. The aid is never injected into the government … It's only injected to NGOs.'
Excessive dependence on China has also placed Cambodian foreign policy firmly under China's influence. During a meeting between Chinese and Asean ministers over the South China Sea in June 2016, Cambodia joined two other Asean nations in refusing to endorse a joint statement criticising China for its construction of military installations in contentious areas in the South China Sea.
This dynamic was similarly evident in 2012 when Cambodia used its chairmanship of Asean to back China in the South China Sea dispute, an action with the potential to seriously hinder Asean unity. During her visit to Cambodia in November 2010, then secretary of state Hillary Clinton cautioned Cambodia that 'you don't want to get too dependent on any one country'.
Similarly, because of China's influence, Cambodia is reluctant to strongly criticise or protest environmental issues resulting from Chinese policies. Chinese dam building on the upper Mekong River is being tolerated despite potential environmental devastation affecting millions of Cambodians who depend on this water for drinking, irrigation, fishing and sediments that naturally fertilise the land — in short for their food, water, sanitation and, in many instances, their income.
While traditional donors have been the strongest supporters of democratisation and sustainable development, China has been the strongest supporter for developing infrastructure such as roads, bridges and public buildings — without attaching conditions. The country needs both development assistance models from China and Western donors as the two development approaches align with Cambodia's national development goals.
Improved governance, respect for human rights and the rule of law and democratic reforms can and do contribute to economic development. The key strategic interest for Cambodia is that its engagement with donors can both deliver infrastructure and the protect human rights and the rule of law. Both Western and Chinese approaches have their benefits. Cambodia's task is to balance the benefits and obligations of both.
Similarly, Cambodia must continue to see the value in engaging regional entities. Cambodia's long-term interests lie in engaging with regional initiatives like Asean, and working to harmonise foreign relations as far as possible with countries in the region. Refusing to accept constructive criticism from the international community is a risky strategy, which may lead Cambodia to become overly dependent on the priorities of its biggest aid benefactor.
This article is written by Veasna Var, a PhD candidate in Political and International Studies at the University of New South Wales at the Australian Defence Force Academy (ADFA), Canberra. It is first appeared on East Asia Forum under a Creative Commons licence and is produced here with its permission.
Related: 
The following two tabs change content below.

East Asia Forum is a platform for analysis and research on politics, economics, business, law, security, international relations and society relevant to public policy, centred on the Asia Pacific region.
It consists of an online publication and a quarterly magazine, East Asia Forum Quarterly, which aim to provide clear and original analysis from the leading minds in the region and beyond.

Latest posts by East Asia Forum (see all)