Advertisement

The situation in the South China Sea continues to deteriorate — military tensions are rising, Southeast Asian states are losing space to exercise their rights, fisheries are sliding closer to collapse and China is undermining its goal of regional and global leadership.
Facing regular coercion, China's neighbours are growing increasingly disillusioned about its long-term intentions and, alongside international partners, are strengthening their objections to Beijing's claims.
China significantly increased its coast guard patrols and military exercises in disputed waters from 2020, while the dangerous harassment of Southeast Asian oil and gas operations by Chinese law enforcement and retaliatory seabed surveys became the new normal.
Then in January 2021, Beijing passed a law strengthening the China Coast Guard's (CCG) authority to enforce maritime claims, by force if necessary.
The law may be ambiguous, but its tough language and vast scope has raised anxieties.
China militia swarms Philippine reef
In March, the Philippines reported more than 220 Chinese maritime militia vessels gathered at Whitsun Reef in the disputed Union Banks.
The Philippine Coast Guard conducted several patrols to the reef and the government released photos and video of the militia flotilla. Vietnam soon did the same.
The embarrassment and diplomatic tension got Beijing's attention and it temporarily dispersed the fleet to other nearby reefs.
But the militia boats returned and by October their numbers were approaching 200.
Chinese harasses Malaysia oil and gas
The oil and gas standoffs that have been routine since 2019 also continue. In June 2021, CCG vessels began patrolling around Malaysian drilling operations in the Kasawari gas field off Sarawak, targeting offshore supply vessels.
Chinese military planes simultaneously patrolled near Malaysian air space, prompting Kuala Lumpur to scramble jets and issue a diplomatic protest.
In September, China seemed to retaliate against a drilling operation by conducting a seabed survey on Malaysia's continental shelf.
China pushes Indonesia over oil
In July, China and Indonesia got into their first real spat over hydrocarbons when an Indonesian-licensed rig began drilling two appraisal wells in the country's Tuna block at the southern edge of the South China Sea.
CCG vessels patrolled around the rig for the next four months. China also deployed a survey ship with a CCG escort to conduct a seabed survey of Indonesia's continental shelf — carefully tracing the edge of China's 'nine-dash line' — as Indonesian Navy vessels shadowed it.
Philippine supply ship attacked
A dangerous incident took place in November when China turned high-pressure water cannons on a civilian ship resupplying Philippine troops on Second Thomas Shoal.
The outcry from Manila — and US and European officials — was swift. China didn't interfere with a second resupply attempt a week later.
This occurred just as candidates for the 2022 Philippine presidential elections were being finalised. Predictably, most hurriedly promised a tough stance on China.
Rising regional pushback to China's bullying
This steady stream of bad behaviour is galvanising the region. For the first time since 2016, most Southeast Asian claimants and a chorus of international partners agree that China's behaviour is destabilising and are voicing those concerns. They are also increasingly open to greater cooperation to strengthen their positions and push back.
This shift is most evident in the Philippines.
In July, Philippine President Rodrigo Duterte decided to cease abrogating the US–Philippines Visiting Forces Agreement. Both countries subsequently agreed to develop a 'bilateral maritime framework' and resume construction projects under the long-stalled 2014 Enhanced Defense Cooperation Agreement (EDCA), which allows the US to access and upgrade select Philippine military bases.
In November, they held their first Bilateral Strategic Dialogue in two years and announced plans to develop bilateral defence guidelines and conclude a General Security of Military Information Agreement (GSMIA). The Philippines has also stepped up patrols in the South China Sea and intends to deploy Coast Guard vessels to Thitu Island in the Spratlys.
The most important question for the South China Sea in 2022 is whether the turnaround in Philippine foreign policy will continue after the mid-year presidential transition.
The US and Philippine defence establishments will try to lock in the recent alliance gains, with the United States already rapidly dispersing construction funds for the EDCA sites. Further high-level visits are likely as Washington seeks to prove that it is serious about forging a more robust and equitable alliance.
Malaysia is also stiffening its resolve following Chinese coercion and seems committed to sticking with its offshore energy plans, despite increasing pressure from Beijing.
Foreign Minister Saifuddin Abdullah admitted that Malaysia expects China's harassment to continue as long as the operations at Kasawari go on, but committed to persevere.
Responding to Chinese harassment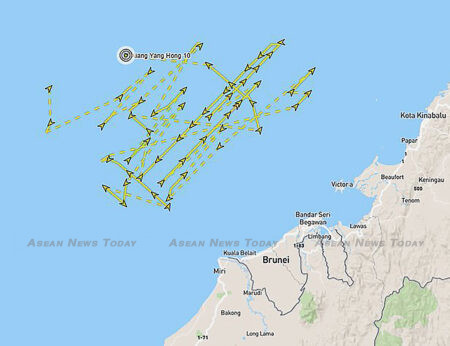 In Indonesia, the Maritime Security Agency (Badan Keamanan Laut Republik Indonesia) declared the completion of the Tuna block drilling a 'victory' over China.
Agency chief Aan Kurnia has invited counterparts from Brunei, Malaysia, the Philippines, Singapore and Vietnam to meet in Indonesia to share notes on responding to Chinese harassment.
It is not hard to imagine other meetings among Southeast Asian claimants seeking common cause in the year ahead.
Such a minilateral effort outside of the Asean umbrella has not occurred since 2015, when the foreign ministers of Malaysia, the Philippines, and Vietnam held two meetings on the South China Sea.
Then, as now, Southeast Asian claimants were anxious about China and disillusioned with the stalled China–Asean  code of conduct process. Philippine Secretary of Foreign Affairs, Teodoro Locsin, recently summed up the current mood, lamenting that the negotiations 'went nowhere'.
That isn't going to change in 2022. Instead, China's tactics will continue to drive claimants towards hedging behaviour — and in some cases alignment with the United States and other outside powers — that Beijing seeks to prevent.
This article was written by Gregory B Poling, a Senior Fellow for Southeast Asia and Director of the Asia Maritime Transparency Initiative at the Center for Strategic and International Studies (CSIS), Washington, DC..
It was first published on East Asia Forum under a Creative Commons license as Beijing's self-sabotage in the South China Sea and is reproduced here with its permission.
Feature photo China Military (File)

Related: 
Opinion: China Squeezes Indonesia's Offshore Claims in S. China Sea (The Maritime Executive)
China's South China Sea actions faces counter reactions from international community (The Economic Times)
Time for Asean to stand up for itself in the South China Sea (Asean News Today)
China flexes muscles in South China Sea as world battles pandemic (Asean News Today)
The following two tabs change content below.

East Asia Forum is a platform for analysis and research on politics, economics, business, law, security, international relations and society relevant to public policy, centred on the Asia Pacific region.
It consists of an online publication and a quarterly magazine, East Asia Forum Quarterly, which aim to provide clear and original analysis from the leading minds in the region and beyond.

Latest posts by East Asia Forum (see all)