Advertisement

It's been more than a decade since a heritage strain of jasmine rice propelled Cambodia into the international spotlight, being judged the best rice in the world for three consecutive years. The entry of Cambodian IBIS Rice to the UK market means health conscious consumers there can now not only look after their own well-being, but also that of the planet and one of its critically endangered species.
Available initially through organic online retailers Planet Organic and Fodabox, the IBIS Rice product range comprises organic white and brown jasmine rice in 500gm (about 1.1 lb) and 1kg (2.2lbs) packs, in addition to IBIS' organic jasmine rice cakes.
Wildlife-Friendly Farmers programme
In even better news for consumers, a quick check by Asean News Today found that despite the premium price paid to Cambodian farmers, the finished product retails at prices that are more than competitive with quality organic jasmine rice from other origins, without the added environmental benefits delivered by the unique IBIS Rice Wildlife-Friendly Farmers® programme.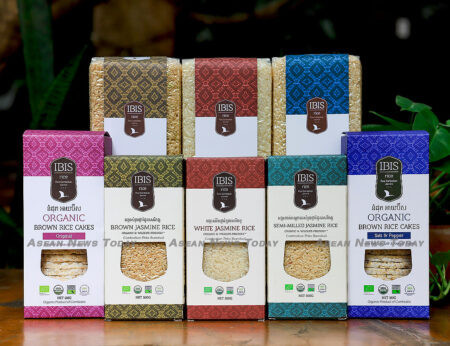 IBIS Rice began its journey to the plates of Cambodian and global consumers more than a decade ago with a bold and ambitious idea. Get Cambodian rice farmers to abandon the use of fertilisers and pesticides to protect declining numbers of a national symbol and its nearby habitat, by purchasing their rice at a premium, provided they adhered to stringent rules.
The expansion of sales into the UK is evidence of the project's success, and follows earlier ventures into Singapore and Hong Kong. 
Conceived by the Wildlife Conservation Society and supported by the Cambodian government, the IBIS Rice Wildlife-Friendly Farmers programme is exceeding the goals it originally set out to achieve. The number of critically endangered Giant Ibis, Cambodia's national bird, is increasing; farmer income, living standards, and health have improved and continue to do so; with the combined effort protecting some of Cambodia's most diverse and fragile wildlife sanctuary ecosystems.
But wait, there's more. The stringent rules applied by the IBIS Rice Wildlife-Friendly Farmers programme is also helping reduce greenhouse gas output and the amount of airborne particles generated from traditional slash and burn farming methods, with all post-harvest field residue removed and used for fodder or compost.
No poaching, encroaching, or chemicals
Nicholas Spencer, IBIS Rice CEO, told Asean News Today, that in addition to using 100 per cent organic methods, the 1,800 farmers participating in the project must also commit to abstain from poaching, or encroaching into the protected forests in order to grow more rice.
The programme effectively turns 1,800 farmers and their families into guardians of some 500,000 hectares (1.235  mln acres) of remote national park and more than 50 threatened and endangered species in an area traditionally plied by loggers and poachers.
To ensure compliance a network of community groups, agronomists, conservationists, biologists and international auditors using tools as varied as community-reporting to satellite imagery are deployed throughout the rice harvest cycle, with all IBIS rice subject to a robust and comprehensive monitoring and international standard certification processes.
"We want to become the best known and most loved organic rice brand in the UK and in doing so take our customers on a journey to deliver a bright future for the people and wildlife of Cambodia's Northern plains", said Mr Spencer, adding, "we are launching with partners that share our passion and vision, which is really important to us".
Mr Spencer said that because the area where the rice is grown has no irrigation and relies on rain water, it is only possible for the farmers to raise one crop per year. Nevertheless some 1,500 metric tonnes (about 1,653 short tons) was purchased from the 2021 harvest, with farmers receiving a premium of 70 per cent above market rates at the time.
Mr Spencer said "there is growing consumer awareness in the UK around how food production impacts our environment and we are seeing retailers and consumers making choices to reduce those impacts.
"We see IBIS Rice as a way for consumers not just to reduce negative impact but participate in real solutions for conservation. Our model also proves that food makers can create a lasting impact without compromising quality, producing the best food without depleting the environment", he added.
The cycle of IBIS Rice
The Cycle of IBIS Rice | Episode 1 : A Farmer's Roots រឿងរ៉ាវរបស់កសិករ
Video by IBIS Rice

The Cycle of IBIS Rice | Episode 2 : Protect the Fields, Care for the Life – រក្សាស្រែថែជីវិត
Video by IBIS Rice

The Cycle of IBIS Rice | Episode 3 : The Harvest – រដូវច្រូតកាត់
Video by IBIS Rice

The Cycle of IBIS Rice | Episode 4 : Harvest Reflections – ការឆ្លុះបញ្ចាំងលើការប្រមូលផល
Video by IBIS Rice
Feature video IBIS Rice
Related: