Advertisement

As citizens and public health professionals globally increasingly raise concern over the rapidly rising number of SARS-CoV-2 infections, Asean member states, particularly those in the CLMVT, rank amongst the best in the world at containing the viruses' spread.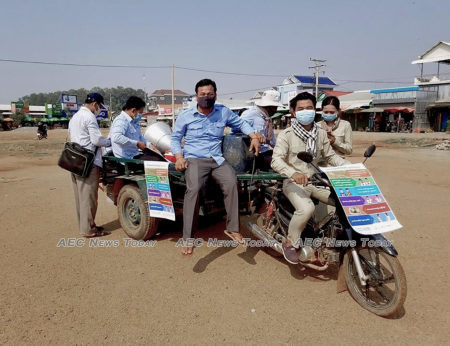 More curiously, it is the less affluent and least capable of mounting a sustained and robust defence against a raging SARS-CoV-2 outbreak that have to date achieved the best result on the crucial index of deaths per one million population.
On figures up to and including June 15, Lao PDR, Vietnam, and Cambodia ranked third, fourth and fifth in the world respectively, with Myanmar and Thailand ranked 34th and 54th respectively.
Although 3,509 deaths had been recorded across the Asean Community up until and including June 15, only 64, or 1.82 per cent, occurred in the CLMVT, with three of the five countries recording no deaths at all.
For total infections the five countries are also doing well, accounting for just 3.26 per cent of the 119,045 cases recorded throughout Asean at the time.
The success of the CLMVT countries is not going unnoticed, with the efforts of Cambodia, Lao PDR, Myanmar, and Vietnam all being lauded over the past week by representatives of foreign missions and international organisations.
Earlier in the month Thailand was ranked second on the Global COVID-19 Index (GCI) for countries with the highest recovery index. At the time of writing it is ranked third, while Malaysia is ranked sixth, Vietnam 15th, Myanmar 30th, Lao PDR 31st, and Cambodia 38th — most CLMVT countries not ranking as highly as others due to the low number of infections for people to recover from.
CLMVT's poorest economies shame world's wealthiest
With some wealthy Western countries doing quite appallingly, calls for accountability are growing. One highly regarded scientist recently postulated on Twitter that "Nuremberg-style trials for accountability" should be held for leaders of countries that recorded more than 10 deaths per one million population.
"A nation with more than 100 deaths per million population was catastrophically unsuccessful", said Professor Richard H. Ebright, a Board of Governors Professor of Chemistry and Chemical Biology at the prestigious Rutgers University, and a Laboratory Director at the Waksman Institute of Microbiology.
Discussing the success and failure of nations in combating the spread of the SARS-CoV-2 virus, Professor Ebright said, "nations that [had] successfully suppressed [the] outbreak include both small and large, both island and non-island, and both autocratic and democratic. The "sole relevant parameter for success or failure is whether governments took prompt resolute action (success) or whether it did not (failure).
"In nations where travel controls were (1) promptly implemented and (2) promptly expanded to include emerging zones of infection, travel controls were extremely effective in suppressing the outbreak", he said, adding that "a fast and strong response by government equals success. A slow and weak response by government equals failure".
Rhetorically asking "at what point though is "criminally catastrophic"?", Professor Ebright went on to "suggest 10 deaths per million. But others might suggest 100 deaths per million".
Nuremberg-style accountability trials
According to the Professor, who has been proactive on Twitter sharing advice, information, and warnings on the SARS-CoV-2 infection since early in the outbreak, "Nuremberg-Trials-style accountability–will be required for the tens to hundreds of thousands of preventable deaths, and economic ruin, in nations like US and UK, where governments deliberately chose negligence over response.
"Every death above 100 per million in a developed nation is the direct result of governmental negligence".
Replying to an email from AEC News Today, Professor Ebright said that "it is striking that every nation in the region, from richest to poorest, appears to have done so well compared to the US, UK, and EU (subject to caveats about low testing rates in Indonesia, Cambodia, Laos, and Myanmar)".
While CLMVT government leaders are coming under increasing pressure to ease international travel restrictions, most are standing firm in maintaining hard borders as they continue returning citizens from around the world. Some have put in place entry processes designed to ensure that only those people who *really need to enter* are doing so.
More than a few are also believed to be closely monitoring a growing cluster of SARS-CoV-2 infections in Beijing, China, Melbourne, Australia, and New Zealand, where SARS-Cov-2 infections in the latter have gone from none for 24-days to nine cases in the last four, after two citizens were permitted to return from the England with no pre-departure, on arrival, or pre-release testing.
With the global average for deaths per million as at June 15 being 58, it is not just US President Donald Trump and UK Prime Minister Boris Johnson who should be lawyering up if scientists have their say.
Feature photo Dr Li Ailann
Related:
Thailand ranks second in the world in recovery from Covid19 Coronavirus crisis according to Global Covid-19 Health Index (The Pattaya News)
International travel in the age of COVID-19: Cambodia leads the world with user pays system (AEC News Today)
The following two tabs change content below.

John is an Australian national with more than 40 years experience as a journalist, photographer, videographer, and copy editor.
He has spent extensive periods of time working in Africa and throughout Southeast Asia, with stints in the Middle East, the USA, and England.
He has covered major world events including Operation Desert Shield/ Storm, the 1991 pillage in Zaire, the 1994 Rwanda genocide, the 1999 East Timor independence unrest, the 2004 Asian tsunami, and the 2009, 2010, and 2014 Bangkok political protests.
In 1995 he was a Walkley Award finalist, the highest awards in Australian journalism, for his coverage of the 1995 Zaire (now Democratic Republic of Congo) Ebola outbreak.
Prior to AEC News Today he was the deputy editor and Thailand and Greater Mekong Sub-region editor for The Establishment Post, predecessor of Asean Today.
In the mid-80s and early 90s he owned JLF Promotions, the largest above and below the line marketing and PR firm servicing the high-technology industry in Australia. It was sold in 1995.

Latest posts by John Le Fevre (see all)