Advertisement

A number of Philippine government agencies have launched parallel investigations into the recruitment practices of Mohan Tirvgmanasam Bandam, publisher of the Khmer Times newspaper, commonly known as T Mohan or Mohan Bandam.
If accusations of illegal recruitment on multiple occasions and or of multiple people or groups is proven, Mr Bandam could face a lifetime ban from the Philippines, along with an additional investigation for human trafficking.
The investigations come in the wake of disturbing claims by a former staff member in an 'Open letter about sexual harassment in Cambodia-based publication' sent to media outlets and journalists last week.
In the letter April Reposar, the Khmer Times' former socialite writer, says she was forced to flee her $800 per month job and the kingdom of Cambodia in fear, accusing Mr Bandam of persistent predatory behaviour.
Unwanted advances began May 9
The 26-year-old single mother of two said the unwanted sexual advances began with a not "unusual invite" by him to buy her dinner after attending a cocktail farewell for the EU Ambassador to Cambodia on May 9.
An alleged photo from the cocktail reception supplied by Ms Reposar shows her standing at a dinner table with Mr Bandam's right arm around her waist. "I shocked that he placed his hands on my waist. I should have been beside a girl, but he insisted to pose beside me", she said.
Ms Reposar says she was offered $1,000 a month on top of her regular salary as part of a "friends with benefits" arrangement proposed by Mr Bandam.
She also says he offered to move her into a very private, well secured flat after six months on "condition that whenever I need you, you'll be there for me".
A number of undated and partial screenshots appearing to be from the WhattsApp messaging app accompanied the letter.
While some of the screen shots show a series of exchanges, some only show a part of the conversation, making the context of some snippets unclear.
In one conversation Mr Bandam appears contrite, apologising "for last night. Its (sic) wrong on my part for my proposal". But in another screen capture giving the impression of being part of the same conversation he allegedly tells her, "if u (sic) change your mind pls (sic) consider me ok? Pls (sic)".
No complaints from 10 other female staff
In one truncated clipping Mr Bandam allegedly asks Ms Reposar "would you re consider what we discussed? Lets help each other. 1k a month". In another he allegedly says, "In any event i (sic) will give u (sic) the 400$ 2 (sic) moro (sic)".
AEC News Today emailed Mr Bandam asking him to clarify what the $400 and $1,000 per month referred to.
In an emailed reply he said that "as much I as would love to comment and clear the air, I have been advised by legal counsel to not say anything beyond what was written in the statement to VOD, which I believe was also not fully published. Suffice to say, I have met the relevant officials to explain the situation and the distortion of the facts".
Mr Bandam went on to say: "If I had behaved inappropriately or harassed her sexually since the 9th of May why resign on 21st  of May, effective 24th of May?
"I have another 10 females in the same floor of the office who have been working with me longer than the 3 girls from Cebu and [you] are welcome to ask them whether I had any incident of indecent behaviour with them, let alone harassment. This is meant to slander me in such a way that it will cripple Khmer Times".
Describing the accusations against him as "painful, and a strain on my mental and physical health", Mr Bandam said he believed "that the motive is to embarrass me for purposes which are not yet clear, given my profile and it happens year after year and eventually to cripple Khmer Times and its publications.
May 21 resignation letter
To support his claim that Ms Reposar left on friendly terms, Mr Bandam supplied AEC News Today with a copy of her resignation letter dated May 21.
In the resignation letter Ms Reposar states "personal reasons necessitate to vacate my position", adding "I deeply appreciate the help and the opportunity that you have provided me with during my time as a Socialite Writer/Marketing Manager.
"I would also like to ask for my compensation and passport to be given on the said date for me. To buy my return ticket to the Philippines", she wrote.
In a separate reply to VOD that AEC News Today was able to independently verify, Mr Bandam alleged that Ms Reposar "was tipsy" after the May 9 event as a result of "gulping down wine too fast".
Describing Ms Reposar as "clearly drunk and chain smoking", Mr Bandam said "I loaned her $500. The next day she asked for another $400".
Mohan Bandam: "she propositioned me"
Claiming to have deleted all of the text messages Ms Reposar sent to him because they were "explicit" and "shameful", Mr Bandam said "the [indecent] proposal was not from me, but from her". The three staff members who left, he said, owe him more than $3,000.
Ms Reposar said she was recruited in the Philippines by Mr Bandam on one of his frequent trips there, with an interview being conducted over Skype due to her inability to travel to Cebu where the interviews were being held.
Employed by a large Philippines bank at the time, Ms Reposar said the offer of employment came from Mr Bandam's personal assistant following the Skype call. "I was instructed to travel to Cambodia as a tourist and to apply for an e-class 'ordinary' visa (frequently and incorrectly called a 'business visa') on arrival", she said.
A Cambodian e-class visa is able to be extended for up to one year, in addition to enabling the holder to legally work in Cambodia provided the correct supporting documents are provided. They are not ordinarily provided to Asean member country passport holders on arrival.
Employment of Filipinos strictly regulated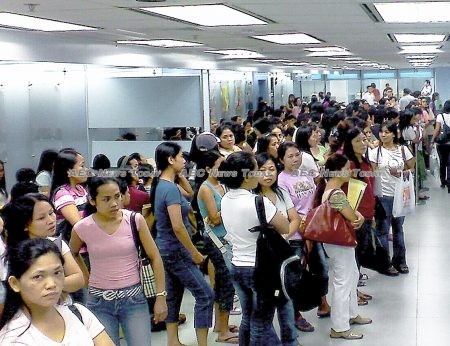 It is Mr Bandam's habit of travelling to the Philippines to recruit staff for Khmer Times that has captured the attention of some segments of the Philippines government, while others are investigating the sexual harassment claims.
Overseas Filipino worker (OFW) are one of the country's  greatest exports.  No matter where in the world you travel you are bound to find a Filipino, frequently working and living in arduous conditions to support five, seven or more family members back home.
In 2018 remittances from OFW's topped $32.21 billion, three per cent up on 2017, a record high.
Because they often work in isolation as domestic helpers or in remote locations, the Philippines strictly regulates the movement of its citizens going abroad.
Those leaving for employment are required to obtain a overseas employment certificate (OEC) issued by the Philippine Overseas Employment Administration (POEA).
28K Filipinos stopped from leaving in 2019
That Filipino citizens can not freely travel in and out of their country as they desire, or work without government approval, is a policy that often catches foreign employers and Filipino citizens alike by surprise. Filipinos who are permitted to depart as tourists must return within the period of their exit permit, or be labelled as an "unreliable traveller" and subjected to intensive questioning on the next occasion they attempt to leave.
In 2018 the Bureau of Immigration (BI) stopped more than 28,000 Filipinos with valid flight tickets, passports, and visa's from boarding their flights on suspicion they were travelling abroad for work without the required OEC. In the first quarter of this year more than 7,000 were "offloaded", as it is colloquially termed.
Globally tens of thousands of Filipinos who left the Philippines without the necessary clearances, but have found their own employment, are unable to return home out of fear they will be prevented from leaving again.
To obtain the highly prized OEC the details of the employer and employee must be registered, along with the employment contract. OFWs are required  to undergo a medical examination and an orientation course aimed at helping prevent them becoming victims of scams, or human trafficking, and giving them information on who to contact for help, if its needed. These measures, the government says, are to protect its citizens from abuse by illegal recruiters.
A fine line: illegal recruitment/ human trafficking
According to the Philippine Labor Code any non-licensed recruitment agency or non-holder of authority who conducts "any act of canvassing, enlisting, contracting, transporting, utilising, hiring or procuring workers, including referring, contract services, promising or advertising for employment abroad, whether for profit or not", will be considered carrying out illegal recruitment.  If committed against three or more persons individually or as a group it is deemed large scale illegal recruitment.
Meanwhile Philippine laws define the trafficking in persons as "the recruitment, obtaining, hiring, providing, offering, transportation, transfer, maintaining, harboring, or receipt of persons with or without the victim's consent or knowledge, within or across national borders by means of threat, or use of force, or other forms of coercion, abduction, fraud, deception, abuse of power or of position, taking advantage of the vulnerability of the person, or, the giving or receiving of payments or benefits to achieve the consent of a person having control over another person for the purpose of exploitation which includes at a minimum, the exploitation or the prostitution of others or other forms of sexual exploitation, forced labor or services, slavery, servitude or the removal or sale of organs".
Philippine Immigration Bureau moving to blacklist
Dana Krizia Mengote Sandoval, a spokesperson for the BI, told AEC News Today by email "we are alarmed to hear of such schemes and worried that other victims might have been 'hired' only to experience such harassment. We encourage victims to speak up, and file complaints against the perpetrators".
If Mr Bandam has been travelling to the Philippines and recruiting Filipino staff continuously, she said, "it could be considered human trafficking, if not at the very least it can be considered as illegal recruitment as he has offered and hired people without proper documentation".
While the BI is not the agency that leads cases against illegal recruiters, Ms Sandoval said it "can initiate action to include in the blacklist the foreigner involved in this recruitment as a measure to prevent other women from being victimised by the same scheme.
"The Philippine Government, through the Inter-Agency Council Against Trafficking (ICAT), will definitely provide assistance in running after these illegal recruiters", she said, urging Ms Reposar or any other victims to file a case against her former boss and recruiter.
Ms Reposar has wasted little time in telling authorities of her experience working at the Khmer Times. During the week she swore an affidavit with the POE office in Mandaluyong City, Manila, while on Friday the Overseas Workers Welfare Administration (OWWA) formally requested the Assistance to Nationals (ATN) office in Singapore to investigate the sexual harassment claims.
In 2017 a series of leaked text messages appeared to establish links between the funding of Khmer Times and Chen Lip Keong, CEO of Hong Kong-listed NagaCorp, parent company of Phnom Penh's NagaWorld, and Hun Manith, a brigadier general in the Royal Cambodian Armed Forces and the fourth child of Prime Minister Hun Sen.
AEC News Today was unable to independently verify claims made over the weekend that Mr Bandam is currently in the Philippines, along with his personal assistant, attempting to recruit additional Filipino workers.
Related:
Khmer Times Publisher Accused of Sexual Harassment (VOD)
Yes mean yes: Visions of female sexual power and a world without rape (Khmer Times)
Khmer Times Publisher to Retire Plagiarizing Pen (The Cambodia Daily)
The following two tabs change content below.

John is an Australian national with more than 40 years experience as a journalist, photographer, videographer, and copy editor.
He has spent extensive periods of time working in Africa and throughout Southeast Asia, with stints in the Middle East, the USA, and England.
He has covered major world events including Operation Desert Shield/ Storm, the 1991 pillage in Zaire, the 1994 Rwanda genocide, the 1999 East Timor independence unrest, the 2004 Asian tsunami, and the 2009, 2010, and 2014 Bangkok political protests.
In 1995 he was a Walkley Award finalist, the highest awards in Australian journalism, for his coverage of the 1995 Zaire (now Democratic Republic of Congo) Ebola outbreak.
Prior to AEC News Today he was the deputy editor and Thailand and Greater Mekong Sub-region editor for The Establishment Post, predecessor of Asean Today.
In the mid-80s and early 90s he owned JLF Promotions, the largest above and below the line marketing and PR firm servicing the high-technology industry in Australia. It was sold in 1995.

Latest posts by John Le Fevre (see all)