Advertisement

Life is sure to get a lot quieter at Panatag Shoal (Tagalog: Kulumpol ng Panatag) with the conclusion last Thursday (April 11) of the Balikatan (Tagalog: 'shoulder-to-shoulder') 2019 military exercise, the largest US-Philippine military drills conducted annually.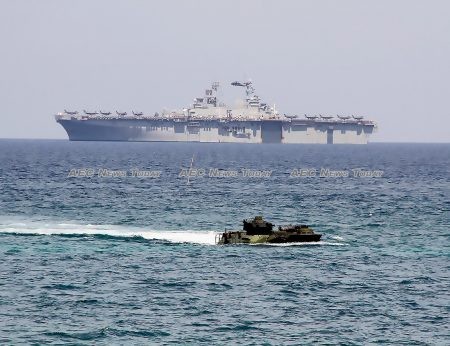 Conducted almost two-week-long with some 4,000 Filipino, 3,500 American, as well as contingent of about 50 Australian soldiers, the Balikatan 2019 'war games' aimed to strengthen skills, test interoperability, and reinforce ties between the Philippines and its oldest treaty ally, the US.
Now in its 35th iteration, the conclussion last Thursday was marked by the deployment of a 257 metre (844 ft) US amphibious assault ship, the USS Wasp with at least 10 F-35B stealth fighters onboard, which featured in the joint training for the first time.
The military training exercise on Luzon island and Palawan included several waves of amphibious operations, live-fire training, urban operations, aviation operations, and counterterrorism response, among other combined military operations.
As ground troops stormed the beaches aircraft flew overhead dropping  ordnance while U.S. Marine Amphibious Assault Vehicles rolled onto the beach to reinforce the landing.
"Balikatan is a great opportunity for the Navy, Marine Corps team and our allies from the Republic of the Philippines to learn from one another, and further improve our ability to operate together", Captain Colby Howard, commanding officer of the USS Wasp said in a statement.
President Rodrigo Duterte had earlier threatened to quit the drills as part of his pivot away from the US and toward China, but they have continued after being toned down for a few years.
At home Mr Duterte is facing increased calls to take a harder line against China, who has become increasingly submissive to in exchange for promises of infrastructure funding, much of which is yet to materialise (See: Philippines infrastructure: Build, build, build… but not so fast)
Rising Chinese tension
The Balikatan 2019 military exercise was held against a backdrop of rising tension between the Philippines and China, which claims most of the South China Sea where the exercise took part, as their own.
Last week Manila protested what it described as the presence of "hundreds of Chinese vessels swarming around Pag-asa Island", 480km (298 miles) west of the Philippines' main coastline, dubbing it an "illegal invasion".
In response to the Chinese 'swarming tactic' President Duterte last week warned China to steer clear of Pag-asa Island, and threatened to order soldiers "to prepare for a suicide mission" to defend it.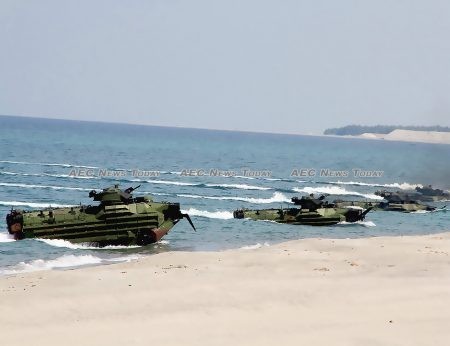 Malacañang Palace said on Wednesday it would consider the Chinese presence near islands occupied by Filipinos as an assault on the country's sovereignty with the Chinese having "no business being there".
Department of National Defense (DND) spokesman, Arsenio Andolong, said the military is just awaiting an order to deploy.
"We are ready to go into action if we are ordered to do so, not really in the context that we are ready to go to war, but to defend our sovereignty and territory. That's what we're going to do", Mr Andolong said.
China claims most of the South China Sea and its islands with Brunei, Malaysia, Vietnam, and Taiwan having overlapping claims.
Chinese vessels have routinely harassed Filipino fishermen and last June there were calls to despatch Philippines Coast Guard vessels there to protect fishermen (See: Goodbye Panatag Shoal, hello Huangyan Dao? (HD video) *updated)
China: "Don't stir trouble"
In Manila last month, US Secretary of State, Mike Pompeo, said China's island-building in the South China Sea "threatens the Philippines' sovereignty, security and therefore economic livelihood, as well as that of the US".
He warned that any attack on Philippine security forces in the South China Sea would trigger a US military response due to the Mutual Defense Treaty (MDT) between the two countries (See: War ships & aircraft to return to Subic Bay)
For its part China has warned the United States and other nations against stirring up trouble in the "calm" South China Sea.
Last Wednesday (April 10),Chinese Foreign Ministry spokesman, Lu Kang, said the presence of the US and other "non-regional forces" could stir up the South China Sea, which he said is already calm.
"The principled position of the Chinese side is that we hope non-regional forces will refrain from stirring up troubles in the calm South China Sea", Mr Lu said.
Feature video INQUIRER.net 
Related:
Philippines, US ships conduct drills near Panatag Shoal (The Philippine Star)
US warship cruises disputed sea in Philippine war games (CNA)
Balikatan 2019: PH, U.S. forces 'take over' beach in Zambales (Rappler)
The following two tabs change content below.

Stella-maris graduated with a Bachelor of Arts, Education from Ebonyi State University, Nigeria in 2005.
Between November 2010 and February 2012 she was a staff writer at Daylight Online, Nigeria writing on health, fashion, and relationships. From 2010 – 2017 she worked as a freelance screen writer for 'Nollywood', Nigeria.
She joined AEC News Today in December 2016.

Latest posts by Stella-maris Ewudolu (see all)