Advertisement

A ground-swell of discontent is gaining momentum in the Philippines to President Rodrego Duterte's apparent preparedness to surrender control of Scarborough Shoal (Panatag Shoal or Bajo de Masinloc) to China (who call it Huangyan Dao), with calls for Philippine Coast Guard (PCG) vessels to be sent to protect fishermen.
Even supporters of the President, such as Senator Richard Gordon have called for members of Congress to be updated on the Philippines' foreign policy on China, and for a special meeting to be held at Malacañang Palace to bring everyone up to speed.
Last week there were calls in the Senate for a foreign policy audit of the administration, while acting Chief Justice Antonio Carpio warned that the Philippines was at risk of losing its legal right to Panatag Shoal. Even the influential Catholic Church is buying into the furor.
In a blog post Chairman of the Catholic Bishops' Conference of the Philippines-Episcopal Commission on the Laity (ECL), Bishop Broderick Pabillo, said the President's failure to confront China over its continued bullying and intimidation was contributing to Chinese aggression in the West Philippine Sea.
Tribunal verdict ignored
The Panatag Shoal flare-up is occurring against fresh proof of China's militarisation of the South China Sea (SCS) with an Israeli intelligence company last week releasing images showing Chinese surface-to-air missile (SAM) systems again visible on Woody Island, part of the Paracel Island chain off the coast of Vietnam, that were not seen two weeks earlier.
In recent weeks China has demonstrated its intentions to ignore a 2016 verdict by the United Nations Convention on the Law of the Sea (UNCLOS) tribunal sitting in the Permanent Court of Arbitration (PCA) in the Hague declared that the Shoal has been a traditional fishing ground for fishermen of many nationalities, rejecting China's historic rights and "nine-dash line" claim. (See: South China Sea ruling Puts Asean and China at a crossroad )
The groundswell of unrest comes in the wake of Filipino fishermen seen on national television telling a meeting at Malacañang Palace that Chinese coast guard vessels would routinely take their best fish, and give them back packets of noodles, cigarettes, and bottled water.
"They would check our containers and pick our best catch. We can't do anything. Their ships are huge. What can we do as fishermen? If we refuse to yield, we will end up like crushed cans", fisherman Romel Cejuela said, adding that the latest seizure of fish was worth some P4,000 (about US$75).
Presidential spokesperson Harry Roque described the incident of fish theft as "unacceptable", adding that the Chinese coast guard should not be taking even a kilo".
"Goodwill" remarks anger
Questioned over the practice Chinese Ambassador to the Philippines, Zhao Jianhua, described the situation as "some sort of barter trade", while considerably less subtly, Geng Shuang, a spokesperson for China's foreign ministry, reportedly told journalists in Beijing that China had been allowing Filipinos to fish at Panatag Shoal "out of goodwill".
The remarks have angered Mr Carpio, one of the legal team that pursued the Philippines claim through the PCA, who told CNN Philippines "whether it's goodwill or not, it is immaterial because the tribunal said it is a common fishing ground. If we accept their narrative, we will be giving up the legal right to be there."
Destruction of the coral at Scarborough Shoal (Panatag Shoal) by Chinese fisherman harvesting giant clams is said to be extensive and total
Video INQUIRER.net
Adding heat to the fire, both houses of parliament were told last week by two separate lawmakers that the Armed Forces of the Philippines (AFP) had been ordered to stop patrolling the West Philippine Sea.
The accusation was quickly denied by Armed Forces of the Philippines spokesperson Colonel Edgar Arevalo, who labelled the accusations as "malicious".
The political grandstanding by some law makers is adding urgency to calls by even the President's supporters for the situation to be clarified quickly.
Additional pressure on the President to review the country's relations with China came last week when National Security Adviser Hermogenes Esperon Jr. confirmed reports of damage to Panatag Shoal by the Chinese fishermen.
As the administration attempted to downplay the destruction, The Philippine Star over the weekend published satellite images  showing vast areas of the reef almost totally destroyed.
The images, obtained from Google Earth and published by Jay Batongbacal, director of the UP Institute for Maritime Affairs and Law of the Sea, reportedly show damage caused by Chinese clam diggers since 2012. He said one image showed an area of some 552 hectares (about 1,364 acres) at the back (inner) reef of Scarborough Shoal visibly destroyed.
In another image Mr Batongbacal says online measurement tools show 'the complete destruction of the area shown — approximately 2.5-kilometer (about 1.5mile) from end to end. Independently GMA News showed vast underwater sections of the reef laid totally barren.
Administration downplays rising Panatag Shoal tension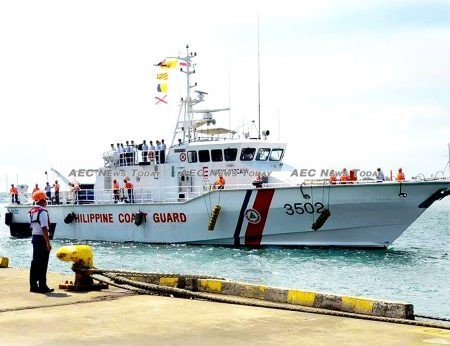 While Mr Carpio is among many calling for China to be taken back before the PCA, the Duterte administration is attempting to downplay the destruction and recent clashes, mindful of some $24 billion in loans and infrastructure projects it hopes to be financed by China.
The increasing Chinese aggression at Panatag Shoal is a sensitive issue and could jeopardise the President's build, build, build, infrastructure philosophy and stymie increasing inbound Chinese investment.
Last year Chinese investment in the Philippines grew 15 per cent to $31 million, while China's largest economic lever, Chinese tourism, increased from about 700,000 visitors in 2016 to more than 968,000 people last year.
The potential loss of sovereignty is one that Filipinos feel strongly about though. Earlier this year a poll conducted by Pulse Asia found that 84 per cent of Filipinos wanted the Duterte administration to enforce the 2016 UNCLOS verdict.
Calls for push back strengthen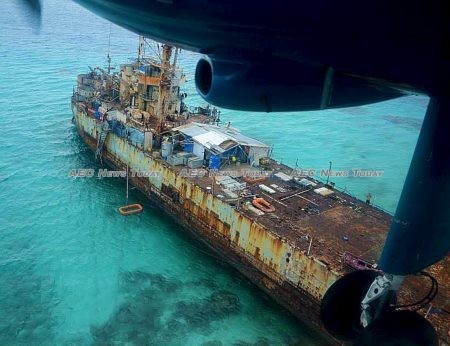 In 1999 in an attempt to maintain sovereignty over Second Thomas Shoal in the Spratly Islands the Philippine Navy deliberately ran the BRP Sierra Madre, a former US tank-landing ship, ashore, and has maintained a small garrison of marines on board since.
Last Friday Foreign Affairs Secretary Alan Peter Cayetano said the PCG and its Chinese counterpart are in talks, adding that representatives of the PCG will travel to China in July to discuss issues pertaining to sea patrols and fishing in the disputed area.
On May 28 Mr Cayetano said that President Duterte was prepared to go to war with China over resources in the West Philippine Sea if a 'red line' was crossed. Many are waiting to see what that 'red line' is. (See: War: Philippines Says it Will Fight if 'Red Line' Crossed… With what? (video) ).
Meanwhile, with US military officials reportedly growing increasingly concerned by China's blatant encroachment, the question remains as to whether the push-back against China's continued bullying will commence at Panatag Shoal, or whether the President's personal dislike for the United States, coupled with the promise of massive infrastructure projects funded by Beijing will trump the rights of a few fishermen.
Congressman Carlos Zarate has no doubts. He says the Philippines needs to exert its authority over Panatag Shoal.
"We have to show China that we are serious in defending our people as well as our territory", he said, accusing China of treating the Philippines "as her vassal state. The government must do something now to stop this invasion of China", he told The Philippine Star.
Calling for structures to be built on Scarborough Shoal to demonstrate occupation, Senator Gordon dismissed potential  blow-back from China, saying the country should be ready to accept this because pushing back is the right thing to do. Meanwhile all eyes and ears remain fixed on Malacañang Palace.
Update: This story was updated at 13:02 local time on June 19, 2018:An earlier version of this story said that the PCA had awarded  sovereign rights of Scarborough Shoal to the Philippines. The PCA declared that the Shoal has been a traditional fishing ground for fishermen of many nationalities, in the process rejecting China's historic rights and "nine-dash line" claim. . The story has been updated to reflect this.
Feature video Rappler
Related:
The following two tabs change content below.

Stella-maris graduated with a Bachelor of Arts, Education from Ebonyi State University, Nigeria in 2005.
Between November 2010 and February 2012 she was a staff writer at Daylight Online, Nigeria writing on health, fashion, and relationships. From 2010 – 2017 she worked as a freelance screen writer for 'Nollywood', Nigeria.
She joined AEC News Today in December 2016.

Latest posts by Stella-maris Ewudolu (see all)