Advertisement

Singapore is increasingly turning to robots, drones, and machines to address labour shortages — and to lower costs. Squadrons of high-tech drones will soon be criss-crossing the city-state's skies in roles as diverse as food delivery, security surveillance, and disaster relief, complementing the use of robots, and mechanised devices in other areas.
Strong government support means Singapore could become the first country globally where home delivery of goods by drones becomes a reality. Working towards this goal private companies, with the support of the Civil Aviation Authority of Singapore (CAAS), are conducting extensive tests of various models of aerial drones in a 200-hectare (about 450 acre) site set aside by the government, complete with high-rise buildings and shopping malls.
Sensing new opportunities Singaporean entrepreneurs are eyeballing practical applications of the technology in the public and private sectors. One such company, H3 Zoom, is testing drones for building inspections. Aerial camera drones are able to complete inspections in a fraction of the time using traditional methods.
"Today's existing building inspection process is extremely slow, expensive, tedious and prone to accidents, fatigue, and human error", Shawn Koo, chief technical officer of H3 Zoom told AFP.
Meanwhile one hospital operator is carrying out drone delivery tests with an eye to using the devices to transport blood samples and specimens between its hospitals and a central laboratory.
As part of government-backed tests, Singapore Technologies Aerospace (ST Aerospace) is deploying drones as robotic guards in simulated security attacks. During a recent trial a black ST Aerospace drone stealthily followed a role-playing intruder, transmitting live images back to a command centre enabling security officers to be directed to the breach.
Industry players, keen to get such logistical operations off the ground, are already fielding inquiries about their technology from as far afield as South America. "A successful Singapore story will help us promote our [drone system] internationally", said Teong Soo Soon, ST Aerospace's programme director.
Singapore's predilection for all things automated was borne out at the recent 33rd Asean Summit when the host nation rolled out a police robot as part of security measures.
The trundling mechanical 'robo cop' could detect obstacles, navigate independently, featured a 360° camera view over its deployment area, and had intercom capabilities that allowed it to transmit information to flesh-and-blood officers nearby. Members of the public could report suspicious-looking packages to the 'robo cop' by pressing an intercom button on the machine.
Strong government support
While many observers view such high-tech wizardry as little more than a stunt, Singaporean authorities have adopted a more prosaic view. Police told media the technology was "aimed at strengthening capability by complementing ground forces". Manpower Minister Josephine Teo said pressing the robot cops into service will help officers do their jobs more effectively.
Such rapid, no-nonsense adoption of drone and robotics technology has Singapore's capabilities in the field rising head-and-shoulders above the international pack, largely due to strong government support.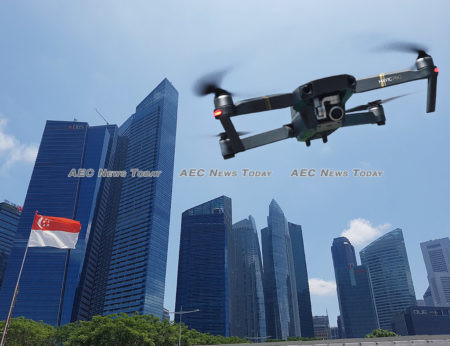 While Amazon CEO Jeff Bizos' bold 2013 prediction that drones would be delivering orders to US customers' doorsteps by now has failed to materialise, largely due to Federal Aviation Authority (FAA) rules that restrict drones there from flying beyond the sight of the operator, Singapore is busily tackling the required legislation. According to Mr Soon the regulations needed to fly a drone across the city could be in place within "three to four years".
The skies of Singapore are not the only place where robots, drones, and automation are stating to appear. Driverless buses are also being prepared for everyday use by the public.
A collaborative, research-based approach to improving AV technologies between SMRT Services, 2getthere, and Nanyang Technological University (NTU) will see driverless buses, or autonomous vehicles (AVs) as they are known, operating on campus in the new year.
NTU President Professor Subra Suresh said the NTU campus, the first to test driverless vehicles in Singapore, has become "a living testbed" for the technology.
"Autonomous vehicles are an integral part of the NTU Smart Campus vision, which leverages tech-enabled solutions to create better living and learning experiences", Professor Suresh said.
Meanwhile test flights of German aviation start-up Volocopter's electric vertical take-off and landing (eVTOL) vehicles are expected to take place in the second half of 2019.
The Volocopter can be flown with a pilot, or unmanned via remote control or autonomously. In September 2017, Volocopter performed a public unmanned test flight in Dubai. It expects the first commercial air taxi routes to open in three to five years.
Tech trials take off across Southeast Asia
Elsewhere in Southeast Asia, drones are being deployed in disaster relief and search-and-rescue operations.
In July 2018 in the early days of a search for a group of Thai teenagers trapped in a flooded cave, a team from King Mongkut's University of Technology North Bangkok (KMUTNB) deployed two drones and an experimental Remotely Operated Vehicle (ROV) in the form of an underwater robot in the search
Last month in  the Philippines a highly developed drone system was presented to the Philippine Red Cross to assist in their disaster response efforts. The system, an initiative of Smart Communications and Nokia, features drones with a portable data centre, mobile broadband network, and applications such as video streaming, gas sensing, mapping and analytics. These Unmanned Aerial Vehicles (UAVs) are also capable of carrying first-aid kits.
In Thailand, a robot equipped with artificial intelligence has also been designed "to create better living" for people on a daily basis.
Thailand's CT Asia Robotics Co's.,second-generation Dinsow Mini robot Video dinsowrobotic
Chalermpon Punnotok, chief executive of CT Asia Robotics Co, Bangkok's pioneer robot maker, said its second-generation Dinsow Mini robot was learning how to recognise the faces and voices of elderly patients with Alzheimer's.
"There are at least 600,000 Alzheimer's patients in Thailand, and robots could serve these families as an assistant", Mr Chalermpon said.
The Dinsow Mini robot, he said, features an artificial intelligence feature that enables it to 'familiarise' itself with the needs of the patient to the extent it can notify care providers if the patient is doing something unusual that may be dangerous. It can also remind the patient to drink water or take medicine.
However, the ability of drones to undertake surveillance operations – legitimate or otherwise – and potentially carry out a terrorist threat has many observers worried.  Some private condominiums in Singapore have already banned the devices, while a video circulating on social media in September, showing a recreational drone flying close to a residential building, whipped up a flurry of indignation with police called to investigate.
In high-tech, high-density Singapore the adoption of such potentially invasive technology is likely to be met with pragmatism, rather than fear of terrorism. For many, unmanned vehicles and robots pose a very different threat.
7th World Civil Aviation Chief Executives Forum
In 2017 a labour hire company poll found almost one-fifth of Singaporeans were afraid these automatons posed a threat to their jobs.
However, Singapore-based Ademco Security Group (ASG) found that the spectre of mass unemployment arising from automation is unrealistic, while having people perform smarter, less strenuous tasks in the workforce may not be all bad.
In an advertising campaign titled 'Hello! Uncle Not Machine!' the company took a light-hearted look at how automation can deliver benefits to even unskilled and semi-skilled workers, provided education and training are included in the mix. The campaign parodies the trials and tribulations of an ageing security guard and his perceptions of what the future holds.
In an interview with Campaign, ASG director Patrick Lim said the purpose of the project was to "create awareness of the out-dated mindset both the public and the security industry have about security guards".
In Singapore the idea that innovation can only be deployed in step with regulation is well understood. With this in mind, organisers of the Unmanned Systems Asia 2019 Conference have scheduled their event to coincide with the 7th World Civil Aviation Chief Executives Forum (WCACEF).
The Forum, organisers say, will bring together civil aviation regulators from around the world, along with industry professionals, key buyers, and academics, to thrash out practical applications of UAS (Unmanned Aircraft System) technology.
With its theme 'Enabling the UAS future', discussions will include disruptor technology, drone delivery, UAS traffic management, regulating an evolving UAS environment, and rethinking urban air mobility.
The final topic for discussion, "Business opportunities and applications of drone technology" is likely to where most of the interest lies though, with Singapore appearing to be at the leading edge of adoption.
With the Singapore's aviation regulators, security agencies, the private sector, and government all moving towards the same goal, commercial and state-operated drones will appear on the horizon sooner rather than later, with the CAAS saying they have the potential "to transform mobility and logistics".
Related:
John Le Fevre in Bangkok contributed to this report
The following two tabs change content below.
With a decade of experience as an editor and journalist, Roy has edited mastheads across Australia and Southeast Asia, from the remote island communities of the Torres Strait to Cambodia's only award-winning newspaper, The Phnom Penh Post.
A a professional photographer since the days of film, he holds a Bachelor of Arts in Photomedia and a Postgraduate Diploma in Journalism.