Advertisement

Mahathir Mohamad, Malaysia's former prime minister, seems to have missed the mark with the Citizen's Declaration that he has so vigorously supported. The bulk of the Declaration is directed at Prime Minister Najib Razak and his alleged wrongdoings in connection with the beleaguered 1Malaysia Development Berhad (1MDB). Therein lies its fatal flaw.
The Declaration's specific attacks on the sovereign wealth fund miss the larger issues of institutional reform, delivery of public services, accountability and good governance in the public sector and government-linked organisations. It even questions the limits of government participation in business.
There are two ways of looking at the 1MDB issue. One could identify it as a problem where domestic institutions are weak and the local institutional framework is crumbling.
There is a gaping void in a governance system if a civil servant can misappropriate US$ 26 million from their department without financial procedures triggering warnings to the relevant secretary-general and minister before the matter became public knowledge.
A 2015 report by the Washington-based NGO Global Financial Integrity ranked Malaysia as the country with the fifth largest illicit financial outflows in the developing world. This is hardly a tribute to the country's institutional performance and it suggests that the central bank has a weighty task at hand.
These are just a few signs of institutional failure and poor governance which, if left unabated, have the potential to bite into the country's growth and developmental outcomes.
Another way of looking at Malaysia's problem is to see it as characteristic of capitalism at its worst. A capitalism where greed, poor institutional safeguards, loopholes and lobbyists derail a system that is otherwise meant to support the efficient functioning of markets.
As evidence of the worst that capitalism can slip to, the West has its Raj Rajaratnam, the hedge fund manager who once was among the 400 richest Americans and now languishes in jail and the rogue trader Nick Leeson who brought down the Barings investment bank. The Enron case and the fall of Lehman Brothers are other signs of disruptions in the system. Malaysia can claim to have imported an economic model that has deep fault lines.
Institutional Reform Needed
Mahathir, in sharpening his sword solely for Najib, disregards a more systemic assessment of the problems that confront Malaysia. He also brushes aside the need for institutional reform and a more holistic transformation of the economy.
If, as a recent parliamentary report claims, 1MDB has been fraught with mismanagement of funds and unwise investment decisions, then it brings into question the integrity and wisdom with which other government-linked companies are managed.
This is a serious question in an age of trade and investment openness for two reasons. First, the global trade and investment system hardly favours government participation in business in general.
Second, transparency and sound institutional practices are the bases for attracting investment. The 1MDB saga undermines the credibility and attractiveness of Malaysia on these issues, which will not do Malaysia any good in the long run.
International exposure on 1MDB has not been complimentary. Authorities in nine countries are reported to be investigating whether their laws were broken in the course of 1MDB's transactions.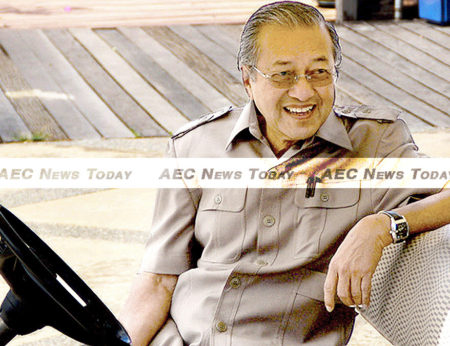 The 1MDB question will not threaten Malaysia's immediate economic performance. In fact, the value of the ringgit has been going up in recent weeks. It has responded more to the rise in the price of oil and the improving US economy than to allegations of impropriety in 1MDB's dealings.
But the long-term attractiveness of the country as a hub for investment could take a rubbing. This is also because other institutions have been dragged into the picture.
The central bank has had to defend itself in an effort to maintain its credibility and the image of freedom from political pressure, at a time when it has to fight what may be a larger problem of illicit financial flows.
Former prime minister Mahathir does, of course, have the right to express his opinions on the current state of affairs. One wishes though, that he had taken a different perspective. One that might constructively promote institutional reform. Malaysia needs developed country institutions as it aspires to achieve developed country status.
This Article was written by Shankaran Nambiar, a Senior Research Fellow at the Malaysian Institute for Economic Research. This article first appeared on East Asia Forum under a Creative Commons license and is reproduced here with its permission. A version of this article originally appeared in TheSunDaily.

Related:
The following two tabs change content below.

East Asia Forum is a platform for analysis and research on politics, economics, business, law, security, international relations and society relevant to public policy, centred on the Asia Pacific region.
It consists of an online publication and a quarterly magazine, East Asia Forum Quarterly, which aim to provide clear and original analysis from the leading minds in the region and beyond.

Latest posts by East Asia Forum (see all)