Advertisement

After struggling to find full-time employment for more than a year after graduating with a Bachelor of Technical Teachers' Education degree, Jundelyn Baylosis Sato's' life changed in August 2017 when she walked in to her local government unit's (LGU) Public Employment Service Office (PESO).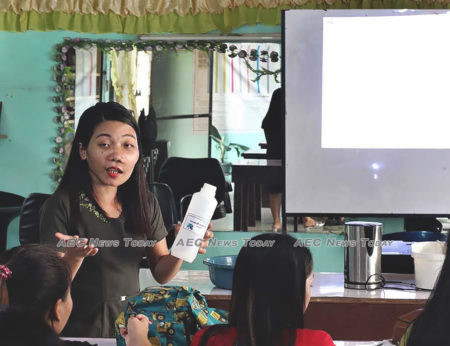 From a bullied child with low self-esteem most of her teenage years because of fibrous dysplasia, a chronic disorder that causes abnormal bone growth, including on the right side of her face, Ms Sato was transformed into a confident young teacher and mentor after undergoing life skills and technical training courses through the JobStart Philippines Program (JSPP).
Established five years ago by the Philippines' Department of Labor and Employment (DOLE) to enhance the employability of Filipino youth through full-cycle employment facilitation services, the JSPP provides one-on-one career coaching, opportunities for technical skills training, and paid internships with Private Sector Employers (PSEs).
Familiar with the discrimination a person with a disability (PWD) often encounters seeking employment, Ms Sato said her experience with JSPP in Kidapawan City, southern Philippines, was the exact opposite.
'They didn't reject me despite my condition, but instead helped me build my confidence. I even gained friends through JobStart", she said, adding, 'now that I have a job I am able to give money to my parents for our household expenses, and I can also buy things that I want for myself and my four siblings."
JobStart at 35 LGUs nationwide
The roots for the JSPP go back to 2011 when the Philippine government, through the DOLE, requested the Asian Development Bank (ADB) assist it in exploring innovative ways to improve government employment facilitation systems.
DOLE and the ADB crafted interventions aimed at Supporting Policy Development (SPD) regulatory reviews, and capacity development at PESOs, which act as the 'local government' in the Philippines for employment information and services.
The JobStart pilot project to assist school-to-work transition of at-risk youths —those who are out of school, unemployed, and not getting any training — was part of the ADB's assistance, with the Canadian government aiding in its funding .
From four PESOs or LGUs implementing the JobStart pilot programme in 2014, there are now 35 administering the programme nationwide.
"Young people struggling to find jobs after they leave school is a persistent problem in the Philippines. Our studies show it can take the average Filipino youth up to four years to find a wage job", ADB country director for the Philippines, Kelly Bird, said.
"Creating wage jobs for the youth is critical to helping reduce poverty and income inequality in the country. We are committed to continuing ADB's strong partnership with the DOLE in youth employment programmes" he said.
20,000 youths gain skills
Since 2016 when the law institutionalising the nationwide implementation of JobStart took effect more than 200 employers have partnered with the government. This has benefited more than 20,000 out-of-school youths, about three-fifths of who have been women. More than two-thirds were from low-income households.
The continuation of the programme was assured last December when the ADB approved a $400 million loan for the second sub-programme of the policy-based Facilitating Youth School-to-Work Transition Program (FYSWTP).
The new loan will support the DOLE's Jobstart programme, as well as other employment schemes and labor policy reforms aimed at ensuring young Filipinos have access to job opportunities.
With ADB's support almost 40 per cent of the 1,253 PESO centres nationwide are fully institutionalised. Two-thirds have received skills development from the DOLE, ensuring that PESO officers are equipped with the right skills to mentor Filipino youth on how to successfully find jobs.
No money, no problem
In Ms Sato's case the Facebook account of the local PESO centre was her link to JobStart. She visited the centre after seeing PESO's announcement on pre-employment programmes on Facebook. The officers at the centre introduced the JobStart programme to her and encouraged her to apply.
After finishing the 10-day life skills training and the 40-day technical training on hairdressing at the Kidapawan Technical School (KTS) in May 2018, Ms Sato was asked by the same school to apply as a teacher.
She now teaches about 250 students in junior and senior high classes at KTS, and volunteers as technical–vocational mentor to out-of-school youths during her free time.
"It is a great blessing that there is a JobStart programme to give hope to the youth, those who graduated from school, but remain unemployed", she said, adding that "the best thing is that even if you don't have money, you can still receive training through JobStart"
This article first appeared on the Asian Development Bank under a Creative Commons License and is reproduced here with its permission.
Feature Photo PESO Santa Rosa

Related:
The following two tabs change content below.
Guided by a vision of an Asia-Pacific region free from poverty through inclusive economic growth, environmentally sustainable growth, and regional integration, the Asian Development Bank has been working to improve people's lives since it was founded in 1966.
In 2017, ADB operations totalled $32.2 billion, including $11.9 billion in co-financing.
Latest posts by Asian Development Bank (see all)