Advertisement

A Mexican woman and her friends have taken to social media to try and prevent the forced deportation to Turkey of her husband following his enforced disappearance from the streets of the Cambodia capital, Phnom Penh, earlier this week.
In an emotional appeal to the international community, Grace Lalrinmawii Karaca, said eight counterterrorism officers from Cambodia's Ministry of Interior (MoI) had "forcibly arrested" her husband, Osman, at an ABA Bank branch on Monday (Oct 14) when he went to unblock his account.
"Four days have past and I haven't heard anything from him. I am really worried and I fear for his life, she says in the video, adding that repeated attempts by Mexican consular authorities have failed to unearth any information from the Cambodia government on Mr Karaca's whereabouts.
"I am shocked that the Cambodia government is keeping him under custody without access to any legal and security rights… without access to communications outside from anyone", a visibly upset Mrs Karaca says.
Mexico embassy's note verbale
On Tuesday (Oct 15) the Mexico Embassy in Hanoi raised its concerns over Mr Karaca's forced disappearance in a note verbale (an unsigned diplomatic note written in the third person) to Cambodia's MoI, confirming his Mexican citizenship and attaching a copy of his Mexican passport.
The note verbale requested the Cambodian ministry to "facilitate" Mr Karaca being able to communicate with the Mexican honorary consul in Phnom Penh, Seng Takakneary.
In an article published on Nordic Monitor by the Nordic Research and Monitoring Network (NRMN), the NGO said Turkish consular officials in Phnom Penh had lied to Cambodian authorities, telling them that Mr Karaca, Turkish by birth, was holding a fake Mexican passport.
After his arrest  Turkish embassy officials are alleged to have demanded his deportation to Turkey on the basis of him not having an international travel document.
Mr Karaca is a member of the faith-based Gülen movement, a self-described transnational social movement based on moral values and advocacy of universal access to education, civil society, tolerance and peace. It is inspired by the religious teachings of Fethullah Gülen, a Turkish Islamic preacher who has lived in the USA since 1999.
The group, which Ankara refers to as FETÖ (Fetullah Terrorist Organization), has often criticised the policies and politics of Turkey President, Recep Tayyip Erdoğan.
The group earned the Turkish leaders wrath after naming him, members of his family, and his business and political associates in a major 2013 corruption investigation. In early 2014 it unearthed details illegal arms shipments by Turkish intelligence to jihadists in Syria ,leading to speculation that Ankara was covertly fuelling a civil war in the neighbouring country.
Political extraditions constitutionally banned
Article 573 of the Cambodian Code of Criminal Procedure states that 'an extradition order may not be issued where the prosecuted facts are of a political nature'.
In recent times Cambodia has summarily returned home without trial large numbers of Chinese caught running illegal call centres and telephone-based fraud schemes. Mr Karaca's friends fear the same could happen to him.
In a media release issued today (Oct 18) Mrs Karaca reminded Cambodia that it has obligations under international treaties to allow her husband access to legal and consular access.
He should be brought before a court of law in order to have a court decide on the lawfulness of his detention, the media release said.
Mrs Karaca said the pair considered Cambodia their second home, and that her husband was excited when he was offered a job as an education consultant at Paragon University, formerly known as Zaman University.
Last November Zaman University and its four affiliated schools were rebranded as Paragon International University after it was sold to Chea Sophakanny, a Cambodian business owner with deep government connections.
The sale followed repeated protests from Ankara, who blamed the group behind the school for the failed July 2016 Turkey coup.
Thousands of Mr Erdoğan's political opponents have been jailed in the wake of the failed putcsh, which many people have labelled a 'false flag operation' designed to facilitate the removal of dissenting political voices. Ankara maintains a global hunt for members of the group.
Claudia de La Fuente, United Nations High Commissioner for Human Rights (UN-OHCHR) Cambodia human rights officer and officer in charge, said by email that 'UN Human Rights Cambodia received information about this case on October 15 and has been following up with the relevant authorities since then. We do not have any additional information to share at the moment.'
Cambodia interior ministry mute
Emails sent to the American Embassy Phnom Penh, the UN resident coordinator in Cambodia, and Amnesty International Thailand were not responded to.
Similarly, Cambodia deputy prime minister and Interior Minister, Sar Kheng, did not reply to a request for information, as is routine for the MoI, while Cambodia council of Ministers spokesman Phay Siphan said he was "unaware of the situation".
The Turkish Embassy Phnom Penh and the Mexico Embassy Hanoi also did not respond to requests for information.
The forced disappearance of Mr Karaca comes as an EU delegation is writing its recommendation for the European Parliament on whether Cambodia should lose access to lucrative tariff exemptions under the so-called Everything But Arms (EBA) trade scheme due to concerns over shrinking democratic space, human rights abuses, and attacks on media freedom.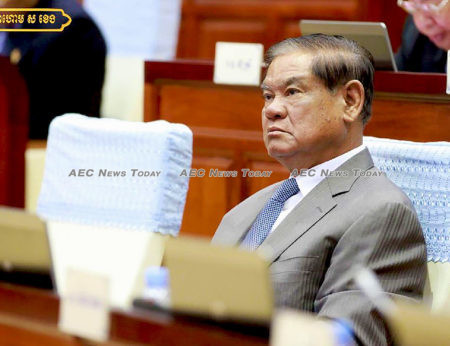 The European Parliament will announce its decision next February, with a six month moratorium before the decision comes into effect.
If the exemptions are removed it will see duties and taxes applied to Cambodian imports to the EU. In 2018 about 34 per cent of Cambodia's total exports worth some $4.2 billion went to the EU. It has been forecast that the removal of EBA privileges could cut 13.33 per cent from last year's GDP growth of 7.5 per cent.
Separately the US government is contemplating suspension of Cambodia's access to its Generalised System of Preferences (GSP) scheme for similar reasons.
In 2017 Cambodia Exports to Mexico topped $65.4 million, according to Cambodia Ministry of Commerce (MoC) figures, while those to Turkey amounted to $19.7 million. In 2018 Mexican exports to Cambodia were worth $6.6 million, while exports from Turkey topped $9.1 million.
In July Cambodia and Turkey signed a security cooperation agreement after Mr Sar met his Turkish counterpart, Suleyman Soylu, in Ankara.
Update: This story was last updated at 21:50 local time on October 19, 2019.  Citing anonymous security sources Anadolu news agency said Mr Karaca had been transferred to Ankara by Turkey security services today. The news agency said he had been charged with 'founding and masterminding an armed terrorist organisation'.
Feature video CemaatKaz
Related: 
Originally published as: Disappeared: Cambodia Interior Ministry blamed for missing Mexican educator (video)
The following two tabs change content below.

John is an Australian national with more than 40 years experience as a journalist, photographer, videographer, and copy editor.
He has spent extensive periods of time working in Africa and throughout Southeast Asia, with stints in the Middle East, the USA, and England.
He has covered major world events including Operation Desert Shield/ Storm, the 1991 pillage in Zaire, the 1994 Rwanda genocide, the 1999 East Timor independence unrest, the 2004 Asian tsunami, and the 2009, 2010, and 2014 Bangkok political protests.
In 1995 he was a Walkley Award finalist, the highest awards in Australian journalism, for his coverage of the 1995 Zaire (now Democratic Republic of Congo) Ebola outbreak.
Prior to AEC News Today he was the deputy editor and Thailand and Greater Mekong Sub-region editor for The Establishment Post, predecessor of Asean Today.
In the mid-80s and early 90s he owned JLF Promotions, the largest above and below the line marketing and PR firm servicing the high-technology industry in Australia. It was sold in 1995.

Latest posts by John Le Fevre (see all)