Advertisement

Philippine President Rodrigo Duterte has been publicly berated by world leaders almost from the day he took office for alleged human rights abuses, so it's not surprising in the new era of #metoo that his latest abuse of power, a forced kiss, has stirred up a torrent of condemnation globally.
Used to getting his own way the Philippine President wasn't going to let humiliation or embarrassment stand in the way of getting a kiss on the mouth from a young overseas Filipino worker (OFW) during his recent official visit to Seoul, South Korea.
In exchange for a copy of the book Altar of Secrets: Sex, Politics, and Money in the Philippine Catholic Church' he was about to 'gift' to two OFWs, the President said "there's payment for this— a kiss.
After giving the first recipient a polite peck on the cheek, the at times boorish President called on the second saying, "You in white, are you ready to engage in kissing? Come here," the 73-year-old commanded.
In the truly cringe-worthy video above the septuagenarian can be seen summonsing the young woman, identified by Philippine News Agency as 23-year-old Bea Kim, to kiss him on the mouth if she wanted the gift.
"Are you single? You're not separated from him? But you can tell him that this is just a joke?", the Philippine President can be heard saying like a sleazy lounge-lizard or lecherous pervert, as some 3,000 other OFWs watching from the safety of the floor squealed and screamed.
An obviously embarrassed and reluctant Ms Kim can be seen squirming and hiding behind her book, as the Philippine leader continuously beckons her to kiss him on the mouth, using his finger to emphasise the point. .
Eyes & mouth firmly closed
With the only alternative to humiliation resulting from running off the stage, Ms Kim eventually submits to the bullying and gives the Philippine leader what he demands… a kiss on the mouth, the pair's lips touching for the briefest possible time, Ms Kim keeping her eyes and mouth firmly closed.
While the often controversial President said his actions were just a 'gimmick' meant to entertain his supporters, his action has triggered anger and criticism from people globally, especially feminists who have branded him a 'sexist'.
"Don't take it seriously. It's just for fun, a gimmick. We enjoyed it. It was showbiz and everybody enjoyed it", the President told reporters at the Ninoy Aquino International Airport on Tuesday night.
"I can only generate an emotion if I kiss a woman I love. Any other stranger is pure showbiz", he said adding that kissing women has been his style since he was mayor of the southern city of Davao, adding that critics "are just envious".
Interviewed by Philippine media in Seoul, Ms Kim said although she initially had mixed feelings of nervousness, fear, and excitement, she is happy.
While many mostly male Filipinos have supported his actions describing it as harmless fun, it hasn't augured well with others. Some Filipino netizens have also 'slut-shamed' Ms Kim for engaging President Duterte, saying she consented to the action thereby absolving him of criticism.
Filipino women fight back with #BabaeAko
The forced kiss comes in the wake of Philippine women's rights advocates recently launching an online #BabaeAko (I Am A Woman) campaign to show that they were not taking Duterte's "sexist" statements sitting down.
"You don't have to kiss that woman if you want to entertain people", said Joms Salvador, secretary-general of Gabriela Women's Party. "The fact that you thought that kissing the woman would entertain people… that's something really sick."
Opposition Senator Risa Hontiveros said the forced kiss was a "despicable display of sexism and grave abuse of authority".
"President Duterte acted like a feudal king who thinks that being the president is an entitlement to do anything that he pleases. Even if the act was consensual, it was the President, possessed of awesome, even intimidating, power, who initiated it," he added.
President Duterte has faced backlashes in the past for his crass remarks on rape and for violent, derogatory comments about women, including telling troops to shoot female insurgents in the genitals during a public outburst against communist guerrillas last year.
"Tell the soldiers. 'There's a new order coming from the mayor. We won't kill you. We will just shoot your vagina," he said at the time. "If there is no vagina, it would be useless", he added, appearing to imply that women are useless without their genitals.
More recently President Duterte came under fire for misogynistic comments regarding the qualities the next Philippines Ombudsman should possess.
"I want someone whose integrity people believe in. Of course, it could not be a politicians, especially not a woman", he said.
Concerns for OFWs from predatory employers
The forced kiss has also raised concerns with those involved in caring for abused OFWs. What message does the President forcing a kiss from an OFW send to employers?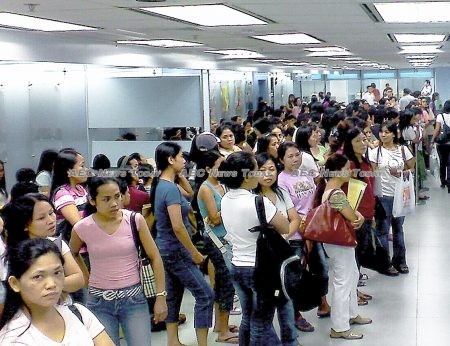 In February President Duterte put a ban on Filipinos from seeking work in Kuwait after a string of reported deaths and abuses, culminating in the brutal killing of a 29-year old OFW. Joanna Demafelis' corpse was discovered inside a freezer in her employer's home in Salmiya, Al Shaab district of Kuwait.
At the time President Duterte threatened to impose further bans on other Middle East countries, including cutting ties with those where OFW abuses is pervasive.
Last month, however, Labor Secretary Silvestre Bello III announced the liftting of the ban after an agreement to send a special envoy to Kuwait and the signing of a memorandum of agreement (MOA) on workplace safety guarantees for OFWs was reached.
Filipinos in Kuwait alone remitted $735 million in 2017, with OFWs in Gulf nations collectively sending home more than $7.5 billion last year.
With social media still abuzz, President Duterte has raised the ante saying he will resign if 'enough women' signed an official petition against his forced kiss exploit, without quantifying exactly how many women is 'enough'.
Feature video Rappler

Related:
The following two tabs change content below.

Stella-maris graduated with a Bachelor of Arts, Education from Ebonyi State University, Nigeria in 2005.
Between November 2010 and February 2012 she was a staff writer at Daylight Online, Nigeria writing on health, fashion, and relationships. From 2010 – 2017 she worked as a freelance screen writer for 'Nollywood', Nigeria.
She joined AEC News Today in December 2016.

Latest posts by Stella-maris Ewudolu (see all)