Advertisement

In a pointed address from the strategic island of Palawan on Saturday (November 10) Philippine President Rodrigo Duterte said his country is "not ready" for a looming war in the South China Sea.
The president made the portentous statement, pointedly directed at combative foreign nations, during a speech at the launch of the first Subaraw Biodiversity Festival in Puerto Princesa City.
According to the Manila Bulletin, President Duterte said Palawan 'will be one of the first places affected when a war in the South China Sea breaks out'.
To avoid being caught in the crossfire, the Philippines would not allow any country to stockpile weapons on Palawan, which lies on the border with the South China Sea.
"Palawan is critical, very critical. Because when something happens in the South China Sea, all misfired bullets will go here. That's true", he said.
"I'm putting on notice everybody — the United States, China, Australia — those interested, that the Philippines is not ready for a war. We cannot afford it and we cannot manage it. Let's stay away from trouble and not involve ourselves with that", he said.
Philippines won't get involved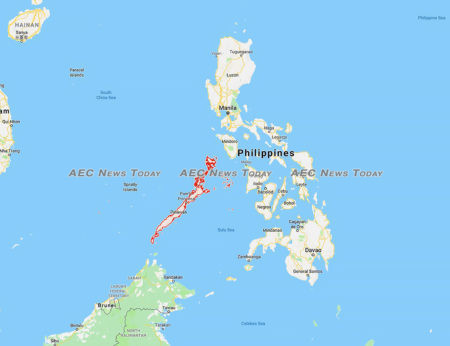 "I would not commit any of my soldiers or policemen to an exercise that would only … end up in a slaughter."
In April last year, President Duterte ordered the military reinforcement of uninhabited islets and shoals that the Philippines claim in the Spratly islands, assuring China no "offensive weapons" would be placed there.
"I'd like to address myself to the Chinese government… I ordered the occupation of the ten or nine islands that are just near our shores because there's a heightening of geopolitical issues and eventually maybe a violent low-intensity war over here", he said in a news conference at the time.
Palawan put on notice
While focusing on Palawan in his speech, President Duterte emphasised Puerto Princesa's remarkable achievement in developing alternative tourism parks, but warned against the dangers of allowing a glut of tourism, citing the recent closure of Boracay Island.
He told local government officials in Palawan that massive tourist numbers could see a catastrophe similar to that which led to Boracay's closure last April.
"Don't overload. Watch out. Boracay is a classic case of overloading", he said. "It can carry only so much people. You have to control the number. Let people wait."
Boracay was voted world's best island in Condé Nast Traveler's Readers' Choice Awards in 2016. But by April 2018, the once idyllic tourist destination had became a sewer, and was forced to close its doors to tourists for six months due to serious environmental violations. (See: Boracay's White Beach the top beach in asean in 2018 (video)).
After being dubbed a "cesspool" by controversial President Duterte, and undergoing extensive infrastructure development, Boracay reopened on October 26
The President also told Palawan officials that incessant blackouts in the province, which often lasted six to eight hours, were unacceptable. Local authorities must either fix the problem, he said, or he would "expropriate" the franchise and hand it to a new operator.
"I'll give you about towards the end of the year, a new setup that would provide energy … enough energy to run a place and so that it can develop and it can operate and it can move", Mr Duterte said, adding "China will be eager to get hold of developments here".
Feature photo Rodrigo Duterte
Stella-maris Ewudolu in Phnom Penh contributed to this story
Related:
The following two tabs change content below.
With a decade of experience as an editor and journalist, Roy has edited mastheads across Australia and Southeast Asia, from the remote island communities of the Torres Strait to Cambodia's only award-winning newspaper, The Phnom Penh Post.
A a professional photographer since the days of film, he holds a Bachelor of Arts in Photomedia and a Postgraduate Diploma in Journalism.