Advertisement

As authorities in Thailand battle a measles outbreak in the country's south the World Health Organization (WHO) has declared Singapore the latest Asean member state to eliminate the infectious disease, while Brunei has eliminated rubella.
The announcement last week brings to nine the the number of countries in the Western Pacific Region declared measles free and five said to be free of rubella.
Up to 2012 the Western Pacific Region had a long history of low rates of measles, but between 2013 and 2016 the number of infections and deaths increased.
In 2017 a regional strategy and plan of action was adopted by all 37 countries resulting outbreaks of both diseases falling to the lowest on record — just 5.2 cases of measles and 2.45 cases of rubella per million people.
Cautioning against complacency, Dr Shin Young-soo, WHO regional director for the Western Pacific, said "Countries still working towards elimination should further strengthen control efforts. Even in countries that have achieved elimination, the job is not done.
"They must remain vigilant, continue improving vaccination rates and catch any imported cases to ensure these diseases cannot spread again", he added.
Measles can cause life-threatening pneumonia and brain inflammation, middle-ear infection, severe diarrhoea, and sometimes death. In the first trimester of pregnancy rubella can lead to fetal death, premature delivery, and serious birth defects. Spread through contact with airborne droplets from an infected person, the transmission of both diseases can be prevented by cost-effective vaccines.
Measles kills 14 kids in Thai south
The warning and announcement come as Thai authorities in the Southern province of Yala attempt to reign in a measles outbreak that has so far claimed the lives of at least 14 children and seen almost 1,500 others infected.
The most recent outbreak, Thai authorities said, is due to low vaccinations rates caused by ignorance and poor education among the region's predominantly Muslim population.
According to the Ministry of Public Health (MoPH) some vaccine makers use gelatin derived from pork products as a stabilising agent in their products. Islam prohibits the consumption of pork, or pork by-products.
Despite advice from the Sheikhul Islam Office, Provincial Islamic Committees and Thailand's health ministry that vaccines used in Thailand do not contain porcine gelatin, some parents are refusing to allow their children to be vaccinated.
Speaking to the Bangkok Post one activist who lives in Southern Thailand said the low vaccination rates in the region was due to unsubstantiated Islamic opinion circulating in local communities. "Some said it is against their religion to receive vaccine shots, while others think it's not safe', he said.
In 2017 the MoPH reported almost 3,000 cases of measles with no deaths, compared with just 1,000 cases in 2012. Thailand's Health Ministry's Prevention and Control office said vaccination rates in some areas is as low as 60 per cent.
Philippines, Malaysia top spots in Asean for  measles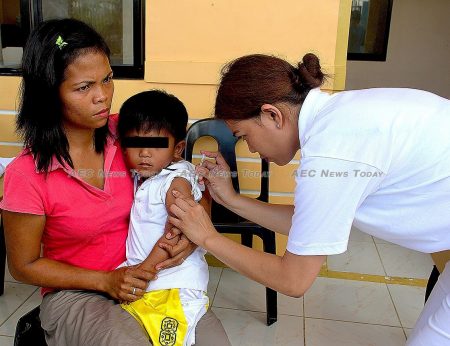 Among Asean member states the Philippines and Malaysia are the top spots for measles, ranking in the top 10 countries globally for the highest incidence of measles per one million population.
The Philippines Department of Health (DOH) declared a measles outbreak in the country in January when 222 cases were detected in Davao City, followed by a further 166 cases in February in Zamboanga City. (See: Measles Makes a Comeback as Philippine Vaccination Rates Plummet)
Blaming low vaccination rates in the wake of the dengvaxia mass dengue vaccination campaign fiasco as responsible, Philippine Health Secretary Francisco Duque II, said that compared to a previous ideal vaccination rate of 85 – 90 per cent, in January 2018 the rate had plummeted to just 60 per cent.
Similarly low levels of uptake of the MMR (measles, mumps, and rubella) triple antigen vaccine in Malaysia is causing health authorities there concern.
Malaysia Health director-general Dr Noor Hisham Abdulla said that between September 2017 and February 2018 there had been a 22.3 per cent increase in measles cases in Malaysia.
In 2017, he said, MMR immunisation rates for 12-month-old babies dropped from 94.37 per cent in 2016 to 92.08 per cent. "We need more than 95 per cent immunisation coverage to provide herd immunity for measles", he sad.
Feature photo Young Parents/ 123RF.com
Related:
The re-emerging threat of measles (The Asean Post)
South-East Asia region aims to close immunity gap, wipe out measles by 2020 – UN health agency (UN News)
'NON-HALAL' MEASLES-RUBELLA VACCINE HITS RESISTANCE IN MUSLIM INDONESIA (South China Morning Post)
The following two tabs change content below.

Sreypov Men recently completed a course of study in International Relations at the Institute of Foreign Languages.
She commenced as an intern at AEC News Today and was appointed as a junior writer/ trainee journalist on April 2, 2018

Latest posts by Sreypov Men (see all)