Advertisement

In June 2018, a leaked environmental impact assessment report on the proposed Sambor Hydropower Dam project in Cambodia revealed that constructing a dam at the proposed site could "literally kill the [Mekong] river".
The Cambodian government kept the report, which was conducted by the US-based National Heritage Foundation, under wraps prior to the national elections in July, citing that it was "too early" to make a decision on whether the project would go ahead.
Recent history indicates a high probability that the dam will be constructed by the largest contender for the bid: China's Hydrolancang Company. This is yet another story about Chinese involvement in Cambodia's hydropower sector.
Cambodia is still suffering from low electrification rates. In rural areas only 19 per cent of households have access to electricity.
Despite being a low-income country, Cambodia also has some of the world's highest electricity costs, with prices from about KHR350  (about US$0.09) to KHR1,020 ($0.25) per kWh in urban areas connected to the central grid and even higher at KHR1,632  ($0.40) to KHR3,265 ($0.80) per kWh in rural households.
Developing hydropower dams is the Cambodian government's highest energy priority. Currently, the government is aggressively pursuing this goal with the help of Chinese companies, for which a series of hydropower dam projects have been approved by the Cambodian .
In 2016 six hydropower dams — all financed and built by Chinese companies — generated 928 MW of electricity, accounting for 47 per cent of Cambodia's domestic energy production.
Cambodian Prime Minister Hun Sen hopes the hydropower dams will benefit socio-economic development and poverty reduction efforts in Cambodia's northeast. He also aims for the country to become a major energy exporter in Asia over the long term.
Chinese dam-construction companies are attractive to the Cambodian government because they are cheaper and more time-efficient than their international competitors.
The two countries have also drastically strengthened their economic and political ties in recent years. Beijing is currently Hun Sen's most important ally. China continues to provide hundreds of millions in loans and foreign direct investment at a time when most Western donors have withdrawn their support for the increasingly authoritarian regime.
Little income for Cambodia for 50 years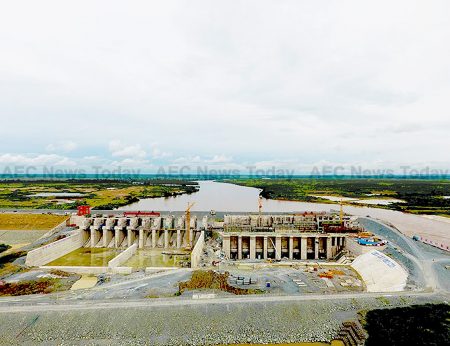 So far all of Cambodia's hydropower plants have been developed under 50-year build–operate-transfer contracts. Under these contracts all revenue accrued will flow to the Chinese companies operating the dams.
Only at the conclusion of the contracts will each plant's ownership and revenue be transferred to the Cambodian government. Before this time, the current hydropower plants are creating very little income for Cambodia.
China shares Cambodia's interest in developing hydropower on the Mekong, hoping one day to import part of the generated energy to meet rising demand at home.
Beijing has invested heavily in Cambodia's energy sector with former Chinese foreign minister Yang Jiechi pledging US$1 billion in direct investment back in 2009.
While hydropower projects are not explicitly listed in any of the official documents of the Belt and Road Initiative (BRI), companies such as Hydrolancang state on their websites that their projects abroad are "fruits" of the BRI.
Apart from the planned Sambor Dam, other Chinese hydropower projects in Cambodia have received equally widespread criticism from environmental groups, energy experts, and development NGOs.
Cambodia's months-long dry season raises concerns about some of the dams not reaching capacity production for most of the year. Environmental groups and international donors have been vocal about the potential environmental impacts of the dams on the Mekong's ecosystems, none of the Chinese companies involved in dam construction have carried out full environmental and social impact assessments.
Transparency, accountability lacking
Observers also regularly call on Cambodia and the Chinese companies involved in hydropower projects to submit project plans to the Mekong River Commission's consultation process, which assesses a dam's transboundary impacts. So far, such calls have not been successful.
Instead of joining the already established Commission, Beijing has created its own cooperation body, the Lancang–Mekong Cooperation, which so far has not stated any clear policy aims.
To make matters worse, dam construction sites in Cambodia continue to displace local villagers without proper compensation. Legally questionable logging opportunities for established Cambodian firms owned by business moguls are also present near dam sites.
Chinese investment in the development of Cambodian hydropower dams is currently the most important pillar upon which the entire Country's energy sector relies.
While the Cambodian population — especially in the country's rural areas — is in pressing need of electricity, the various hydropower dams being constructed and operated by Chinese companies are unlikely to reach those who need electricity and economic development most.
This trend is made worse by the significant lack of consideration given to those who live either upstream or downstream from the projects. It is upon these people that the greatest environmental and social burdens will be placed. Instead of hiding it from the public, the Cambodian government would be wise to heed the advice found in the reports it commissions.
This article was written by Hannah Elten, a postgraduate research associate at the German Development Institute in Bonn, Germany. She is a 2018 Schwarzman Scholar. It first appeared on the East Asia Forum under a Creative Commons License and is reproduced here with its permission.
Feature photo: Rehman
Related:
The following two tabs change content below.

East Asia Forum is a platform for analysis and research on politics, economics, business, law, security, international relations and society relevant to public policy, centred on the Asia Pacific region.
It consists of an online publication and a quarterly magazine, East Asia Forum Quarterly, which aim to provide clear and original analysis from the leading minds in the region and beyond.

Latest posts by East Asia Forum (see all)