Advertisement

Cambodia's inbound foreign tourism figures continue to climb with Cambodia Airports (CA), operator of the country's three international aviation gateways, reporting a 5 per cent year-on-year (YoY) increase in Cambodia visitor arrivals by air alone in the first half of the year.
According to CA some 3.4 million international visitors flew into the country in the first six months of 2016 with Phnom Penh International Airport (PPIA) experiencing the largest increase of 10 per cent YoY growth.
The Cambodia Ministry of Tourism says Cambodia visitor numbers topped 4.78 million in 2015 injecting more than US$3 billion – equivalent to about 13 per cent of Cambodia GDP – into the economy via the country's 335 resorts, 614 hotels, and 1,660 guesthouses.
During the opening of the Cambodia-China tourism forum last month, tourism minister Thong Khon said more than 700,000 Chinese tourists visited Cambodia in 2015 – the second largest source of tourists after Vietnam – and it is expected that this will increase by some 43 per cent to one million this year.
In the first four months of 2016 some 275,000 Chinese tourists visited Cambodia, a 13.6 per cent YoY increase on 2015. By 2020, Mr Thong said, Cambodia visitors from China are hoped to exceed two million.
Particularly popular with Cambodian tourists from China is the Khmer Empire Unesco World Heritage Hindu temple at Angkor Wat, which at 162.6 hectares (402 acres) is the largest religious monument in the world, and the Preah Vihear Temple, also of Hindu origin, built during the 11th century.
At the recent 15th Thailand Travel Mart Plus Amazing Gateway to the Greater Mekong Sub-region (TTM+2016) conference and exhibition in Chiang Mai, Thailand, Try Chhiv, deputy director general of Cambodia's Ministry of Tourism, said travel and tourism was now one of the four main pillars of Cambodia's economic growth (See: Ministers Eye More Tourists, But no Sign of Single CLMVT Tourist Visa )
The industry, he sad, directly created 620,000 jobs including providing work for 4,863 tour guides. By 2020, he said, it was expected that foreign tourists to Cambodia will increase to between 7.5 and 8 million, creating more than one million direct jobs.
Sihanoukville rising
Attempts by the Cambodia government to raise the image of Sihanoukville on the Gulf of Thailand as a major tourist destination also appear to be paying off.
According to Im Chantha, deputy director of Preah Sihanouk Provinces tourism department, tourist arrivals rose almost 17 per cent YoY during the first half of the year, topping one million visitors. Some two million tourists are expected to visit the province in 2016.
After a 14 year hiatus Royal Railway now operates a train service from Phnom Penh to Sihanoukville. Here the first passenger for the 2016 Khmer New Year. Video uploaded to YouTube by Mars Hartdegen
Ms Im attributed the substantial increase to improved transportation services, which now also includes a train services from Phnom Penh on the country's fledgling rail system after a 14 year interruption to service.
Contracted by the Cambodia government to the Royal Group, one of Cambodia's largest conglomerates, Royal Railway operates the 245km (152 mile) South Line to Sihanoukville, stopping at Takeo and Kampot along the way, with two refurbished trains capable of carrying about 200 passengers each.
The company is currently rehabilitating the last 48km (30 miles) of the 388km (241 mile) former North Line from Phnom Penh to Poipet on the Thailand border, but no firm date of commencement for this service has been announced.
Although the rail service from Phnom Penh to Sihanoukville only operates between Friday and Sunday and on public holidays, tickets for the 6.5 hour trip sell quickly. Equivalent to the current journey time by road, additional track work currently underway should see this cut by about two hours by the end of the year.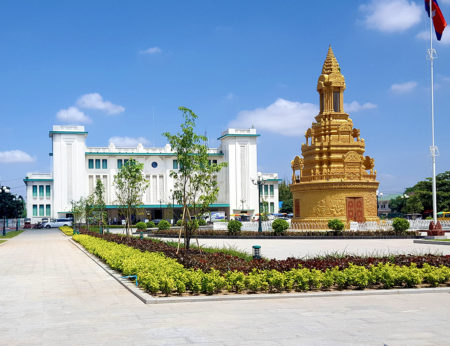 According to Ms Im Sihanoukville has been putting considerable effort into cleaning up its image as a seedy backpacker haunt with poor infrastructure and rampant crime, with an increasing array of upscale accommodation, better infrastructure, and a host of city beautification projects helping to boost the city's appeal to local and international tourists.
Street lighting, sidewalks, gardens and better utilities have all been invested in by provincial authorities, while more proactive policing has helped to significantly reduce crime. The number of snatch-and-grab robberies, one of the most frequent crimes against tourists, are down substantially since a new provincial police chief took over in April 2015, she said.
Word must be getting out, particularly in Cambodia. Local tourists to Sihanoukville increased by 21 per cent YoY in the first half of the year, compared to only a 3.1 per cent increase in foreign visitors. In the first half of 2016 some 223,000 foreign visitor ventured to Sihanoukville, in addition to 810,000 Khmer, she said.
Heading international visitors were those from China which increased 14.3 per cent YoY, while those from Russia and Vietnam also saw modest increases.
Interestingly, Ms Im said new direct flights between Sihanoukville and China, and Sihanoukville and Vietnam had not provided the boost to tourism expected. Rather, she said, the increase in foreign tourists was largely due to a 66 per cent YoY increase in cruise ship passengers. Twenty-nine vessels carrying some 33,000 passengers visited the city in the first six months of 2016, she said.
Breakneck development in the country, where Cambodia GDP has averaged an impressive 7.16 per cent per annum over the last five years and 8.1 per cent per annum average over the last 20 years, has seen the number of accommodation rooms mushroom to more than 59,000, comprising some 34,000 hotel rooms and 25,000 guesthouse rooms.
By 2020 the ministry of tourism expects Cambodia visitor numbers to top 7 million, generating about $5 billion in tourist receipts.
Feature photo John Le Fevre
Additional reporting by Vat Vin in Phnom Penh
Related:
Save
The following two tabs change content below.

John is an Australian national with more than 40 years experience as a journalist, photographer, videographer, and copy editor.
He has spent extensive periods of time working in Africa and throughout Southeast Asia, with stints in the Middle East, the USA, and England.
He has covered major world events including Operation Desert Shield/ Storm, the 1991 pillage in Zaire, the 1994 Rwanda genocide, the 1999 East Timor independence unrest, the 2004 Asian tsunami, and the 2009, 2010, and 2014 Bangkok political protests.
In 1995 he was a Walkley Award finalist, the highest awards in Australian journalism, for his coverage of the 1995 Zaire (now Democratic Republic of Congo) Ebola outbreak.
Prior to AEC News Today he was the deputy editor and Thailand and Greater Mekong Sub-region editor for The Establishment Post, predecessor of Asean Today.
In the mid-80s and early 90s he owned JLF Promotions, the largest above and below the line marketing and PR firm servicing the high-technology industry in Australia. It was sold in 1995.

Latest posts by John Le Fevre (see all)