Advertisement

Paddy is our life, but many people don't want us to grow paddy anymore", laments Pham Van Tuan, a rice farmer in Can Tho province of Vietnam. "Big people from Ho Chi Minh City say that our paddy is causing climate change and water scarcity in the world.
Paddy cultivation emits over 10 per cent of global agricultural greenhouse gas (GHG) emissions and consumes 21 per cent of the total water volume used for global crop production.
In Vietnam's Mekong Delta, which has been hit by record droughts in recent years, water is increasingly scarce. Solutions that enable farmers such as Pham Van Tuan to grow rice while drastically reducing GHG emissions and water usage would be a game-changer for the Mekong Delta.
One such practice, Alternate Wetting and Drying (AWD), where rice fields are alternately flooded and dried, and water levels kept low during the flooded stage, reduces water use by up to 28 per cent and methane emissions up to 48 per cent.
With such immense benefits, one would expect that this practice is applied far and wide, but it isn't. Why?
Alternate Wetting and Drying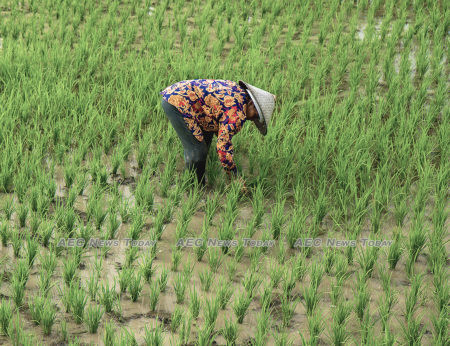 AWD can be challenging to implement. Farmers need to know the optimal irrigation amount for their soil conditions and specific paddy variety at every stage of the rice growth cycle. Water levels must be constantly measured, with the method working in best in level fields.
A prime requirement is autonomous access to irrigation with sufficient water supply to be able to pump water as needed. Also, in institutional settings where farmers pay little or not at all for water and do not receive carbon credits for reducing GHG emissions, they have little financial incentives to do so.
The Korea World Bank Partnership Facility (KWPF) financed a pilot programme at Tra Vinh University to apply Internet of Things (IoT) technology to address some of the challenges farmers face when applying AWD.
Using technology developed by MimosaTEK, a Vietnamese start-up, a sensor measures the water level in the rice field and sends the information to cloud-based management software.
The farmer can monitor the actual and the recommended water levels on a smartphone application, which helps him determine the best time to irrigate the rice and the optimal amount of water to apply. He can operate the water pump through the mobile phone application or manually.
In addition to the AWD prerequisites, IoT AWD requires a smartphone with internet connectivity, and electricity.
Up to 20% less water
The pilot found that the introduction of IoT technology is technically feasible for smallholder farmers, with with the system recording an uptime of almost 100 per cent, and consistent precision in measuring water levels.
The pilot found the user-friendly interface popular, with farmers finding it convenient and precise, with those using IoT using between 13 and 20 per cent less water than farmers applying conventional AWD.
"This is so convenient. I can observe the water level in my field and accordingly turn my irrigation pump on and off from the comfort of my home", said Pham Van Tuan, adding, "it also saves water and energy".
Phan Van Tuan, together with 95 per cent of the other 80 farmers who participated in the pilot over two seasons, want to continue using the IoT system. Over 90 per cent of farmers would pay for the system.
Given this success, the government plans to scale up the use of IoT technology with rice farmers in the Mekong Delta, drawing on the lessons learned from this pilot.
One of the key takeaways we learned was that experience is important; farmers previously exposed to conventional AWD got more quickly used to operating the IoT system, which increased the effectiveness of the technology.
Capacity building for farmers therefore needs to not only focus on the practical and technical skills to utilise the IoT system, but also incorporate good agronomic practices.
Knowledge of the system also matters—farmers who installed and maintained the pipes and operated the system themselves generally did better.
Secondly, for farmers to get the most out of IoT technology sites must have access to electricity, smartphones and and internet connectivity.
Farmers also benefit most when their field conditions met the prerequisites for AWD — levelled, larger size plots can help justify the investment. Using IoT technology cannot compensate for suboptimal sites.
Another important lesson is to keep it simple. Keeping the IoT solution simple and tailored to the users' needs will be conducive for adoption. The solution also must be cost-effective from the farmers' perspective.
Technology providers typically require support to reach out to a larger number of smallholders and arrange for agronomic input services. The public sector can help by facilitating linkages between the different players, and help create favourable conditions and link stakeholders. This support would reduce the risks for actors to pursue IoT AWD technology, while creating substantial benefits in the form of reduced greenhouse gas emissions and sustainable use of water.
This article was written by Vikas Choudhary, senior economist in the Global Food and Agriculture Practice (GFADR), and Karin Fock, agriculture and rural development consultant in GFADR. It first appeared on World Bank Blogs under a Creative Commons License and is produced here with its permission. 
Feature Photo World Bank Blogs
Related:
How new technology is transforming Vietnam's economy(CNN) 
Vietnam Set to Make Aquaculture Farming Sustainable with Solar Energy(Mercom) 
Vietnam's agricultural sector at a crossroads(Khmer Times)
The following two tabs change content below.

Established in 1944 and headquartered in Washington, DC, The World Bank is a United Nations international financial institution that provides loans to developing countries for Capital programs.
The World Bank Group consists of: The International Bank for Reconstruction and Development, The International Development Association, The International Finance Corporation, The Multilateral Investment Guarantee Agency, and The International Centre for Settlement of Investment Disputes.
By 2030 The World Bank aims to:
1. End extreme poverty by decreasing the percentage of people living on less than $1.25 a day to no more than 3%.
2. Promote shared prosperity by fostering the income growth of the bottom 40% for every country.
It aims to achieve this by providing low-interest loans, zero to low-interest credits, and grants to developing countries.

Latest posts by The World Bank (see all)