Advertisement

Singapore-based Kacific Broadband Satellites Group (Kacific) has announced the successful launch of its Kacific1 communications satellite.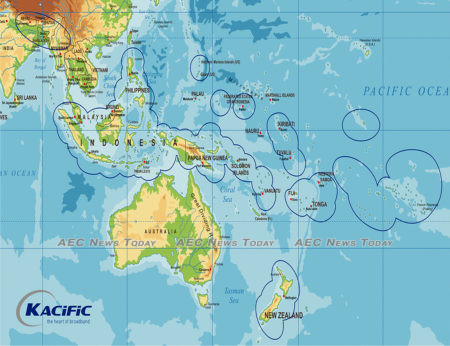 The Kacific-1 communications satellite blasted off from Launch Complex 40 at Cape Canaveral Air Force Station, Florida, USA onboard a SpaceX Falcon 9 rocket at 7.10pm eastern time (UTC-4) on Monday, December 16 and reached its targeted orbit 33 minutes later.
The 702-MP Boeing-built High Throughput Satellite (HTS) is expected to take about six weeks to complete a sequence of in-orbit manoeuvres and tests before settling in to a geostationary orbit approximately 42,000 kilometers (26,000 miles) above the equator.
From there its 56 high-throughput beams will deliver high-speed mobile and broadband internet services to more than 600 million people in 25 Asia-Pacific nations including Indonesia, The Philippines, Malaysia, Myanmar, Brunei, and Timor-Leste across the 56 Ka-band frequency spectrum.
Speaking after the successful launch Kacific founder and CEO, Christian Patouraux, said "Kacific1 is the newest and most powerful commercial satellite operating in the Asia-Pacific region.
Bring positive change
"Its range of services, from mobile backhaul to broadband internet via VSAT terminals, will provide a catalyst for positive change in the nations it is about to serve. I'm thrilled to start seeing the social and economic impact of Kacific1″.
Kacific's first launch was watched in Florida by more than 160 guests from telecommunication and internet service provider customers, government agencies and regulators, not-for-profit organisations, university faculty, and Kacific investors, management and staff from across the Asia-Pacific.
The successful launch of Kacific1 was SpaceX's 47th and its 29th aboard a drone ship, while the 11-day turnaround of pad 40 was a company record.
The launch comes less than two weeks after the group announced it had secured $160 million in new loans led by the Manila-based Asian Development Bank (ADB) and GuarantCo, a private infrastructure development organisation. See: ADB stumps up $50 mln to help Kacific-1 bring internet to billions in AP).
In November Kacific announced that India-based Tata Communications, operators of the world's largest wholly owned subsea fibre backbone and a Tier-1 IP network with connectivity to more than 240 countries and territories, had been chosen as the terrestrial connectivity service provider.
Feature video SpaceX 
Related:
Kacific-1 Satellite Arrives At SpaceX Launch Site In Cape Canaveral (Space Watch)
Kacific, with SpaceX launch imminent, borrows $160 million for satellite refinancing (Space News)
Kacific's First Satellite Successfully Launches to Space! (Business Wire)
The following two tabs change content below.

Stella-maris graduated with a Bachelor of Arts, Education from Ebonyi State University, Nigeria in 2005.
Between November 2010 and February 2012 she was a staff writer at Daylight Online, Nigeria writing on health, fashion, and relationships. From 2010 – 2017 she worked as a freelance screen writer for 'Nollywood', Nigeria.
She joined AEC News Today in December 2016.

Latest posts by Stella-maris Ewudolu (see all)