Advertisement

After commissioning the largest solar farm in Southeast Asia last month Vietnam is to kick its use of renewable energy to a higher level with the largest installation of floating solar photovoltaic (PV) panels in the region.
A $37 million loan agreement signed October 2 between the Asian Development Bank (ADB) and Da Nhim–Ham Thuan–Da Mi Hydro Power Joint Stock Company (DHD), a subsidiary of Viet Nam Electricity (EVN) Power Generation Corporation 1, will see the first large-scale installation of floating solar PV panels in Viet Nam take place at DHD's existing Da Mi hydropower plant in Binh Thuan province, on Vietnam's southeastern coast.
DHD currently generates about 1.7 per cent of Viet Nam's total electricity capacity from four hydropower plants: Da Mi (175 MW), Ham Thuan (300 MW), Da Nhim (160 MW), and Song Pha (7.5 MW). The floating PV panel installation will add an additional 45 MW of capacity to the Da Mi power plant.
The financing package for the installation comprising a $17.6 million loan from ADB's ordinary capital resources, $15 million in low-cost finance provided by the Canadian Climate Fund for the Private Sector in Asia and its follow-on fund, the Canadian Climate Fund for the Private Sector in Asia II, and a $4.4 million parallel loan from the Leading Asia's Private Infrastructure Fund (LEAP).
Set to be replicated throughout Asia
Christopher Thieme, ADB Private Sector Operations Department deputy director general said "The pairing of these two clean energy technologies —hydropower and solar — is a simple, but a highly innovative achievement, which can be replicated elsewhere in Viet Nam and across Asia and the Pacific".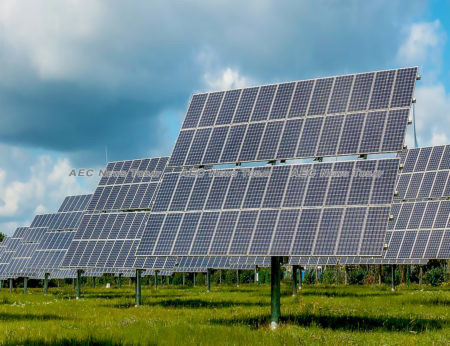 Nguyen Trong Oanh, chairman of the board of DHD said the company "was proud to be the first to construct a floating solar power plant on a hydropower reservoir in Vietnam.
The project, he said, aligned with "DHD's strategy of investing in renewable energy to decrease dependence on fossil fuel, contribute to energy security, mitigate climate change, and promote environmental protection and sustainable socioeconomic development".
On September 7 the Dau Tieng Solar Power Complex,a Southeast Asia's largest solar farm, was inaugurated in Tay Ninh province.
A joint-venture between Xuan Cau Holding Co Ltd. and Thai conglomerate B.Grimm, the $392 million Dau Tieng solar power project occupies more than 540 hectares (about 1,334 acres).
With a generating capacity of 420 MW the plant is expected to meet all of the electricity demand for all of Tay Ninh, with some left over for use elsewhere.
Investors wait for new incentive pack
A number of foreign solar energy investors  are reportedly waiting on the announcement of a new Government feed-in tariff (FIT) for solar power projects.
The current FIT of US$0.0935 cents per kW has been applied across the board to solar power projects, providing investors with a 20-year price incentive. However, a recent draft ruling by the Ministry of Industry and Trade (MoIT) proposes different rates for different types of installations.
Floating solar power projects would receive just $0.769 cents per kWh, while ground-mounted solar power projects would receive $0.709 cents per kWh. Rooftop solar power projects will continue to receive $0.935 cents per kWh under the proposal. If approved the new rates will apply until 2021.
In the rush to enjoy the incentives offered until the FIT which ended June 30, almost 90 solar power plants were put into operation with a total capacity of over 4,500 MW in its last two months, far exceeding the plan of only 850 MW of solar power by 2020 approved in the Power Development Master Plan VII (PDP VII).
Under its Strategy of Renewable Energy Development to 2030, Viet Nam aims to reduce greenhouse gas emissions, as pledged under the Paris COP21 Agreement, by 5 per cent by 2020 and, with international assistance and support, by 25 per cent by 2030.
It also aims to increase renewable energy output from approximately 58 billion kWh in 2015 to 101 billion kWh by 2020, and 186 billion kWh by 2030.
Households with solar energy equipment are targeted to increase from 4.3 per cent in 2015 to about 12 per cent and 26 per cent by 2020 and 2030, respectively.
Feature video Asian Development Bank – ADB
Related:
The following two tabs change content below.

Sreypov Men recently completed a course of study in International Relations at the Institute of Foreign Languages.
She commenced as an intern at AEC News Today and was appointed as a junior writer/ trainee journalist on April 2, 2018

Latest posts by Sreypov Men (see all)