Advertisement

The Asian Development Bank (ADB) has signed a $50 million loan agreement with Singapore-based Kacific Broadband Satellites International Limited (Kacific) to provide up to two billion people across the Asia-Pacific region with affordable satellite-based, high-speed broadband internet services.
The venture is the international financiers first into satellite communications, its work traditionally being in the areas of hard infrastructure such as roads, bridges, energy, water, and sanitation, or capacity building.
The Kacific-1 project will support the construction, launch, and operation of a shared geostationary earth orbit, high-throughput satellite, scheduled to be launched by entrepreneur Elon Musk's SpaceX on December 15, with internet services to become operation early in the new year.
The High Throughput Satellite (HTS) will employ 56 high-power Ka-band beams to deliver affordable, high-speed broadband to telecommunications companies, internet service providers, and governments in Southeast Asia and the Pacific.
The satellite's footprint will will see it reach into remote areas of small island nations in the Pacific, as well as larger island nations such as Indonesia and the Philippines.
IP connectivity and security by Tata
Late last month Kacific announced that India-based Tata Communications, operators of the world's largest wholly owned subsea fibre backbone and a Tier-1 IP network with connectivity to more than 240 countries and territories, had been chosen as the terrestrial connectivity service provider.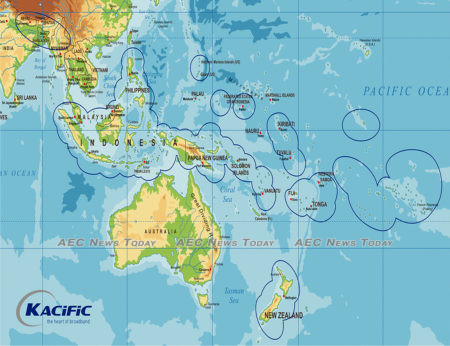 At the time Kacific CEO, Christian Patouraux, said that Tata's leading edge technology will ensure "our high-speed broadband will reach people living across both the most remote rural locations and the most densely populated urban centres in the Asia Pacific region".
The loans will come from the ADB and the Leading Asia's Private Infrastructure Fund (Leap), which is also administered by the ADB.
Established in March 2016 with support from the Japan International Cooperation Agency (Jica), Leap is one of the ADB's cofinancing vehicles dedicated to private sector infrastructure in Asia and the Pacific.
In addition, GuarantCo, a Private Infrastructure Development Group (PIDG) company, is also expected to work with the ADB to guarantee additional private cofinancing for the project.
Michael Barrow, ADBs director general for Private Sector Operations, said, "better access to reliable, high-speed internet can help improve education services, expand access to information, attract investments, reduce rural–urban development gaps, enhance trade and connectivity, and stimulate local economies.
Disaster resilience
"It [Kacific-1] will also help improve communication, especially during emergencies and times of disaster when terrestrial networks might be damaged", he added.
Support for the Kacific-1 project is inline with the ADBs commitment to achieving a prosperous, inclusive, resilient, and sustainable Asia and the Pacific, while sustaining its efforts to eradicate extreme poverty. In 2018, it made commitments of new loans and grants amounting to $21.6 billion.
Established in 2013 Kacific Broadband Satellites Group is a satellite operator providing high-speed broadband for underserved, remote and rural markets. Kacific-1 is its first satellite.
Feature photo Kacific
Related:
The following two tabs change content below.

Sreypov Men recently completed a course of study in International Relations at the Institute of Foreign Languages.
She commenced as an intern at AEC News Today and was appointed as a junior writer/ trainee journalist on April 2, 2018

Latest posts by Sreypov Men (see all)