Advertisement

The Thai military junta's plans of continued political domination received what can only be described as a nuclear strike today, with the elder sister of the current king of Thailand registering as a candidate for prime minister in the March 24 elections.
The nomination of Princess Ubolratana Mahidol Rajakanya Sirivadhana Barnavadi came on the final day of candidate registrations, and places her in a head-on clash with incumbent Prime Minister General Prayut Chan-o-cha.
General Chan-o-cha assumed the role of prime minister as the head of a 2014 'military intervention' and had declined to reveal until today whether he intended to seek to fill the role through the electoral process. He has previously stated that in the event he announced his candidature that he will not vacate his current role.
Today he formally acknowledged he would accept the candidacy for the newly established Palang Pracharath Party (PPRP), the core of which is four government ministers who resigned last week. They are: former commerce minister Sontirat Sontijirawong, former science and technology minister Suvit Maesincee, former PM's office minister Kobsak Pootrakool, and PPRP leader, former industry minister Uttama Savanayana.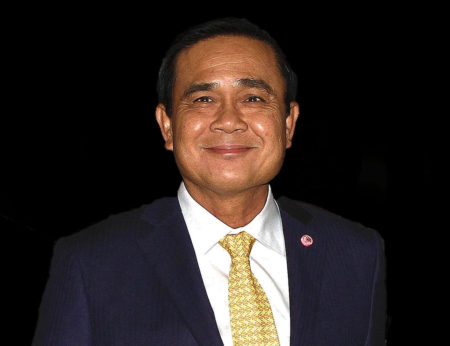 Thailand's new Constitution allows for an unelected person to be appointed to the role of prime minister, while its rewritten electoral rules requires parties to name their candidates in advance.
The nomination of Princess Ubolratana by the recently formed Thai Raksa Chart (TRC) party is the culmination of months of manoeuvring by politicians allied to fugitive former prime minister Thaksin Shinawatra to attempt to 'junta proof' the coming election.
Over the past several months senior members of the main opposition Pheu Thai Party (PTP), strongly linked to Shinawatra, have transferred their membership to TRC.
PTP is currently being investigated  by the Election Commission to see if Shinawatra is still controlling the party. If found to be the case the party faces being dissolved.
Shinawatra's in exile
Shinawatra-aligned parties have won every Thailand general election since 2001, only to be removed by the courts or by military force. Ousted in a military coup in 2006, Shinawatra fled Thailand ahead of a corruption conviction in 2008.
Shinawatra's younger sister Yingluck, widely seen as a proxy for her brother, was elected prime minister in 2011, but was removed from office by General Chan-o-cha'.
She fled Thailand in August 2017 ahead of a five-year prison sentence for criminal negligence. Both her and Shinawatra live in self-imposed exile, though retain a strong following, particularly in Thailand's north.
The eldest child of the late King Bhumibol Adulyadej, 67-year-old Princess Ubolratana was required to relinquish her royal title when she married an American at the age of 21.
After the couple divorced in 1998 she returned to Thailand where she is treated as a royal, and included in nightly television broadcasts of royal activities.
Princess Ubolratana has been seen with the Shinawatra's publicly and is also known to be close to her younger brother, King Maha Vajiralongkorn Bodindradebayavarangkun.
Coup proofing threatens free speech
Thailand's royal family officially stepped out of politics in 1932 when King Prajadhipok (Rama VII) signed the Permanent Constitution of Siam on December 10, 1932. It is a position 'the palace' has taken publicly since then throughout 25 general elections and 19 coups d'état, 12 of them successful.
The nomination of Princes Ubolratana for prime minister of Thailand throws doubt on the life-expectancy of the Chan-o-cha administration; her nomination having the potential to appeal to both sides of Thai politics.
While potentially 'coup-proofing' a future 'Shinawatra-sympathetic' government from the Thailand military, the nomination also has the potential to see criticism of the TRC during the election campaign, and of the next government and its prime minister, become a dangerous exercise.
Future government protected from criticism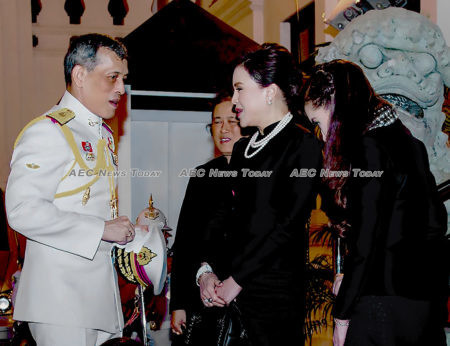 Article 112 of Thailand's criminal code says anyone who 'defames, insults, or threatens the king, the queen, the heir-apparent or the regent" will be punished with a jail term between three and 15 years.
So-called 'lèse-majesté' complaints can be filed by anyone, against anyone, and they must always be investigated by the police. Trials are held in closed sessions in military courts, with no course of appeal.
While specifically stating which members of the royal family are covered by the law, it has been used in the past to prosecute one man for defaming one of King Adulyadej's dogs, and an historian who was charged for questioning whether 16th-century King Naresuan had really killed a Burmese prince in a duel while riding an elephant.
The military junta which seized government in 2014 is staunchly royalist and Article 112 prosecutions have increased under its administration.
Election fare from fair
How they would proceed after an effective 'remonarchisation' with a 'royal prime minister' remains to be seen. But already the prospect of a politician and prime minister who cannot be criticised is ringing alarm bells.
Speaking with AEC News Today via Facebook messenger, Dr Paul Chambers, a lecturer at Naresuan University's College of Asean Community Studies in Thailand, described the current situation as "unprecedented for Thailand".
"One cannot improve democracy through the help of authoritarian institutions such as the monarchy. The effect will be to enhance monarchical power rather than establishing more political space", he said,
In an earlier interview with Bloomberg, Dr Chambers said that, "It'll be difficult for parties to run against the princess. It'll be hard for anyone to campaign against her.
"Voters would find it difficult to choose someone that's not part of her party, because Thai ideology puts the royals at the top".
Announced at exactly 09:10 this morning some are also pointing to the "auspicious" nature of the numbers, seen by some to represent King Rama 9 and King Rama 10. Thais put great stock in things such as amulets and 'lucky numbers', the Prime Minister in 2016 famously unbuttoning his shirt at a media conference to display a collection he wears.
Feature photo Siam Burapha
Related:
The following two tabs change content below.

John is an Australian national with more than 40 years experience as a journalist, photographer, videographer, and copy editor.
He has spent extensive periods of time working in Africa and throughout Southeast Asia, with stints in the Middle East, the USA, and England.
He has covered major world events including Operation Desert Shield/ Storm, the 1991 pillage in Zaire, the 1994 Rwanda genocide, the 1999 East Timor independence unrest, the 2004 Asian tsunami, and the 2009, 2010, and 2014 Bangkok political protests.
In 1995 he was a Walkley Award finalist, the highest awards in Australian journalism, for his coverage of the 1995 Zaire (now Democratic Republic of Congo) Ebola outbreak.
Prior to AEC News Today he was the deputy editor and Thailand and Greater Mekong Sub-region editor for The Establishment Post, predecessor of Asean Today.
In the mid-80s and early 90s he owned JLF Promotions, the largest above and below the line marketing and PR firm servicing the high-technology industry in Australia. It was sold in 1995.

Latest posts by John Le Fevre (see all)