Advertisement

Hundreds of thousands of Khmer yesterday (Nov 9) participated in mass ork ambok (pounded rice) eating events organised by the Cambodian government to demonstrate support for the nation, religion, and King on the 66th anniversary of Independence from French colonial rule.
The mass eating of the traditional dish — made from pounding roasted unhusked rice grains until they are light and fluffy and eaten with banana or sweet potato — came against a massive security operation nation-wide aimed at preventing the return of former Cambodia National Rescue Party (CNRP) leader, Sam Rainsy.
Rainsy, who has lived in self-imposed exile in France since 2015, had previously vowed to return on Cambodia Independence Day and lead a popular uprising against the government, offering to pay soldiers who joined his side. Prime Minister Hun Sen is the world's longest serving prime minister, having ruled the tiny Southeast Asian country for more than 34 years.
In response Prime Minister Hun called on all Khmer to eat ork ambok as a sign of support for the country's three divine pillars, dispatching civil servants and ministers to their home constituencies and provinces to guarantee there was plenty of ork ambok for everyone. To ensure the PMs orders were carried out in their entirety, civil servants were told to record everything and everyone attending on their cell phones… twice.
As King Norodom Sihamon, Prime Minister Hun, senior government ministers and members of the diplomatic corps gathered in the early morning light for the annual celebrations in the capital, Phnom Penh, throughout the nation ork ambok eating events were being set up at local and regional government offices and outposts, with everything being fully documented. Perhaps a Guinness World Record claim or book  is being planned.
Wat Phnom ork ambok eating festival
At Wat Phnom in the capital more than people began gathering from early light, musicians and entertainers adding to the festive occasion. While many tables were occupied by what appeared to be teams of civil servants from the same organisation, an almost equal number were occupied by people who told AEC News Today that they were neighbours or long-time friends.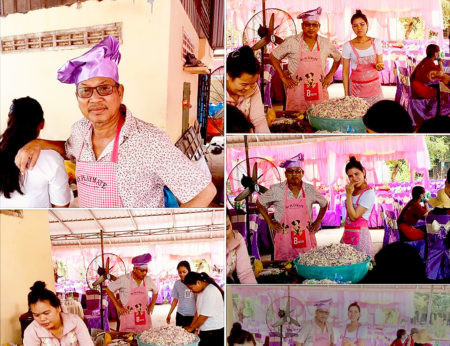 A large number of Khmer youth from various government-backed social organisations were also highly visible.
AEC News Today spoke to many of the younger people attending, all of who said that they had made their way independently to the event. They had not been told to attend, they said, and all said that they had not been paid to attend; not even 'gasoline' or 'transport money'.
Ensuring everything at Wat Phnom went smoothly was deputy prime minister Men Sam An and Phnom Penh Governor Khuong Sreng. Both moved freely among crowds of people eager to get up close and personal to the two for selfies, with no obvious signs of concerns for either's personal security.
In a Facebook post Mr Hun called on all Khmer to "eat pounded rice together under the slogan Ambok Khmer to defend the nation, religion and the King, adding, "there will be no clashes in Phnom Penh. Please do not be worried about an insecurity".
His promise was met when Rainsy and his supporters, along with any possible disruption to the Cambodia Independence Day celebrations, were thwarted by the cancellation of their Cambodian passports in an attempt to have them deported to Cambodia to face trial. Rainsy, at least, is known to have a French passport.
Concurrently a Malaysian MP has invited Rainsy to a meeting on November 12 with an unknown number of legislators — at Zuhr, the traditional noon prayer period for Muslims.
As this story was being finalised Phnom Penh municipal court announced that the house arrest bail conditions for former opposition MP and co-founder of the CNRP, Kem Sokha, had been relaxed. "He can travel nationwide now", AFP quoted a court spokesman as saying, adding that health concerns for the 66-year-old was behind the change. The new order forbids Mr Kem from leaving Cambodia or joining political activities.
Related:
Eating ork ambok at Wat Phnom slide gallery
(Click to launch slide show)
Photos John Le Fevre
The following two tabs change content below.

John is an Australian national with more than 40 years experience as a journalist, photographer, videographer, and copy editor.
He has spent extensive periods of time working in Africa and throughout Southeast Asia, with stints in the Middle East, the USA, and England.
He has covered major world events including Operation Desert Shield/ Storm, the 1991 pillage in Zaire, the 1994 Rwanda genocide, the 1999 East Timor independence unrest, the 2004 Asian tsunami, and the 2009, 2010, and 2014 Bangkok political protests.
In 1995 he was a Walkley Award finalist, the highest awards in Australian journalism, for his coverage of the 1995 Zaire (now Democratic Republic of Congo) Ebola outbreak.
Prior to AEC News Today he was the deputy editor and Thailand and Greater Mekong Sub-region editor for The Establishment Post, predecessor of Asean Today.
In the mid-80s and early 90s he owned JLF Promotions, the largest above and below the line marketing and PR firm servicing the high-technology industry in Australia. It was sold in 1995.

Latest posts by John Le Fevre (see all)