Advertisement

Throughout its 26 year history The Phnom Penh Post has had only two owners, founders Michael Hayes and Kathleen O'Keefe, and more recently Australian extractive industries magnate Bill Clough.
The sale of Post Media and it's Khmer- and English-language daily newspapers at the beginning of the month to a Malaysian businessman therefore came as more than a shock to many, including some staff who failed to take notice that all was not well at Cambodia's oldest newspaper.
Journalists and 'media freedom' advocates globally have decried the sale as putting at risk the future of independent journalism in Cambodia, which last year saw The Cambodia Daily shuttered after receiving a tax penalty of about US$6.3 million. In similar circumstances the sale of The Phnom Penh Post came in the wake of it too receiving a tax penalty from the Cambodia General Department of Taxation (GDT), this time a figure totalling some US$3.9 million.
While a veritable torrent of dismissals and resignations in the wake of the sale have captured headlines globally, not much has been written about the key players at 'The New Phnom Penh Post', as it is being referred to on some social media platforms.
Indeed, even the staff of The Phnom Penh Post needed to scour the Internet for publicly available information to write about their own sale and new owner after their previous owner gave them little to work with. The new owners delayed taking up residence due to the timing of the Malaysia general election.
The dearth of information changed last week when the new management team for The Phnom Penh Post hosted a media briefing in Phnom Penh.
Amongst several unanswered questions from the event was the the purchase price, with the buyers citing a non disclosure agreement (NDA) between the parties.
AEC News Today can reveal that The Phnom Penh Post and its sibling Khmer-language version was sold for US$5million, with either $2 million or $3 million dollars deducted for liabilities.
Despite popular myth, Post Media's tax bill was not wiped clean as claimed by some journalists, with the remainder being sent to Mr Clough's holding company in the British Virgin Islands.
As to the buyer, according to a portion of a flipchart easel seen in a photo taken on March 3, 2018 at the Meridian Hotel Kuala Lumpur and supplied as part of the media briefing, the buyer is Media More, a name as yet unassociated with Mr Ganapathy.
Emails to Mr Ganapathy and MediaMore Asia, a Malaysian digital media buying agency established in 2011 were not responded to prior to publication.
The name is particularly intriguing as throughout last week's media briefing Mr Ganapathy was emphatic that Post Media had been purchased by him as an individual, and not a company in any form.
The owner: Sivakumar S Ganapathy aka Siva Kumar G
Sivakumar S Ganapathy, the new owner of Post Media, publisher of The Phnom Penh Post discuses his first couple of weeks of ownership, and the reasons behind his purchase. AEC News Today

At the top of the food chain of Post Media Co,. Ltd. is Sivakumar S Ganapathy, aka Siva Kumar G for short.
Described as a  self-made 'business man', Mr Ganapathy was described in the media announcement on the sale of Post Media as a 'well respected newspaper man, with a (sic) experienced journalist (sic) background'.
Extensive searches of the Internet fail to disclose any stories carrying a Sivakumar S Ganapathy, or a Siva Kumar G byline, while Mr Ganapathy's carefully worded biography on the Asia PR website also sheds little light on the topic.
According to the company's website, for the entire period 1985 to 2006, in addition to busily turning around newspapers, researching a book, and writing a series of articles aimed at debunking claims of massive deforestation in Sarawak, Mr Ganapathy was also 'providing and implementing PR and media strategies for the Sarawak State Government'.
According to a sheet titled 'About Siva Kumar G' distributed at the media briefing Mr Ganapathy brings to the table a media career spanning more than 40 years.
Commencing as a cadet journalist at The National Echo in 1976, Mr Ganapathy is said to have then moved to take up business writing at Industries & Business Malaysia two years later.
He then says he returned to The National Echo where he moved from writing to sub-editing, business editor, sports editor, deputy chief sub-editor, chief sub-editor, and then assistant editor in 1984.
State-backed publications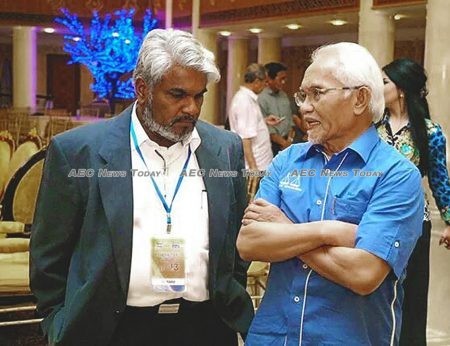 On January 1, 1986 'amidst challenges of resignations, espionage, and sabotage' — similar circumstances and wording to that used following his purchase of The Phnom Penh Post — Mr Ganapathy's says he relaunched The People's Mirror.
Owned by the current Governor of Sarawak (Yang di-Pertua Negeri Sarawak) Abdul Taib Mahmud, Mr Ganapathy says the publication's mission was 'to counter falsehoods propagated by The Sarawak Tribune'
The name Taib is one that constantly crosses paths with Mr Ganapathy's over the past 30 years, with the latter clearly being a chief cheerleader for the veteran Sarawak politician. Mr Ganapathy's 'about' document is liberally punctuated with Mr Taib's name, along with gushing praise and admiration.
Mr Ganapathy says he has continued to 'maintain his rapport with [Mr] Taib and continued to make observations of both parliamentary and state elections, the party PBB, the psych of Sarawakians as they responded and took part in Taib's Politics of Development up till Score (Sarawak Corridor of Renewable Energy) today'.
Both Mr Taib and his uncle who preceded him as Governor of Sarawak, Abdul Rahman bin Ya'kub, have been accused of running Malaysia's largest state as a personal fiefdom, extracting patronage fees for Sarawak infrastructure contracts, logging, land, and mining rights to cronies in exchange for political support. Historically this has translated into support for the United Malays National Organisation (UMNO) who were swept from office in the Malaysian general election (GE14) on May 9.
In 2012 Swiss environmental non-governmental organisation (NGO) Bruno Manser Fund (BMF) estimated Mr Taib and his immediate family's wealth at more than US$21 billion, $15 billion of which was said to belong to Mr Taib personally. The family is said to hold shares in more than 330 companies in Malaysia and up to another 70 others world-wide 'worth several billion US dollars'.
A mention of claims by environmental groups that Sarawak had lost up to 90 per cent of its forest cover under Mr Taib's tenure was described by Mr Ganapathy as an "irresponsible allegation and something which is totally untrue" in the internal memo obtained by AEC News Today on March 7 ordering the immediate termination of those responsible.
Another possible reason behind such a strong stance might be attributed to Mr Ganapathy's appointed in 1987 by the then Sarawak state minister for Forestry, James Wong, 'to write a reply to alleged deforestation and logging malpractices in the serialised title Rumble in the Jungle, which rubbished claims that vast hectares of timber land would have been flattened in the time-frame of a documentary fuelled by pressure groups and activists'.
As Mr Ganapathy was leaving The People's Mirror to take up a position as a senior journalist at the New Straits Times in 1989, he says Mr Taib commissioned him to write Taib, a vision for Sarawak. A 236-page tomb praising the career of Mr Taib as chief minister of Sarawak. Mr Ganapathy said it took three years to research and write.
Millennium jump 2000 fiasco
He then says that after a planned UMNO-aligned broadsheet tentatively titled The Observer failed to eventuate he moved to The Sun, originally registered in 1991 as a private limited company under the name of Fikiran Abadi Sdn Bhd., as associate editor (special projects), where he says he introduced computerised desktop publishing (DTP).
He then says he started The Sun's syndication arm before moving on to head its Classified Advertising Department, and fostering the development of Fikiran Syndicate, a company specialising in editorial syndication and copyright management.
He says he then left The Sun to develop Fikiran Syndicate, before moving on to be an independent media practitioner and editorial consultant.
In 2001 Fikiran Syndicate was at the centre of a storm when a it was revealed that a claimed world record skydiving jump over the South Pole under the 'Malaysia Boleh' programme never happened.
Promoted to the Malaysian public — and the world — as the first Asians to jump over the South Pole from an altitude of 6,400m (about 21,000ft), the 'Millennium Jump 2000' "scandal" was labelled at the time as sullying Malaysia's name, flag, and honour by then Democratic Action Party (DAP) chairman Lim Kit Siang.
Funded by a RM780,000 (about US$196,000) loan from the Ministry of Youth and Sports (KBS), media reports at the time said the organiser was a G Siva Kumar, with the truth only being revealed 86 days after the event did not take place.
Embarrassingly it was revealed that the team knew prior to leaving Kuala Lumpur on December 26, 2000 that they would not be able to jump due to bad weather in the drop zone, however it was announced on January 13, 2001 that the event had taken place as planned. Mr Ganapathy did not respond to an email prior to publication asking if it was him referred to in the original story.
Between 2006 and 2008 Mr Ganapathy says he was 'called back to the Eastern Times', though there is no previous mention of that publication, where he reorganised it back into a state-backed broadsheet. In 2010 he joined AsiaPR, which he then purchased in 2011.
According to the company's website its signature product in 2015 was the 810-page authorised biography of Mr Taib, TAIB – THE VISIONARY, comprising 33 chapters covering his 33 years as chief minister.
Similar to his first book, Mr Ganapthy said the second required three-years research. He is currently working on a Malay and updated English language version, he said.
Describing himself as a writer, a biographer and editor, and a PR practitioner, the different professions merge together into a swirling beige mass of interconnectivity without any clear lines of separation, with the one constant figure being Abdul Taib Mahmud. Conflicts of interest would appear to not bother Mr Ganapathy, who can probably best be described as a propagandist with more than a passing interest in politics.
The editor: Purushotman N Govindasamy aka Joshua Purushotman
Sivakumar S Ganapathy, the new owner of Post Media, publisher of The Phnom Penh Post discuses his first couple of weeks of ownership, and the reasons behind his purchase. AEC News Today

The new executive editor-in-chief of The Phnom Penh Post and Mr Ganapathy's personal representative with executive authority is  Purushotman N Govindasamy, aka Joshua Purushotman.
Mr Purushotmanas claims an extensive history in journalism dating back more than 25 years, citing such well respected titles as The Star, The Sun, the New Straits Times, and Today in Singapore among the publications he has worked for.
"I've worked as a reporter, a bureau chief, sub-editor, a copy editor. I came up through the ranks. I know what a reporter goes through. I know what a sub goes through. I understand all of their problems, all of their pains, because I've been there", he said last week.
Describing himself as a career journalist who had moved into PR 'because it pays better", Mr Purushotman held senior positions at Batey Communications, Fleishman-Hillard Inc., and J. Walter Thompson International, before his most recent position as executive editor of Focus Malaysia, a weekly business magazine, that was sold in February.
Lawyering up: Ly Tayseng
Ly Tayseng, The Phnom Penh Post's new legal advisor who assisted in brokering the sale has an extensive history in Cambodian public affairs, most notably as a political researcher and analyst at the General Secretariat of the Supreme National Economic Council (SNEC) for the Prime Minister's Cabinet between 2005 to 2012.
A partner and managing director of Honest and Balanced Services (HBS) Law, Mr Ly is described by Chambers and Partners, the world's leading legal practitioner directory, as '"very senior in the legal community, held in high esteem in the Bar" and as a '"very refined, experienced character."'
In particular it notes his work for Cambodian conglomerate Chip Mong Group (CMG) in negotiating hotel management agreements with Hyatt Group and Marriott Group to establish hotels in Phnom Penh.
According to the firm it acted for the first three State companies listing on the Cambodia Securities Exchange (CSX), two major banks, international financial and Cambodia microfinance institutions.
Mr. LY obtained his Master of Laws (LL.M) from Nagoya University, Japan, a Bachelor of Laws (LLB) from the Royal University of Law and Economics (RULE), Cambodia, and Bachelor of Laws (LLB) from the University Lumière Lyon 2, France.
Fellow partner and chairman of HBS Law, Bun Honn, has been a practising attorney since 1998 and was under-secretary of state for the Ministry of Justice (MoJ) between 2007 and 2012. He has been a member of the Council of Jurist of the Council of Ministers (COM) of Cambodia since 2004, and in 2012 was elected as the fifth President of the Bar Association of the Kingdom of Cambodia.
In February 2017 he was was promoted to undersecretary of state at the Ministry of Interior (MoI), and in March this year was granted the power to sign on behalf Interior Minister Sar Kheng in matters relating to NGOs and associations.
The deal maker: Anthony Galliano
Regarded by many as one of the most credible and honest business and tax advisors in Cambodia, Anthony Galliano, CEO of Cambodian Investment Management (CIM), was instrumental in bringing about sale of Post Media Co., Ltd to a fruitful conclussion.
Speaking at last week's media conference Mr Galliano was emphatic that the sale of The Phnom Penh Post and it's parent company was free of any coercion, and conducted on a "willing seller, willing buyer basis".
A frequent columnist in The Phnom Penh Post on matters relating to taxation, Mr Galliano last week chastised the media for failing to see the big picture. Negotiations on the sale of The Phnom Penh Post started one year ago, he said, well before any tax issues.
Making no qualms about the matter, Mr Galliano said he thought previous owner Bill Clough had done "a good job by selling".
Currently the Chairman of Premium Human Resources (PHR), Cambodian Investment Management Insurance Agent (CIMI), Dynamo Digital (DD), Jump Digital Cambodia (JDC), and Phnom Penh BG Serviced Offices, Mr Galliano began his banking career in the United States.
Prior to establishing CIM in 2009 Mr Galliano's corporate banking  career spanned 27-years at ANZ Bank, Citibank, J.P. Morgan Chase, and Bank of New York.
Out: mining magnate Bill Clough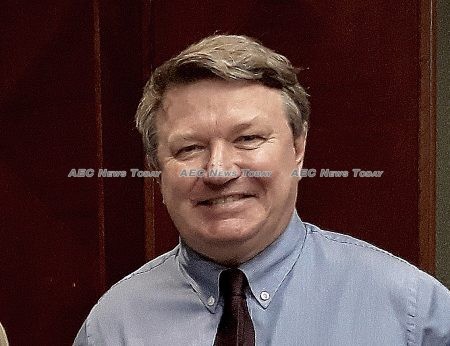 Bill Clough is an Australian business magnate who has ventured into extractive industries and construction throughout the Asia-Pacific region and beyond. Between 1994 and 2002 he served as a non-executive director of the Clough Limited board.
In 2003 he founded Colomi Iron, which 100 per cent owns the Colomi iron ore project in Bahia State, Brazil, with an estimated five billion tonnes of magnetite, an important form of iron ore.
In 2004 he founded Twinza Oil Limited, an upstream oil and gas company in the Asia-Pacific region focused on commercialising discovered, but as yet undeveloped assets.
Mr Clough also founded Mirabela Nickel, listed on the Australian Securities Exchange (ASX) and Toronto Stock Exchange (TSX), which was ranked number 63 on the Top 100 of Australia's Resource Stocks Australian Rich List in 2007 .
He is also the former CEO and founder of Serabi Gold plc, a gold exploration and production company involved in the evaluation and development of gold deposits in Brazil.
In 2008 he, Ross Dunkley, former publisher and CEO of The Myanmar Times, and Mr Clough's father, Harold Clough, a former director of West Australian Newspapers (WAN) purchased The Phnom Penh Post from Mr Hayes and Ms O'Keefe.
The new owners took the publication from a fortnightly publication to a daily English-language newspaper in August of 2008, introduced a Khmer-language version in 2009, and bought their own printing presses.
According to people with knowledge of the situation, but not authorised to speak to media, after paying a reduced tax assessment to Cambodia's GDT, Mr Clough was left with little money from the sale of The Phnom Penh Post. He is free to return to Cambodia and able to start new businesses in the kingdom if he so desires.
Update: This story was updated at 18:30 on May 25, 2018:
In a response to our email asking him to explain the name 'Media More' as the buyer on the flipchart in the March 3 2018 photo, Mr Ganapathy at first replied with just a link headed 'Mohan2' to an interview published in the Khmer Times today, May 25 where Mr Galliano reinforces the serious penalties for breaking the non-disclosure agreement that had prevented the buyer from revealing details of the purchase. Mohan T is the Malaysian publisher of the Khmer Times.
Sometime Mr Ganapathy responded again, again failing to answer whether Sarawak Governor Abdul Taib Mahmud was in anyway involved in the purchase of Post Media, nor denying whether he was the G Siva Kumar involved in the 'Millennium Jump 2000' fiasco. He also did not clarify whether the $2 million figure on the flipchart represented a deduction, or the final price.
Rather, Mr Ganapathy, a so-called professional PR consulatant said: 'I can only recognise how low you had (sic) stopped (sic) in releasing a story full of garbage really. I do not know what is unsettling among western-run news portals and rogue journalists who have been using Cambodia as a nesting ground to write anything they want.'
Overflowing with nationalism and bordering on racism, Mr Ganapathy added: 'Well, i (sic) take pride in the fact that The Phnom Penh Post is now owned by a Malaysian – an Asean member. We will of course take the newspaper to greater heights.'
During his media interview in Phnom Penh last week Mr Ganapathy raised eyebrows by referring to Cambodia as "a third world country", while with his response to us indicates he also has problems with non-Asean business owners. Mr Clough is Australian.
Ignoring previous stories written by AEC News Today chronicling the recent turbulent period of The Phnom Penh Post which acknowledges comments that the sale had likely saved the publication from closure, Mr Ganapathy said: 'I am sure there are other more important things to write about that (sic) the sale of this newspaper which in reality saved it from closure and 167 staff being left without a job.Obviously your sympathies are not with these objectives.'
Videos Leakhena Khat
Leakhena Khat, Sreypov Men, and Stella-maris Ewudolu in Phnom Penh contributed to this report
Related:
New Phnom Penh Post Owner Turns Terminator Decrying Sabotage, Ethics *Update #2 (AEC News Today)
New Era For The Phnom Penh Post Under Malaysian PR Co. Ownership (video) *Update #2 (AEC News Today)
New Malaysian owner of Cambodia's Phnom Penh Post fires editor after story about sale, staff resign in protest (South China Morning Post)
The following two tabs change content below.

John is an Australian national with more than 40 years experience as a journalist, photographer, videographer, and copy editor.
He has spent extensive periods of time working in Africa and throughout Southeast Asia, with stints in the Middle East, the USA, and England.
He has covered major world events including Operation Desert Shield/ Storm, the 1991 pillage in Zaire, the 1994 Rwanda genocide, the 1999 East Timor independence unrest, the 2004 Asian tsunami, and the 2009, 2010, and 2014 Bangkok political protests.
In 1995 he was a Walkley Award finalist, the highest awards in Australian journalism, for his coverage of the 1995 Zaire (now Democratic Republic of Congo) Ebola outbreak.
Prior to AEC News Today he was the deputy editor and Thailand and Greater Mekong Sub-region editor for The Establishment Post, predecessor of Asean Today.
In the mid-80s and early 90s he owned JLF Promotions, the largest above and below the line marketing and PR firm servicing the high-technology industry in Australia. It was sold in 1995.

Latest posts by John Le Fevre (see all)