Advertisement

Philippines national flag carrier Philippine Airlines (PAL) has added two new aircraft, the first of six Airbus A350-900s and 21 Airbus A321neos, to its fleet to boost passenger capacity and further its aim of becoming a five-star world-class airline by 2020.
According to PAL three more A350-900s will join its fleet this year, two more by the middle of 2019, with the airline having options for an additional six.  The six Airbus A350-900s will replace PALs ageing fleet of A340s. An additional five A321neos are to be delivered this year, with 15 others in the coming years PAL said.
Intended primarily to provide non-stop services to Europe and North America, including to New York, PAL's longest route, the 295-seater A350-900 can fly more than 14,800 kilometres (about 8,000 nautical miles). Previously aircraft required stops in Vancouver on the 17-hour return trips.
Meanwhile, the new 168-seater A321neo will fly the newly launched Manila-Brisbane and Manila-Sapporo routes of approximately 900 kilometres (500 nautical miles).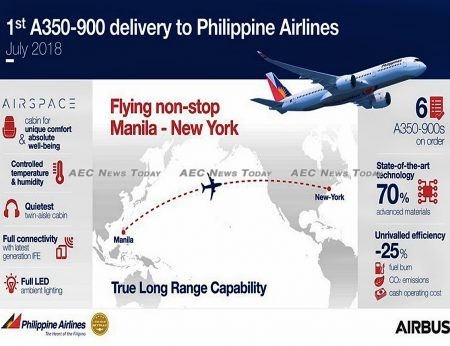 "The arrival of the new airplanes will see Philippine Airlines offer new levels of comfort on our long-haul flights", said PAL president and COO Jaime J. Bautista during an official delivery ceremony in Toulouse, France, on July 17.
"At the same time we will benefit from the A350 XWB's new generation efficiency, with a significant reduction in fuel consumption and lower maintenance costs.
"We believe that the A350 XWB will be a game changer for Philippine Airlines as we compete with the best in the premium long-haul market."
Priced at $317.4 million each, PALs A350-900s features a three-class cabin consisting of 30 seats in business class that have a comfortable 1.1-metre (43.3 inch) seat pitch and a width of up to 61 centimetres (24 inches). The seats can be reclined to a full-flat bed measuring 1.98 metres (78 inches) and have adjustable air cushions and lumbar massage features.
The A321neo, each worth $129.5 million, have been configured with 12 business class seats and are expected to lower fuel consumption by up to 15 per cent, operating costs by 8 per cent, and lower emissions by at least 10 per cent.
The Premium Economy class cabin of the A350-900 features 24 seats that have a pitch of 97 centimetres (38.2 inches) and a width of 48 centimetres (18.90 inches). The seats can recline a full 20 centimetres (7.87 inches). The 241 economy class seats have a pitch of 84 centimetres (33 inches), a width of 46 centimetres (18.11 inches) and can recline up to 15 centimetres (5.9 inches).
Philippine Airlines is the 19th airline globally to operate the efficient long-range, twin-engine airliner, with the new aircraft to debut on PAL's Manila-New York and Manila-London routes commencing October 28.
In February this year PAL was the only Philippine carrier to receive certification from Skytrax, the international airline rating organisation, which awarded it a 'Four-star Airline' rating. Between now and 2020 PAL aims to increase its current fleet from the existing 67 aircraft to 100. Last week PAL reported an operating loss of P444.8 million ($8,327 mln) .
Feature video Airbus
Related:
Philippine Airlines Takes Delivery of First Airbus A350-900 (Travel NewsAsia)
PAL to set new milestones in fleet modernization program (Inquirer.net)
First Airbus A350 XWB for Philippine Airlines (Aviator)
The following two tabs change content below.

Stella-maris graduated with a Bachelor of Arts, Education from Ebonyi State University, Nigeria in 2005.
Between November 2010 and February 2012 she was a staff writer at Daylight Online, Nigeria writing on health, fashion, and relationships. From 2010 – 2017 she worked as a freelance screen writer for 'Nollywood', Nigeria.
She joined AEC News Today in December 2016.

Latest posts by Stella-maris Ewudolu (see all)