Advertisement

Early this week a sizzling string of emails led investigative journalists to uncover the explosive link between conspirators in the 1Malaysia Development Berhad (1MDB) financial scandal, former Malaysian prime minister Najib Razak, and feuding royal families under Saudi crown prince Mohammed Bin Salman. That link: murdered Saudi dissident and journalist Jamal Khashoggi.
First reported in The Edge on December 1, the connection casts a damaging shadow over the prevailing narrative that the presumed killing of Mr Khashoggi — allegedly carried out by agents of Saudi Arabia on October 2 at their consulate in Ankara, Turkey — was a hit on press freedom.
Instead, the light turns unexpectedly onto an intriguing web of power-plays, 'covert public relations', fraud, and finance stretching from Kuala Lumpur to the Saudi power base of Riyadh. In the process, Mr Khashoggi's past ethics fail to live up to the popular narrative also.
$100,000 transferred prior to Najib Razak interview
In 2009, just five days before Mr Khashoggi was due to interview Mr Razak, it is alleged he was sent $100,000 by Tarek Obaid, one of two shareholders of PetroSaudi International, the shell company with whom 1MDB lost $1.8 billion in a joint venture. The other PetroSaudi shareholder is Prince Turki bin Abdullah Al Saud, son of the late Saudi King Abdullah bin Abdulaziz Al Saud.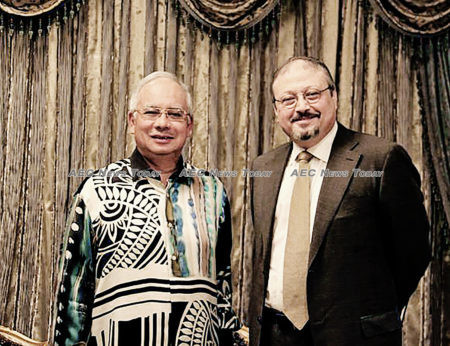 The Edge report alleges much of the missing money was traced to these two investors' bank accounts, along with accounts held by fellow PetroSaudi director Patrick Mahony and playboy tycoon Low Taek Jho (Jho Low), a fugitive facing a string of money-laundering charges over the saga.
Shortly before the May 2013 election $681 million was quietly transferred to Mr Razak's personal bank accounts. When the transfers later became the subject of 1MBD investigators' scrutiny, Mr Razak denied the money had come from the  state investment fund. He said it was a political donation from a Saudi Royal family and that he had later returned $620 million.
Citing a Saudi source who asked not to be named, BBC journalist Frank Gardner confirmed the money — paid in a series of wire transfers between late March 2013 and early April 2013 — had indeed come from a Saudi Royal family: the family of Prince Turki bin Abdullah.
Anti-corruption work uncovers email trail
The Khashoggi email trail, originally uncovered through British investigative journalist Clare Rewcastle Brown's work on her anti-corruption Sarawak Report, shows just how closely Mr Obeid and his brother Nawaf worked with Razak's PR team. The dossier also details their smear tactic of terrorism allegations against opposition leader Anwar Ibrahim.
Mr Khashoggi's interview with Mr Razak was arranged by Mr Low and Mr Obaid, both key conspirators in the 1MBD scandal.
A November 25, 2009 email to r Khashogghi from Wan Ahmad Shihab Ismail, a special officer working for Mr Razak, informs the journalist that Mr Low is copied in on the correspondence to enable him to make arrangements for the interview.
Mr Low, who often described the prime minister as his "BB" (big boss), poured $300 million into PetroSaudi, and paid Mr Tarek a $85 million brokerage fee to act as a 'front' in a scheme that ultimately siphoned $1.4 billion out of the 1MDB joint venture. In return, Mr Tarek did Mr Low and his BB the occasional favour.
A December 2, 2009 email allegedly from Mr Tarek instructs Mr Low to transfer $100,000 to Mr Khashoggi.
Mr Khashoggi's interview with Mr Razak was held the year he came to power, and less than three months after 1MDB transferred its first $1.0 billion investment in the worthless joint venture.
At the time Mr Khashoggi was editor-in-chief of Saudi Arabia's Al Watan (The Nation) newspaper, and the interview was designed to promote a suitable image of the Malaysian PM in the Saudi media ahead of his visit to the kingdom in January 2010. No disclosure of having received the money is reported as having been made. Accepting cash for comment without disclosure would be a serious breach of the ethics most journalists subscribe to.
In a December 8, 2009 email, Mr Obaid greets Mr Low with "hey bro", before detailing 16 questions Mr Khashoggi should ask, including Mr Razak's personal message to the Saudis, and topics such as Malaysia's importance to the Muslim world, global themes shared by the two nations, the centrality of Saudi Arabia and the new beginning of a "strategic" Saudi-Malaysian relationship.
Much of this orchestrated PR was handled by Mr Tarek's brother, Nawaf Obaid, an academic. Along with a civil service post and Swiss passport, Nawaf had a private 'think tank' called the Saudi National Security Assessment Project (SNSAP). He also owned a self-serving media and intelligence network, and appears to have been handsomely paid for his work with PertoSaudi's siphoned funds.
In a December 10, 2009 email to Mr Khashoggi, Nawaf proposes a 'major front-page interview with Mr Razak, a supplementary interview demonstrating the PM's wife Rosmah Mansor's involvement in "Muslim causes", and several editorial pieces.
After the interview, which took place in Kuala Lumpur on December 2009, Mr Khashoggi and Mr Najib posed for a photo.
A motive for murder?
In a November 27,  2018 opinion piece Washington Post columnist David Ignatius wrote that based on intelligence findings from US and Saudi experts Mr "Khashoggi was murdered by a team sent from the royal court in Riyadh, which was part of the rapid-action capability that had been organized 18 months before". He then posits the theory that Mr "Khashoggi's provocative journalism" had offended the autocratic Crown Prince Mohammed Bin Salman.
Evidence of Khashoggi's involvement with 1MDB conspirators means new theories are emerging, with the spreading tentacles of 1MBD corruption point to alternative motives.
According to Mr Ignatius  Prince Turki and Prince Tarek were involved in a 'cut-throat Saud family feud' with Prince Salman. Mr Khashoggi was close to both these two PetroSaudi stakeholders, and also a supporter of their Royal Saudi family faction around King Abdullah.
One theory is that Mr Khashoggi had insider knowledge of 1MDB corruption, and posed an unacceptable risk. Or is it not a matter of what he knew, but who?
The 1MDB heist is currently under investigation by four sets of authorities: in the US, where both the Federal Bureau of Investigation (FBI) and a federal grand jury are probing allegations of money-laundering; in Switzerland, and in Hong Kong.
Feature image Sarawak Report
Related:
The following two tabs change content below.
With a decade of experience as an editor and journalist, Roy has edited mastheads across Australia and Southeast Asia, from the remote island communities of the Torres Strait to Cambodia's only award-winning newspaper, The Phnom Penh Post.
A a professional photographer since the days of film, he holds a Bachelor of Arts in Photomedia and a Postgraduate Diploma in Journalism.