Advertisement

After the 2016 US Presidential election hope remained in Hanoi that Donald Trump, once in office, would turn from firebrand protectionist campaigner into a leader who accepted the value of open trade — a cause in which the Vietnamese government had invested so much in preparation for Vietnam's membership of the Trans-Pacific Partnership (TPP). These hopes have given way to a hangover.
By now it is clear that President Trump will govern as he campaigned: without long-term strategy and with little interest in any assessment of consequences. Not surprisingly, some 60 per cent of top US diplomats have resigned and key foreign policy positions remain unfilled. Clearly, Washington is in no position to chart a clear course for the United States' key relationships around the world.
Vietnam's carefully crafted policy of non-alignment — by which Hanoi has skilfully exploited big-power rivalries to balance economic and political interests — now requires a major update.
During the APEC summit in Da Nang Mr Trump stood in front of the leaders of the foremost multilateral institution in the region and waxed about a free and open Indo-Pacific, at the same time heaping criticism on multilateralism. Bilateral deals were offered to any takers, but with the caveat that he wanted to see the United States 'win' what he considers a zero-sum game. That kind of deal is not likely to find many takers.
Xi's Vision to Make China Great Again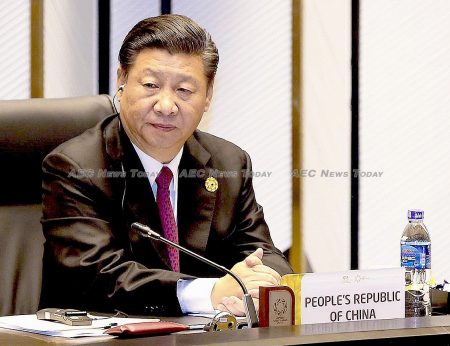 Unlike President Trump, Chinese President Xi Jinping has a plan to make China great again. Speaking at APEC after Mr Trump, China's President offered a vision of the shared benefits of a free-trading region.
Vietnamese officials were smitten with Xi's willingness to dispense with protocol during the APEC forum. In his speeches, with a wink at the United States, President Xi offered a mutually beneficial deal in which trade and investment are not zero-sum games, and he assumed the leadership mantle on economic openness in Asia.
While Mr Trump adopts China's earlier, failed approach of ramming bilateral trade deals down smaller countries' throats one by one, President Xi is on a charm offensive with a multilateralist agenda.
However, while China is clearly emerging as the leader of a 'free and open Indo-Pacific', Vietnam may be a bright spot for Mr Trump.
Vietnamese diplomats are quick to say that Hanoi will pursue a bilateral deal with Washington, less for its economic gains than for its symbolic value.
Vietnam's US$32 billion trade surplus with the United States makes it vulnerable to a bad deal in Mr Trump's trade war. Yet Hanoi hopes to be able to appeal to the President's self-regard: if Vietnam is among the very few takers of Mr Trump's offer, then it may be rewarded simply for showing up and giving him something to gloat about. And then there is the symbolism of cooperating with Washington at the same time as Beijing aims for regional leadership.
But this strategy is fraught with risk. Any deal with President Trump is bound to be fickle. If the Republican Party is trounced at the mid-term elections in November 2018, congressional leaders and the Trump administration could set out on very different courses. Moreover, with no long-term strategy, any shift in domestic mood — or in his personal mood — may turn Mr Trump against Vietnam in no time.
Traditionally, Vietnam prefers multilateral venues where no one party calls the shots. That is why any bilateral talks with Washington must be seen as bargaining chips for the Regional Comprehensive Economic Partnership (RCEP) and CPTPP, to which Vietnam remains strongly committed.
Having as many friends as possible is an important bargaining chip for a country such as Vietnam, that traditionally punches above its weight, especially with respect to its big northern neighbour whose hegemonic impulses and significant claims on Vietnamese waters are cause for concern.
The TPP would have made it easier for Vietnam to escape China's orbit. That ship has sailed, at least for now. In the meantime, Vietnam is trying to improve its bargaining power for a position within that China orbit. Whether any deal with President Trump is useful — or credible — is the risky bet Hanoi is now forced to make.
This article was written by Thomas Jandl, a founding partner of TJMR Asia Consulting and a non-resident scholar at the Social Sciences and Humanities Department, Vietnam National University (VNU). It first appeared on East Asia Forum under a Creative Commons License and is reproduced here with its permission.
Related:
Vietnam, US sign $12 billion in trade deals (Inquirer.net)
Chinese group visits Vietnam to promote bilateral trade ties (China Daily)
As US exits TPP, Beijing sharpens claws (Bangkok Post)
The following two tabs change content below.

East Asia Forum is a platform for analysis and research on politics, economics, business, law, security, international relations and society relevant to public policy, centred on the Asia Pacific region.
It consists of an online publication and a quarterly magazine, East Asia Forum Quarterly, which aim to provide clear and original analysis from the leading minds in the region and beyond.

Latest posts by East Asia Forum (see all)