Advertisement

A 27-year-old education researcher from the Philippines was the lone representative of an Asean member country to garner an award in the recent Asian Development Bank's (ADB) Youth Water Photo Competition, #WaterYouDoing
The competition, launched in August, called for young photographers across Asia to illustrate the region's water challenges. Participants, aged between 18 and 32 years old, submitted their photos by email and posted them on social media platforms such as Facebook and Instagram.
The contest focused on five subjects: supplying water, sanitation and water quality, water for food, water for energy, and water resource management. There was also a special 'people's choice' prize for the photograph that generated the biggest reaction on social media.
For his entry, Kim Alvin De Lara of the Philippines, presented a photograph of students at his school using rainwater to grow vegetables. De Lara's photo, entered in the water for food category, conveyed the benefits of rainwater on plants. (Notably, that it does not contain chlorine and is warmer than tap water.)
Using rainwater can also reduce a school's water bill, while helping to diminish flooding and erosion.
According to Thomas Panella, group chief of the ADB's Water Sector, almost 400 photographs — from countries ranging from Armenia to Timor-Leste — were entered in the contest. The images, he said, expressed the value of water, as well as ways to ensure water access, enhance services and safeguard resources.
Other #WaterYouDoing winners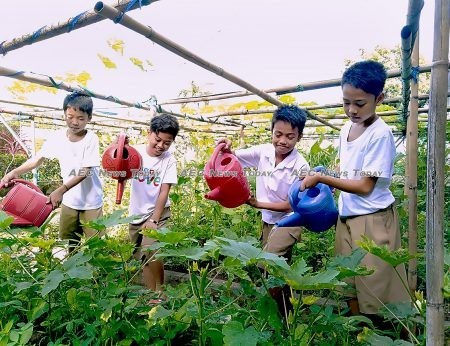 Other winners in the #WaterYouDoing competition included a photograph from Sri Lanka and four from India.
Sarath Kuttikkatuparambil Thilakan of India won in the category of supplying water with a black-and-white photo of children outside a water filling station in the impoverished Mandala area of Mumbai.
Somraj Sahu of India won in the sanitation and water quality section with a photo of children bathing with floodwater, disregarding the poor sanitation conditions after a water-related disaster.
Sohani Liyanage of Sri Lanka won in the category of water for energy with a picturesque view of the Rantembe Reservoir, Randenigala Dam and its reservoir taken from the peak of Gonagala Mountain.
In the category of water resources management, Suraj Kumar's winning photo showed an arid landscape in Lapodiya village near Jaipur, Rajasthan state, where local people use a grassroots approach to water conservation.
The winner for the people's choice award was India's Nkhil Nayak. Mr Navak's photo received a combined total of 2,421 likes, shares, and comments for his photo of a child in Kerala state who was repurposing water by using it to wash her hair, eating utensils, and clothing.
The six winners received an all-expense paid trip to join the Asia Water Forum 2018, which was held last week at the ADB headquarters in Manila with a theme of "Information, Innovation and Technology".
ADB #WaterYouDoing photo competition winners gallery
Feature photo Asian Development Bank  
The following two tabs change content below.

Sreypov Men recently completed a course of study in International Relations at the Institute of Foreign Languages.
She commenced as an intern at AEC News Today and was appointed as a junior writer/ trainee journalist on April 2, 2018

Latest posts by Sreypov Men (see all)