Welcome to the Thailand morning news roundup by AEC News Today, your one stop for Thailand news on matters of governance and policies affecting Asean business communities.
BOI to promote Kingdom as a centre for subcontracting
WITH THE government's plan to base the economy more on technology and innovation, the Board of Investment will promote Thailand as the centre of subcontracting industries in Asean and in Asia as a whole, as many foreign investors look to expand businesses in this emerging region.
— The Nation
Thailand 'unaffected by US report'
FOREIGN MINISTER Don Pramudwinai yesterday said the US 2016 Country Reports on Human Rights Practices will not effect Thailand even though the annual report criticised the ruling junta for curbing rights and freedoms in the Kingdom.
— The Nation
Thailand shines a light on Africa
Relations between Thailand and Africa have entered a new phrase of "concrete development", says Krekpan Roekchamnong, director-general of the Foreign Ministry's South Asia, Middle East and Africa Affairs Department
— Bangkok Post
Top 10 listed property companies see their combined sales revenue take a dip in 2016
THE TOP 10 property firms listed on the Stock Exchange of Thailand have reported combined revenue of Bt215.7 billion for 2016, down 2.83 per cent from the previous year, after sales in the final quarter of last year were lower than their estimates.
— The Nation
Advertisement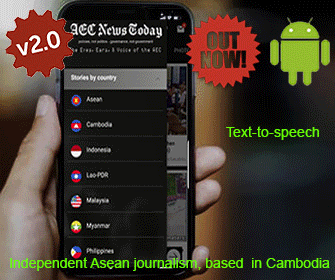 New excise formula to raise prices of alcohol, but not as much as feared
CONSUMERS are needlessly worried that a new excise bill will drive the prices of alcoholic beverages into the stratosphere, the Excise Department says.
— The Nation
NHRC looks into cross-border rights violations
The delegation led by Tuenjai Deetes the National Human Rights Commissioner of Thailand – along with journalists, researchers and civil society representatives – visited Dawei in late February to exchange views in a public forum and push forward the investigation of two Thailand cross-border investment firms:
— Myanmar Times
Japan emperor meets new Thai monarch and bids farewell to late king
Japan's emperor Akihito met Thailand's new monarch on Sunday (Mar 5) during a brief visit to pay respects to his recently departed friend the late King Bhumibol Adulyadej.
— Channel News Asia
Source: Excise mulling retail price base
The Excise Department may use retail tag prices at modern trade and convenience stores as the recommended prices for consumer goods, says a Finance Ministry source.
— Bangkok Post
Asia-Pacific: Thailand eyes B.C.'s videogame industry for growth
B.C.'s revitalized videogame industry is attracting the attention of some unusual players — specifically Thailand, whose companies are exploring ways to draw local companies to open up shop across the Pacific.
— Vancouver Sun
DHL eCommerce expands in Thailand's booming e-commerce market
DHL eCommerce, a division of the logistics company, Deutsche Post DHL Group, is capitalising on the booming Thai e-commerce market expected to more than triple in size to 3.6 billion euro between now and 2020 by enhancing its nationwide coverage with next day delivery in remote areas and extending pick-up service to small e-commerce merchants to meet its growing customer demands.
— Digital News Asia
Call for spectrum roadmap
Thailand is in urgent need of a defining roadmap for telecommunications spectrum in preparation for the deluge of data expected to arise from Thailand 4.0.
— Bangkok Post
THAI promises new online ticketing system
Thai Airways International (THAI) is planning to improve its ticketing system, to help website and mobile users, following customer complaints about its outdated platform.
— Bangkok Post
Feature photo: John Le Fevre
The Thailand morning news roundup is published M-F by AEC News Today: Governance, not government; policies not politics.
The following two tabs change content below.

John is an Australian national with more than 40 years experience as a journalist, photographer, videographer, and copy editor.
He has spent extensive periods of time working in Africa and throughout Southeast Asia, with stints in the Middle East, the USA, and England.
He has covered major world events including Operation Desert Shield/ Storm, the 1991 pillage in Zaire, the 1994 Rwanda genocide, the 1999 East Timor independence unrest, the 2004 Asian tsunami, and the 2009, 2010, and 2014 Bangkok political protests.
In 1995 he was a Walkley Award finalist, the highest awards in Australian journalism, for his coverage of the 1995 Zaire (now Democratic Republic of Congo) Ebola outbreak.
Prior to AEC News Today he was the deputy editor and Thailand and Greater Mekong Sub-region editor for The Establishment Post, predecessor of Asean Today.
In the mid-80s and early 90s he owned JLF Promotions, the largest above and below the line marketing and PR firm servicing the high-technology industry in Australia. It was sold in 1995.

Latest posts by John Le Fevre (see all)