Advertisement

The end of the Cambodia wet season heralds with it cooler evenings and gentle breezes delivering relief from the humidity that prevails even into the evenings in the preceding months. The refreshing weather change makes outdoor entertaining more pleasurable, with men and women able to dress up in their finery with more comfort.
Unsurprisingly, given that wedding receptions (along with funeral wakes and engagement parties) are traditionally held in marquees erected on the sidewalk, or more often the roadway, the end of the wet season also ushers in the beginning of the Cambodia 'wedding and engagement season'. Visitors to cities and towns throughout the Kingdom are much more likely to encounter marquees blocking small and even larger roads in the cooler months of the year than at any other time.
It's not just the use of marquees erected on the roads where tradition holds firm. A Cambodian man will often seek the advice of his parents before proposing marriage to avoid a union with a 'wrong woman', while some Khmer women still believe that if a man truly loves her he will prove it by directly approaching her parents to ask to marry her.
As with many Asian cultures Cambodia wedding custom requires the future groom to provide a dowry to the family of the future bride, with the amount dependent on the social standing of the family. The dowry is most often money, which is used to pay for the cost of the wedding, traditionally organised by the bride's family. However, while Khmer wedding ceremonies historically could last for almost a month, these days the ceremony has been pruned back to just one and half day's, though people with lots of money, or friends to invite, may extend this to three days.
While marriage by choice is enshrined in article 4 of the Cambodia Marriage Law and by Cambodia's (People's Republic of Kampuchea) ratification in 1992 of the Convention on the Elimination of All Forms of Discrimination against Women (CEDAW), marriages arranged between families still occur. This is particularly so outside of Phnom Penh were 'village politics' and factors other than romance are involved.
To combat Cambodian women becoming human trafficking victims the government implemented tough rules on foreigners wanting to marry Khmer women in 2011 – after initially banning all Khmer-foreign  marriages in 2008 –  including a requirement that they must be able to present verifiable proof of more than US$2,500 per month income, and must be aged under 50.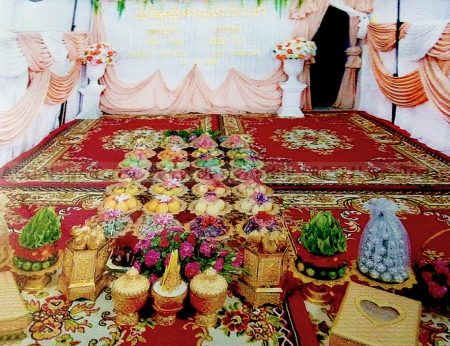 Professor Say Puthy, a lecturer in business communication and interpersonal communication at Pannasastra University of Cambodia (PUC) told  AEC News Today that as long as parents gave couples a chance to learn about each other both arranged and 'love marriages can work.
"It is necessary for couples to hang out together to learn about each other before getting married and as long as they respect the culture of no premarital sex there's nothing wrong with that.
"Even though the country has adopted many western influences when it comes to marriage we need to remain vigilant that what forms our culture and identity isn't lost, lest we end up not being 'Cambodian' anymore, she said.
While marriage in many countries is a decision that primarily involves the individuals planning to wed, in Cambodia it is still seen as a daughter's duty.
Koy Chantha, who just got married, said her wedding was very meaningful and brings joy and improved reputation for both her and the family.
"I am very grateful and proud to have a man who truly loves me and brings  honor to my family in regard to this marriage." she said.
Common Practices at Cambodia Wedding Ceremonies
First day afternoon
Blessing ceremony known as 'Pikthi Sout Mon' by monks. In addition to bestowing luck on the newlyweds the ceremony is also said to deliver messages to their ancestor to inform them of the wedding.
Second day morning
Gift delivery known as 'Pikthi Hae Chom Noun'. The parents, relatives, and close friends of the groom bring items such as fruits, drinks, food, flowers, and many other items with cultural significance to the bride's house where the ceremony is hosted. People attend wearing traditional clothes.
A symbolic hair cutting known as 'Pikthi Kat Sok' is done to take away the bad luck and unpleasant things from both the groom and bride. Parents, relatives, and close friend are welcome to participate in this ceremony.
Rotating a lit candle, known as 'Pikthi Bong Vel Popil'. In this ceremony which only married couples who are believed to be able to project their happiness onto the newly weds are allowed to participate a lit candle is passed round in circle three times.
Red string amulet tying or 'Pikthi Chorng Dai". Everyone is invited to participate in this ceremony where people tie red string and money onto the bride and groom. After this ceremony is finished the groom will follow the bride out the room while holding her traditional dress known as 'Preah Thoung Toung Sbai Neang Neak'.
Unlike the morning ceremony where guests are usually relatives and close friends, the evening reception is attended by everyone that the bride, groom and their families have invited. By tradition gifts are not given as in the West, but attendees at the evening event are expected to bring an envelope containing money to help the newly weds begin their married life.
Related:
The following two tabs change content below.

Leakhena Khat
Leakhena is a junior journalist at AEC News Today who is also currently studying International Relations, which she finds adds perspective to her work reporting on the Asean Community.
"I love what I am doing so much as it gives me a lot of great experience and provides challenges to my mind.

Latest posts by Leakhena Khat (see all)