Advertisement

For roughly the last decade Vietnam has found itself in a very economically favourable demographic position. About 25 per cent of Vietnam's 90 million population is aged between 10 and 24, while the median age is around 29. The result: lots of relatively well-educated young workers available now and for the near future to drive Vietnam's growth, with foreign companies flocking here to take advantage of a plentiful labour supply.
Vietnam will continue to reap the benefits of this 'demographic golden age' for several more years with Vietnam's growth forecast to continue. However, a demographic time bomb sits on the horizon, and Vietnam is not prepared for the aging it will bring.
Historic Aging Rate Threatens Vietnam's Growth
According to a report by the UK Foreign & Commonwealth Office (FCO), Vietnam's overall birth rate is 2.09, below the replacement level needed to maintain a population. In urban areas the rate is just 1.8, lower than in the UK, a wealthy, highly developed country.
Despite this low birth rate the population is still growing, with estimates forecasting 100 million people by 2025 and a peak of 110 million by 2050.
However, unlike in the past when a high birth rate drove population growth, increasing life expectancy is now the main factor behind this expansion. The current life expectancy is 73, a figure which should reach 80 by 2050 – some eight years before the country is likely to reach 'high-income country status', according to the Organization for Economic Cooperation and Development (OECD).
Thanks to this combination of developed-world level birth rates and rising life expectancy Vietnam is poised to become the most rapidly aging country in the world.
In its report titled Live Long and Prosper: Aging in East Asia and Pacific, the World Bank calculates that it will only take 15 years for Vietnam's population to move from a 7 to 14 per cent share of people who are 65 years and older.
This same transition will take 20 years in Thailand and 25 in China, while it took 45 years for the UK and 69 years for the US to reach a similar share. In other words, Vietnam and some of its neighbors are aging at rates that have never been seen before.
Pain For The Elderly
Big problems are in store for this aging population as Vietnam does not have a sufficient safety net in place for older members of society.
Long-held social norms dictate that children support their parents as they age. In urban areas especially it is common for young workers to allocate a significant portion of their income to elder family members. This works as an informal form of welfare, but as the current young generation ages, they will not have as much support from their children due to the low birth rate now.
The government does provide financial support to the elderly, but only to those over 80-years-old. This support ranges from US$ 4-8 per month. Hardly enough to live off of in a country where the minimum monthly wage ranges between $101 and $146 (VND2.15 million–VND3.1 million) a month, depending on location.
According to a 2013 survey by the United Nations Population Fund (UNFPA) 30 per cent of the country's elderly still work, but in unstable positions.
In Ho Chi Minh City, it is common to see older women running street food stalls, which requires hard work for minimal return. Older men can work as motorbike taxi drivers, or in similar menial positions that require spending most of the day outside. Such a situation will not remain tenable for much longer.
Moving Forward
Vietnam's government has recognized the aging problem, but it will be difficult to turn major demographic trends around. The country's long-standing two-child policy, though not as strictly enforced as China's population control, has helped reign in growth almost too well.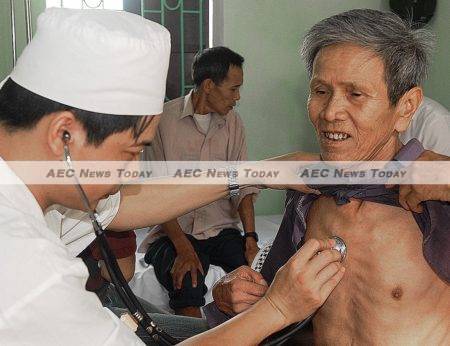 Urban families choose to have fewer children to save on expensive city living, while rural families are also shrinking due to improved economic prospects. The Vietnam Social Insurance Agency (SIA) has proposed raising the retirement age to 62 for men and 60 for women, up from the current 60 and 55, respectively, but the impact of such a move is uncertain.
The burden facing Vietnam elderly is heavy. Only 30 per cent have a pension or allowance from the state budget, while another 30 per cent have no health insurance. The country's pension and social insurance are already facing problems and will have to take on many more people moving forward.
It will be difficult for the government to add to these funds given its growing mountain of public debt (See: Vietnam's Burgeoning Public Debt Overshadows 2015 Vietnam GDP Shine), setting the stage for an uneasy future for Vietnam's aging population.
Many developed countries are already facing acute economic issues due to aging populations, but they have far more wealth to confront the problem with.
According to the UNFPAs Nguyen Ngoc Quynh, "Vietnam's population has been aging too fast. The proportion of the elderly in less than 20 years will become equal to Japan's while the per capita income in Vietnam is much lower." Vietnam will have to make the most of its 'golden age', because the next few decades are going to bring in dramatic changes.
As to how soon Vietnam's increasingly aged population begins to affect Vietnam's growth remains to be seen.
Related:
The following two tabs change content below.
Michael Tatarski is a writer and editor who has lived in Ho Chi Minh City, Vietnam for over four years. He has covered a wide range of topics, including the environment, social issues, infrastructure, culture, and travel, for a range of publications.
He is a former contributing editor for AsiaLIFE Magazine and a former English-language editor for Tuoi Tre News Online
Latest posts by Michael Tatarski (see all)