Advertisement


Playboy Thailand Brand Ambassador Poonnada "Fearz" Sirichaisasul has been killed in a single-vehicle, high-speed crash in Bangkok, the latest hi-so celebrity said to be a victim of drunk driving in Thailand.
The 25-year-old Playboy Bunny was appointed brand ambassador for Playboy Thailand last year. Apart from contact details for her manager, hundreds of photos and a few videos, there is no personal information about the dead Playboy Bunny on her Facebook page.
Surveillance video of the expressway where the crash occurred shows a vehicle said to be driven by Ms Poonnada driving erratically along an almost deserted three-lane stretch of expressway at about 4am on February 24 before careering into the left-side safety barrier at almost a right-angle.
The vehicle then bounces several times off the safety wall before ricocheting across the road, bursting into flames before striking the median divider, where it proceeds to bounce several more times.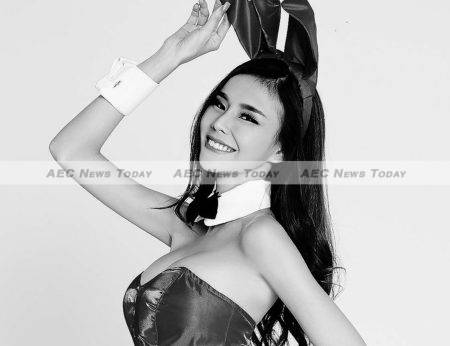 A post on Playboy Thailand's website said: 'Her infectious laugh, her amazing smile, the sparkle in her sweet eyes, will be with us no more, but always in our memories where she will continue to be with us in spirit and in our hearts, we will miss you dearly as your light burned so very brightly, but too very short.'
A local Thai-language newspaper reported that preliminary investigations showed drunk driving was to blame for the crash, though authorities are still waiting for a final forensic report. At that time a formal statement will be issued.
The death of Ms Poonnada highlights the deeper problem of drunk driving in Thailand, a country which consistently ranks as one of the most dangerous to drive in, according to the World Health Organization (WHO).
Thailand road crashes strip 3% from GDP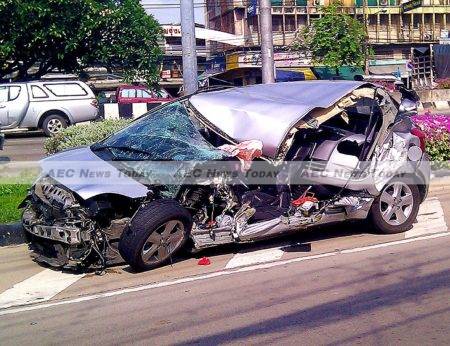 In its Global Status Report on Road Safety 2015, the world body ranked Thailand second behind war ravaged Libya for the world's most deadly roads on a number of deaths per 100,000 basis, using figures from 2013, the latest available.
On a road fatalities per 100,000 motor vehicles basis, Thailand ranks 85th with 74.6 deaths, trailing Asean neighbours Singapore (42nd with 20.2 deaths), Malaysia (51st with 29.9 deaths), Indonesia (60th with 36.7 deaths), Vietnam (77th with 55 deaths), and Laos PDR at 83 with 67.5 deaths.
Globally, for total road deaths in 2013, Thailand ranks 11th.
According to the WHO, the total number of Thailand road deaths in 2013 was 24,237, more than 72 per cent above the Thailand government's 2012 figures.
For 2012, Thailand's Ministry of Public Health (MoPH) said there were 14,059 road crash deaths, with the term 'road crash death' applying to deaths occurring for an unlimited time after the crash.
The WHO says 73 per cent of Thailand road deaths are riders of two- or three-wheeled vehicles, followed by passengers in cars and light trucks.
While Thailand has mandatory motorcycle helmet and seat belt laws, only 52 per cent of motorcycle riders and 20 per cent of their passengers are said to comply. For Thailand car drivers, the figure is not much better with just 58 per cent of drivers and 54 per cent of front-seat-passengers buckling up. Thailand does not currently have compulsory child-restraint laws.
Citing a 2009 report, the WHO estimates road crashes in Thailand strip 3 per cent from Thailand's gross domestic product (GDP) every year.
The WHO says 73% of Thailand road deaths are riders of two- or three-wheeled vehicles.
Video uploaded to Facebook by khaosod English
Drunk driving in Thailand
The WHO says drunk driving in Thailand was responsible for 26 per cent of road deaths in Thailand in 2013, equating to more than 6,300 people.
Although Thai law states that drunk drivers can face fines of up to Bt200,000 (US$5,596) and/or 10 years in jail, plus suspension or revocation of their driving licence, few receive anything near as severe.
In the lead up to the New Year holidays last December, Surasith Silapa-ngam, manager of the No Drunk Driving Foundation, called on Thailand Prime Minister Prayut Chan-o-cha to use the unlimited powers he granted himself under article 44 of the Interim Constitution to jail those caught drunk driving in Thailand for between three and seven days immediately upon detection.
While drivers were not incarcerated, the government introduced the immediate confiscation of drunk drivers' vehicles – a policy that continues well past the so-called 'Seven Dangerous Days' of the New Year holiday period (Dec 29 – Jan 4 inclusive).
The measure seems to have had little effect though, with Thailand recording 3,379 motor vehicle crashes killing 380 people and injuring a further 3,505 – an 11.44 per cent increase in the 341 people killed over the same period in 2013-14.
Over the longer 11-day Christmas-New Year period (Dec 25 – Jan 4), Thai authorities say 21,690 people were arrested for drunk driving in Thailand with 4,672 vehicles impounded until January 6 at the earliest. More than 28,540 motorcyclists and 10,325 drivers of public-transport vehicles and private cars are facing prosecution.
On January 4, the final day of the holiday period, 5,147 motorcyclists alone were caught drunk-driving in Thailand, with 381 motorcycles impounded and 4,837 riders charged. In addition 1,857 public-transport vehicle and private car drivers were also caught drunk driving in Thailand, resulting in 127 licence suspensions, 239 vehicles impounded and 893 drivers being charged.
The inclusion of public transport vehicle drivers in the government statistics should also be a concern. While this can include anything from a motorcycle taxi or three-wheeled tuk tuk to a double-decker tourist coach, Thailand is all too frequently in the news over multiple-death tourist coach and mini-van crashes as it is.
Although the New Year holiday period resulted in an 11.44 per cent increase in Thailand road deaths and crashes over the same period a year prior, government spokesman Colonel Sansern Kaewkamnerd told Reuters at the time it was unfair to compare the most recent figures with those for the prior year.
"There were more cars on the road this year and also more roads, so we cannot make such a comparison with last year," he said.
Authorities say drunk driving in Thailand accounted for 24 per cent of Thailand New Year road crashes this year, a drop of  7.69 per cent over the 26 per cent recorded the year prior. Therefore the government policy worked, Colonel Kaewkamnerd said.
Bangkok's deadly driving Hi-So
If drunk driving is confirmed as being the cause of Ms Poonnada's death she will be just the latest in a string of Bangkok 'hi-so' celebrities to be either killed, or kill other people, while drunk driving in Thailand or travelling at excessive speed.
• In December 2010 an unlicenced 16-year-old girl from a privileged Thailand family crashed a Honda Civic into a passenger van on an elevated Bangkok expressway. The van spun out of control before crashing through the safety barrier and toppling onto the roadway below. Nine people were killed, but the driver who caused the crash, Orachorn "Praewa" Thephasadin na Ayudhya, received only a two-year suspended sentence.
• In 2011 the 19-year-old Rangsit University student son of a prominent Bangkok business owner cut a 17-year-old Laotian girl in half when he hit her at high speed while driving a Porsche Cayman. The driver, Peerapol Thaksinthaweesap, then drove for 10km (6.2 miles) with the upper torso of Khambai Inthila's body on the vehicle's passenger seat, before abandoning the car and fleeing in a taxi. He surrendered to police two days later after attending a merit-making festival for his ancestors.
• In 2012 Red Bull heir Vorayuth Yoovidhya struck and killed a Royal Thai Police (RTP) motorcycle patrolman and dragged him several hundred metres along the road, wedged under the front of his Ferrari. Mr Yoovidhya was found to have a blood alcohol level of 64.8mg per 100ml, almost 40 per cent above the legal limit of 50mg per 100ml of blood. After attempting to have the fatal crash blamed on the family driver, Mr Yoovidhya went to Singapore on a 'business trip' where he contracted flu, and, according to local media reports, is yet to meet with prosecutors to acknowledge criminal charges.
• In April 2014 Chaidole Krairiksh, an executive manager of the well-known MBK shopping centre, crashed his Mercedes-Benz into a garbage truck killing a 61-year-old street vendor and seriously injuring a 27-year-old municipal worker. At the time Mr Krairiksh was reported as being 'unable to give testimony to the police because he was heavily intoxicated'. While Mr Krairiksh was being processed by police, a relative was reported to have attended and attempted to convince media representatives at the police station not to report the matter because she was 'a high-ranking military officer'.
• Last year a 23-year-old drunk Chiang Mai University student, Phatchuda Chairuan, killed three cyclists and injured three others after ploughing into a group of 20 cyclists out on an early morning ride. According to police, Ms Chairuan recorded a blood alcohol content of of 6mg per 100ml of blood.
Thailand's roads: 365 dangerous days
While friends and fans of Ms Poonnada flood social media and modelling sites with condolences and tributes, they should also be thankful that this tragedy only claimed one life, and that the drunk-driving Playboy Bunny didn't take any innocent others with her.
As for the country's two 'Seven Dangerous Days' on the roads each year (the second is in April, coinciding with the annual Songkran festival), Liviu Vedrasco, a technical officer who advises the MoPH on road safety and other issues, told Reuters last January: "It's actually 365 dangerous days in Thailand."
While complimenting the Thailand government on the use of Article 44 to allow for the immediate seizure of drunk drivers' vehicles and a new system that will provide more accurate data collection – drunk driving offenders can also be detained for 'attitude adjustment' similar to  human rights or political dissenters and draft constitution opponents –  he said authorities needed to abandon its obsession with seasonal surges and focus on reducing Thailand road deaths all year round.
Reviewing the country's alcohol laws might be a start. As pointed out in Thailand Alcohol Law Changes Threaten Culinary Title, Enrich Others: 'In most advanced countries, liquors with the highest percentage of alcohol receive the highest rate of tax, while beer and wine receive the lowest due to their lower alcohol level. In Thailand it's the reverse: liquor receives the lowest tax rate while wine carries an exorbitant tax burden.'
Feature video Supplied
Related:
Originally published as: Drunk Driving Playboy Bunny Fearz Poonnada Dies in Bangkok Crash
The following two tabs change content below.

John is an Australian national with more than 40 years experience as a journalist, photographer, videographer, and copy editor.
He has spent extensive periods of time working in Africa and throughout Southeast Asia, with stints in the Middle East, the USA, and England.
He has covered major world events including Operation Desert Shield/ Storm, the 1991 pillage in Zaire, the 1994 Rwanda genocide, the 1999 East Timor independence unrest, the 2004 Asian tsunami, and the 2009, 2010, and 2014 Bangkok political protests.
In 1995 he was a Walkley Award finalist, the highest awards in Australian journalism, for his coverage of the 1995 Zaire (now Democratic Republic of Congo) Ebola outbreak.
Prior to AEC News Today he was the deputy editor and Thailand and Greater Mekong Sub-region editor for The Establishment Post, predecessor of Asean Today.
In the mid-80s and early 90s he owned JLF Promotions, the largest above and below the line marketing and PR firm servicing the high-technology industry in Australia. It was sold in 1995.

Latest posts by John Le Fevre (see all)