Advertisement

The Corruption Eradication Commission (KPK) is an anomaly in Indonesia's corrupt institutional environment. As the KPK Law 30/2002 produced one of the world's most effective anti-corruption agencies, critics and state powerholders had duplicitously argued for the KPK to be reinvented to function as a government-friendly 'watchdog' focusing on corruption prevention.
In late 2019 these arguments gained traction and the legislation was revised accordingly. The sudden weakening of the KPK came as a shock to those optimistic about a virtuous role of the president and civil society in defending the KPK against political attacks.
We suggest that the outcome was not based on unanticipated political realignments after President Joko 'Jokowi' Widodo's re-election, but rather the interplay between a significant trigger factor and culmination of powerful underlying forces that had hitherto been ignored.
President Jokowi's leadership is basically portrayed in virtuous and/or Machiavelli terms. Certainly, if we focus on political legitimation, Jokowi's 'competitive advantage' in typically televised spectacles of 'spontaneously' meeting the people (blusukan) has differentiated his populist politics from other Indonesian presidents.
Political corruption remains
But in terms of intra-elite contestation and the way presidents deal with competing political bosses, political corruption remains in an institutionalised equilibrium.
With the loyal support of his key political fixer, Coordinating Minister of Maritime Affairs and Investment Luhut Pandjaitan, Jokowi has not only consolidated a stronger power base, but also exacerbated the demands of money politics.
This was exemplified by the proposed construction of Indonesia's new capital city in East Kalimantan.
Indonesia's latest episode of intra-elite contestation does not bode well with Michael Johnston's 'deep democratisation'.
From late 2019, pressure and antipathy from prominent anti-corruption activists, intellectuals and students in country-wide demonstrations failed to persuade the ruling elites to safeguard the KPK's interests.
A strategic convergence of rival political leaders' interests did much more to shape the outcome.
The beginning of Jokowi's second term saw a tremendous backlash against the KPK from his ruling coalition.
Garlic import scandal
The trigger came during the 'Indonesian Democratic Party of Struggle' (PDIP) Congress when the KPK engaged in a sting operation that targeted a corrupt 'garlic import quota' deal that revealed the alleged involvement of Mohammad Rizki Pratama, son of PDIP Chair Megawati Soekarnoputri — Jokowi's political patron.
The KPK's challenge to Megawati Sukarnoputri's family and elite network has precedents. In 2003, former president Megawati established the KPK with the specific objective of destroying its antecedent agency, Jusuf Syakir's Wealth Audit Board.
Since 2014, Megawati has spearheaded two attempts to restrain the KPK through revisions to the KPK Law. The first attempt in 2015–16 was triggered by Megawati's 'confidant' police general, Budi Gunawan, who was named by the KPK as a suspect in a police corruption scandal, but Jokowi half-heartedly went with public opinion by postponing the revisions.
During the second attempt in 2019, Jokowi sided with Megawati and Law Minister Yasonna Laoly in curbing the KPK's powers by organising the Bill amending the KPK Law 30/2002. Delegitimising the KPK with fabricated 'internal problems' was also used as a pretext for legal changes.
Jokowi's increasingly hostile attitude to the KPK is explained by an accumulation of factors. Although the KPK's case-building in big corruption cases was often undermined by political resistance and the sophistication of corrupt deals, numerous sting operations produced irrefutable evidence.
In this context, the KPK's actions were perceived as an 'overreach' in terms of the prosecution of Jokowi's close political ally Romahurmuziy, but also the penetration into corrupt deals linked to Jokowi's brother-in-law Arif Budi Sulistyo and former police chief Tito Karnavian.
Changes devastating to KPK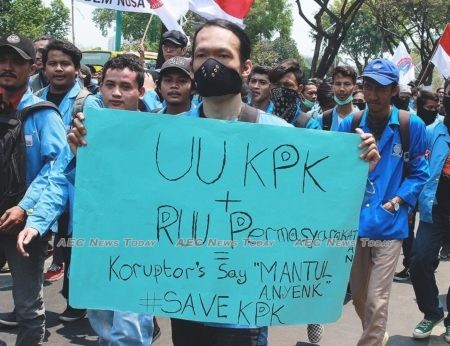 Jokowi's 'debt of gratitude' to party bosses like Megawati and Surya Paloh for their 2019 electoral support therefore translated into an agreed 'single language' to oppose the KPK.
Jokowi claimed that the law revisions constituted only 'minor' changes in order to 'improve' KPK's performance. But the changes to the KPK have actually been reactionary and devastating.
Since October 17, 2019, the newly-enacted KPK Law 19/2019 and consequent imposition of political control marks the lowest ebb in KPK's history.
KPK's transformation from an independent agency to a central government body, focusing on corruption prevention rather than eradication, produces a weakened decision-making structure.
The new leadership team is chaired by a controversial active police general, Firli Bahuri, subordinate to the President through a 'supervisory board' and the Police Chief. KPK requests for surveillance must be 'board-approved', thereby short-circuiting the KPK's investigative powers.
Institutionalising full political control over the KPK has been chaotic, including an almost three-month hiatus of sting operations, witnesses ignoring summons and the sidelining of erudite spokesman Febri Diansyah.
In early January 2020, the re-occurrence of sting operations — based on decisions inherited from former KPK chair Agus Rahardjo's term — was a crucial test for the KPK's performance in handling big cases.
KPK's investigation into an electoral corruption case led investigators on January 8-9 to Megawati's party headquarters and the Police Academy, but was thwarted by inaction and obfuscation from the KPK's president-controlled board and Firli's leadership team.
Less able to instil fear and break open big political corruption cases, the KPK's future is ultimately grim.
One of the 'hazards of democratic triumphalism' is a weak president who deploys democratic symbolism, while engaging in anti-democratic practices.
The paradox of Indonesian democracy is that the system has not collapsed, but is decaying over time, as exemplified by the weakening of the KPK.
This article was written by Jeremy Mulholland, a researcher in international marketing and Indonesian political economy at La Trobe University. It first appeared on East Asia Forum under a Creative Commons License and is reproduced here with its permission.
Feature Photo Komisi Pemberantasan Korupsi
Related
End of an anti-corruption era in Indonesia(AsiaTimes)
AGO Names Suspects in Jiwasraya Corruption Investigation as Case Takes Political Turn (Jakarta Globe) 
KPK Law may hinder Indonesia's performance in corruption perception index (The Jakarta Post) 
The following two tabs change content below.

East Asia Forum is a platform for analysis and research on politics, economics, business, law, security, international relations and society relevant to public policy, centred on the Asia Pacific region.
It consists of an online publication and a quarterly magazine, East Asia Forum Quarterly, which aim to provide clear and original analysis from the leading minds in the region and beyond.

Latest posts by East Asia Forum (see all)