Advertisement

As Indonesia medical personnel grapple with a galloping COVID-19 outbreak a familiar harbourer of death and debilitation to the archipelago has been silently chalking up an increasing number of victims, with hardly any of the media attention; dengue hemorrhagic fever (DHF).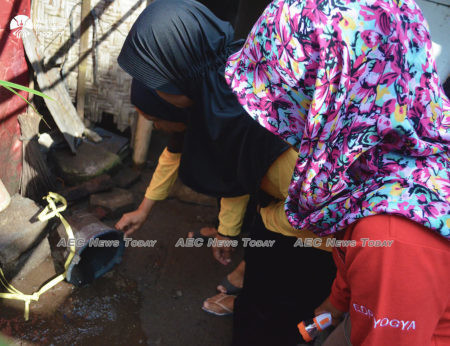 Concerned by the rapidly escalating numbers, Indonesian politician Lestari Moerdijat, deputy chairperson of the People's Consultative Assembly (MPR), last week issued a statement calling on the government to not overlook the alarming rise amid the COVID-19 pandemic.
Citing data from the Indonesian Ministry of Health (MoH), Ms Moerdijat said that as of April 14 there had been 41,883 recorded cases of dengue hemorrhagic fever (DHF) nationwide. In comparison, Indonesia's official COVID-19 tally as of today (April 21) is 7,135.
While the SARS-CoV-2 virus has so far claimed almost three times as many lives as DHF — 616 versus 266 — the rapidly increasing spread of the mosquito-borne disease is only serving to complicate the diagnosis of ailments.
According to Ms Moerdijat the incidence of DHF has been particularly high this year in at least 12 of 34 provinces, with the number of confirmed cases already in excess of the 40,425 cases recorded last year. Deaths, she said, were 75 per cent of the 354 for 2019.
"I understand that the government is currently facing complex and severe health issues. But, the trend of increasing numbers of dengue cases should not be ignored", she said in her statement.
Mudick cancelled: COVID-19 deaths highest in Asean
Indonesia has the second most confirmed cases of COVID-19 in Asean and the most number of deaths.
All segments of government have been mobilised in an attempt to contain the spread, educate the population, and get much needed emergency supplies to those following the directives to stay at home.
Earlier today President Joko Widodo announced he was banning the annual Idul Fitri mudik (exodus) to further try and stem the spread of COVID-19.
Noting that the current stay at home policy is likely to expose people to a higher risk as fumigation programmes are disrupted, Ms Moerdijat said adequate hospital capacity for treating novel coronavirus and DHF patients must be ensured.
"The government needs to remind the public and health apparatuses in the regions to prevent, be aware of, and overcome DHF", she said.
Spread by the Aedes aegypti mosquito, health authorities have blamed the outbreak on poor sanitary conditions. The public has been urged to apply preventive measures to eradicate breeding habitat and improve environmental hygiene, such as preventing water puddles, closing water storage containers, and burying or recycling used goods where mosquitoes often spawn.
According to the MoH the infection pattern is most prevalent in semi-urban areas, such as the provinces of East Java, West Java, and Central Java, with more than 35 per cent of cases reported in Jakarta.
Feature photo World Mosquito Program Yogyakarta
Related:
The following two tabs change content below.

Stella-maris graduated with a Bachelor of Arts, Education from Ebonyi State University, Nigeria in 2005.
Between November 2010 and February 2012 she was a staff writer at Daylight Online, Nigeria writing on health, fashion, and relationships. From 2010 – 2017 she worked as a freelance screen writer for 'Nollywood', Nigeria.
She joined AEC News Today in December 2016.

Latest posts by Stella-maris Ewudolu (see all)