Advertisement

A recent World Wildlife Fund (WWF) for Nature Cambodia report has documented the alarming rate of wildlife slaughter for the illicit bushmeat trade, raising concerns of the risk of a home-grown zoonotic crossover event similar to one theory of how the SARS-CoV-2 outbreak began.
In its report, Silence of the Snares: Southeast Asia's Snaring Crisis, the international non-governmental organisation reports that 234,291 snares were removed from five protected areas in Cambodia between 2010-2019.
Describing snaring as "a major concern to wildlife survival" in Cambodia, Seng Teak, WWF Cambodia country director said "strengthened legislation, effective prosecution, and increased penalty are crucial to end the trade in wildlife that are major targets for snaring".
It is not just Cambodia where the "snaring crisis" is silently decimating native wildlife populations to fuel bushmeat markets.
The report also documents bushmeat markets in Lao PDR and Vietnam, where, including Cambodia, an estimated 12.3 million snares are laid within protected areas.
Potential zoonotic crossover
The widespread use of snares is increasing concerns of the potential for an emerging zoonotic disease, with many of the targeted animals ranked in the highest risk for disease transmission.
The report says 371,856 snares were removed across 11 protected areas in Cambodia, Indonesia, Lao PDR, Malaysia, and Vietnam between 2005 and 2019.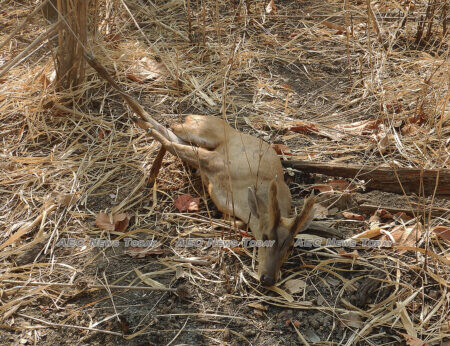 Stuart Chapman, leader of the WWF Tigers Alive Initiative, said that the indiscriminate killing and maiming of wildlife, ranging from tigers to palm civets is wiping out the region's fauna.
More than 700 of the region's terrestrial mammal species, including the Asian elephant, tiger, saola, eld's deer, rhinoceros, orangutan, bears, and banteng are exposed to snaring, he said.
The current global pandemic, which has so far infected more than 14 million people worldwide and killed more than 600,000, has focused attention on the risks coronaviruses, which account for a large proportion of overall diseases experienced by humans, pose, the report says.
"This increases human exposure to wildlife and the chance to be infected by zoonotic diseases", Mr Chapman said, adding that unless Southeast Asian governments urgently tackle this menace the species are on the brink of extinction.
Zoonotic diseases (zoonosis) which currently affect humans include rabies, Ebola virus, tuberculosis, HIV, and coronaviruses such as SARS-CoV, MERS-CoV, and SARS-CoV-2.
Wild pigs
The report notes that wild pigs, a commonly snared species in Cambodia, Laos, and Vietnam, have been found to host the greatest numbers of zoonotic pathogens of any species traded in Asian markets.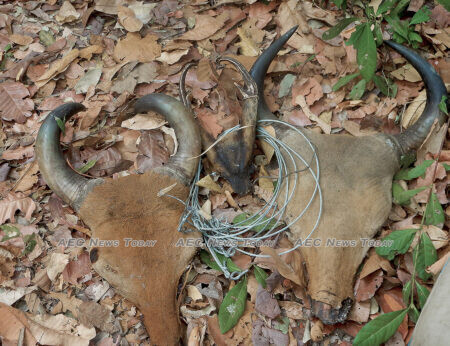 While masked palm civets were identified as intermediary for SARS infections in human, sunda pangolins are said to house a number of coronaviruses, as well as the deadly Murine respirovirus (formerly Sendai virus), and may be capable of transmitting SARS to humans.
In Vietnam, surveys have suggested that between 20-80 per cent of urban Vietnamese eat wildlife meat products at least once a year, with 60 to 80 per cent of wildlife meat consumption in urban centers prevalent in restaurants.
Data shows that 46 per cent of wildlife meat (likely from snared animals) seizures in Cambodia occur in markets, while 48 per cent of seizures happen at restaurants and resorts.
Wildlife meat is routinely available for sale in 73 per cent of Indonesia's North Sulawesi markets and supermarkets, the report noted, citing recent surveys. In Laos, nationwide surveys have found that species likely to be caught in snares represent a third of wildlife biomass for sale.
Dog meat ban
The message is slowly getting through. In the wake of the COVID-19 outbreak in China authorities there banned the sale of live animals inside Wuhan city, while in Cambodia, Siem Reap recently became the first Cambodian province to ban dog meat sale, citing the potential public health risks posed.
The ban calls for punishment for the "unlawful hunt, purchase and slaughter" of animals under the Law on Animal Health and Production, with a jail term of up to five years and a fine of about KHR50 million (about US$12,000).
An investigative report released last week by Austria-based animal welfare group, Four Paws, showed a thriving dog meat trade in Siem Reap province, with 12 per cent of Cambodians consuming dog meat regularly, and more than 7,000 dogs killed in slaughterhouses every month, with an estimated three million dogs slaughtered nationwide for meat each year.
Earlier this month, WWF called for stricter law enforcement to save Cambodia's endangered Mekong fish from extinction, warning that Giant Barb, Isok Barb, Giant Goonch, Mekong Tiger Perch, Elephant-ear Gourami and Mekong Freshwater Stingray were among 35 fish species being traded and sold at wet markets in Cambodia, as well as trafficked into neighbouring countries.
According to reports, there has been an increase in fishing activities involving cast nets, gillnets, floating or fixed nets, long-line hooks, electrofishing and fishing with poison in and around conservation zones prohibited by the law. These activities are posing a serious threat to the country's fisheries resources.
Feature video WWF- Cambodia
Related:
The following two tabs change content below.

Stella-maris graduated with a Bachelor of Arts, Education from Ebonyi State University, Nigeria in 2005.
Between November 2010 and February 2012 she was a staff writer at Daylight Online, Nigeria writing on health, fashion, and relationships. From 2010 – 2017 she worked as a freelance screen writer for 'Nollywood', Nigeria.
She joined AEC News Today in December 2016.

Latest posts by Stella-maris Ewudolu (see all)