Advertisement



When a Vietnamese coast guard patrol boat was caught on video last month ramming an Indonesian Navy vessel off the coast of Borneo there were no prizes for guessing that it was not going end well… for Vietnam.
Ranked by Global Firepower as the region's leading military power, Indonesia has shown in the past that it brooks no incursions into its exclusive economic zone (EEZ) and the rich resources it contains.
With video purporting to be of the alleged incident circulating on social media like a wildfire, Indonesia's Ministry of Foreign Affairs announced via Twitter that it had summoned the Vietnam ambassador to Indonesia over the matter.
Preferring actions to discussions, Fisheries and Maritime Affairs Minister Susi Pudjiastuti announced that she would resume with immediate effect the destruction of foreign fishing vessels that had been caught illegally fishing in Indonesian waters. 'On May 4 we will be sinking 51 foreign illegal boats, with most originating from Vietnam', Ms Pudjiastuti tweeted on Monday, April 29.
Last Saturday all, including 38 from Vietnam, were sent to fiery, watery graves.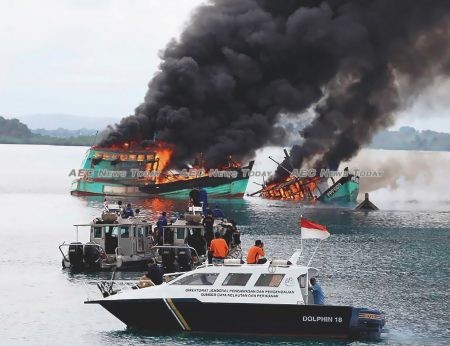 According to the Indonesian Navy the corvette KRI Tjiptadi-381 was patrolling Indonesia's EEZ and had identified a suspected illegal fishing vessel.
"As the KRI Tjiptadi-381 attempted to intercept the fishing boat it was rammed on the right starboard side by the Vietnamese Coast Guard vessel, damaging its hull", Indonesian Navy Fleet Command I Commander, Admiral Yudo Margono, said. "The fishing vessel was flying a Vietnamese flag with the code numbered BD 979", he added.
Without elaborating the navy said that 14 Vietnamese fishermen were arrested after the illegal fishing boat sunk, "possibly due to an accidental  collision". Two of the fishing boat's crew were reportedly retrieved by the Vietnamese coastguard after leaping into the water from the boat.
Deterrent, not retaliation
Indonesia has sunk more than 488 foreign boats accused of illegally fishing in its waters since 2014, some 276 of which were Vietnamese-flagged.
Indonesia's last destroyed pirate fishing vessels on mass on April 1, 2017, when it sunk 81 boats seized for illegal fishing.
Two years ago Indonesia changed the name of the southern part of the South China Sea to the North Natuna Sea in a bid to show its sovereignty over the waters. The announcement was a direct rebuff to Beijing who claim most of the South China Sea (SCS).
Jakarta has justified the blowing up, incinerating, and sinking of foreign fishing vessels caught in its waters, the Widodo government saying it costs the country more than $4 billion annually.
Fisheries and Maritime Affairs Minister Susi Pudjiastuti overseas the destruction of seized pirate fishing boats on Saturday
AP Archive
Denying that the Saturday sinkings were in retaliation for the ramming, Ms Pudjiastuti said it had been done to send a signal of strong enforcement and to create a deterrent effect for the continuation of its policy. "It's not retaliation", she said.
Since Indonesia first implemented its policy of sinking illegal fishing vessels its ranking on the list of (legally and illegally) most-fished nations by foreign boats has dropped from 13th in 2014 to below 80th in 2015 and 2016.
Feature video CGTN
Related:
Indonesia to Sink More Foreign Boats Amid New Maritime Tensions with Vietnam (Radio Free Asia)
Vietnamese coastguard and Indonesian Navy clash (The Asean Post)
Sinking captured fishing boats is deterrent, not retaliation, Indonesia says after South China Sea clash with Vietnam (South China Morning Post)
The following two tabs change content below.

Stella-maris graduated with a Bachelor of Arts, Education from Ebonyi State University, Nigeria in 2005.
Between November 2010 and February 2012 she was a staff writer at Daylight Online, Nigeria writing on health, fashion, and relationships. From 2010 – 2017 she worked as a freelance screen writer for 'Nollywood', Nigeria.
She joined AEC News Today in December 2016.

Latest posts by Stella-maris Ewudolu (see all)