Advertisement

Once declared as eradicated from some countries and 'under control' in many others, measles is once gain cutting a deadly swathe through the world.
Declared an epidemic in the Philippines where it has killed at least 338 this year, Thailand, and Vietnam are also recording 'outbreaks' of a disease that they thought they had all but seen the end of.
Partly due to ignorance, partly due to fear, and partly due to quackery the number of measles cases worldwide is on the rise, with the virus being the latest 'gift' holidaymakers to Asean are returning home with and inadvertently sharing with friends.
Recent outbreaks in the US and Australia have been traced back to visitors to the Philippines and Thailand.
The Philippines Department of Health (DOH) declared the measles outbreak there an epidemic in February, with the number of deaths this year more than 67 per cent up on the 202 deaths from measles for all of 2018. At the same time other parts of the Philippines are battling with dengue, rabies, and tuberculosis.
Deadly epidemic
From January 1 to March 21 the DOH recorded 23,563 infections, a more than 370 per cent increase on the 5,006 infections recorded for the same period last year. The World Health Organization (WHO) warns that about 2.6 million Filipino children are at risk.
According to the DOH the most number of infections and deaths recorded to date have been in Calabarzon with 3,877 and 78 respectively. Next is the National Capital Region (NCR) with 3,617 cases and 76 deaths.
Children between the ages of one and four have been affected the most, with 4,911 infections and 124 deaths. Infants under nine months old are the next most at risk with 4,222 infections and 99 deaths.
Meanwhile in Thailand authorities there have been attempting to reign in an outbreak in its southern provinces since last September.
Between January 1, 2018 and December 9, 2018 Thai authorities recorded 5,280 measles infections across 74 provinces, a 136 per cent increase on the year prior.
The growth in infections saw it earn the unflattering title of one of the top 10 countries globally with the fastest growth in new infections in 2018. Last year 21 people died from measles in Thailand.
The spread of the disease does not appear to be slowing. From January 1 through to February authorities reported 613 measles cases in 47 Thai provinces.
Also seeing a surge in reported measles is Vietnam with 664 cases confirmed in 43 southern provinces in the first two months of the year, while a further 192 cases were recorded by the Hanoi Department of Health (HDH) in the north. Last year Vietnam reported 1,963 measles infections, a 13-times increase on 2017.
Vaccine scare
In the Philippines confidence in vaccinations was damaged by fake news, exaggerated claims, and incorrect statement issued in the wake of a mass anti-dengue fever vaccination programme implemented by the previous administration (See: Measles Makes a Comeback as Philippine Vaccination Rates Plummet).
Rudy Constantino, director of the Philippines Department of Health Disease Prevention and Control Bureau told CNN Philippines that vaccination levels have plummeted from 70 per cent in 2017, to just 39 per cent in 2018 as a result of the Dengvaxia controversy.
This is particularly concerning as a side effect of contracting measles is that it causes the body to forget its existing immunities to diseases such as chicken pox, rubella mumps, and whooping cough, putting those who contract it at even further risk.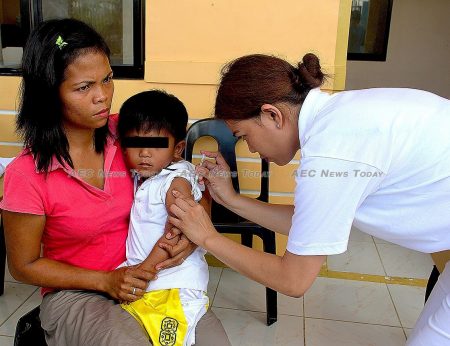 The DOH says 80 per cent of those who died from measles, as well as 61 per cent of those who contracted the disease had not been vaccinated.
In Vietnam the vaccination rate is also low, with up to 90 per cent of those contracting measles there either not inoculated, or not fully vaccinated.
Philippines Health Undersecretary Rolando Domingo said the DOH aims to immunise some 3.7 million children aged between six to 59 months against measles.
The New York County of Rockland last week banned unvaccinated children from public places for 30 days in the face of the longest measles outbreak experienced there for 20 years.
America declared measles eradicated there in 2000. Similarly Australia declared measles eliminated there in 2009, but have seen 77 cases so far this year.
Featured photo CDC Global
Related:
The following two tabs change content below.

Stella-maris graduated with a Bachelor of Arts, Education from Ebonyi State University, Nigeria in 2005.
Between November 2010 and February 2012 she was a staff writer at Daylight Online, Nigeria writing on health, fashion, and relationships. From 2010 – 2017 she worked as a freelance screen writer for 'Nollywood', Nigeria.
She joined AEC News Today in December 2016.

Latest posts by Stella-maris Ewudolu (see all)