Advertisement

The United States has pledged an additional $68 million for new programmes under the Indo Pacific Transparency Initiative (IPTI).
Details of the new funding were announced on Monday (Nov 4) by United States Secretary of Commerce, Wilbur L. Ross at the 2019 Indo-Pacific Business Forum (IPBF), and by US Ambassador, Robert C. O'Brien, assistant to the President of the United States of America for National Security Affairs, at the 14th East Asia Summit (EAS).
Unveiled by US vice president Mike Pence in November 2018 at the APEC CEO Summit in Papua New Guinea, the Transparency Initiative (TI) promotes civil society, rule of law, and transparent and accountable governments across the region as part of the governance pillar of the USs' vision for a free and open Indo-Pacific.
More than 200 programmes developed by multiple US government agencies have received in excess of $600 million in funding from the Trump administration under the IPTI.
A US Department of State (US-DOS) 'fact sheet' described US support for good governance as integral to US foreign policy and national security interests, and in line with US values.
'Weak institutions, corruption, onerous and opaque business processes, and poor human rights conditions drive away private sector investment in too many societies and can lead to poor choices by governments', the document said.
The additional IPTI funding will finance new programmes including regional governance programmes for the Pacific Islands and South Asia, and support for democratic elections in Burma. Other IPTI programmes have been implemented in the areas of anticorruption and fiscal transparency, democracy assistance, youth and emerging leader development, media and internet freedom, and protecting fundamental freedoms and human rights.
Trump administration 'fully committed'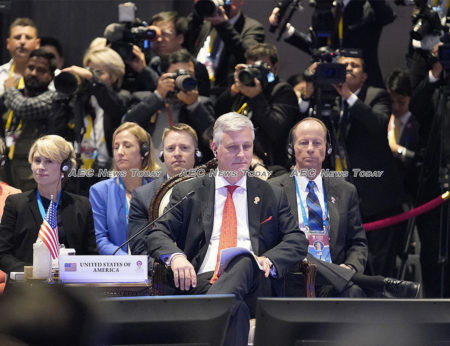 Speaking to about 200 business leaders at the IPBF, Mr Ross said that the Trump administration is "extremely engaged and fully committed to the region".
Delegates were told that the US remained the largest source of foreign direct investment (FDI) in the Indo-Pacific region, topping $866 billion as at the end of 2018. Chinese investment up to the end of 2017 in the region was $504 billion, he said, of which $381 billion went to Hong Kong.
According to Mr Ross, total US-Indo Pacific trade increased by almost 6 per cent last year to $2 trillion, surpassing US trade with Europe and with South and Central America.
A separate US-DOS 'fact sheet' said that US government agencies under the Trump administration have invested more than $2.9 billion to support the economic pillar of the Indo-Pacific strategy.
The Indo-Pacific Transparency Fund
Coinciding with the additional IPTI funding, the US government also announced the formation of a new Indo-Pacific Transparency Fund (IPTF).
To be formally unveiled by the Bureau of Democracy, Human Rights, and Labor (DRL), part of US-DOS, the multi-stakeholder partnership will support targeted, priority efforts across the Indo-Pacific region.
Mr Ross, the most senior US administration official to attend the 35th Asean Summit and Related Summits was accompanied by a 40-strong delegation of US corporate executives seeking new trade opportunities Thailand, Vietnam, and Indonesia.
Feature photo John Le Fevre
Related:
US sells business engagement with Asia as trade war drags on (AP)
US Commerce Secretary pledges 'deep commitment' to Asia as Trump invites leaders for summit (South China Morning Post)
U.S. leaders attend Indo-Pacific Business Forum (Kuam News)
Asean Summit: US says its trade in Indo-Pacific region will continue to grow despite trade war with China (The Straits Times)
The following two tabs change content below.

John is an Australian national with more than 40 years experience as a journalist, photographer, videographer, and copy editor.
He has spent extensive periods of time working in Africa and throughout Southeast Asia, with stints in the Middle East, the USA, and England.
He has covered major world events including Operation Desert Shield/ Storm, the 1991 pillage in Zaire, the 1994 Rwanda genocide, the 1999 East Timor independence unrest, the 2004 Asian tsunami, and the 2009, 2010, and 2014 Bangkok political protests.
In 1995 he was a Walkley Award finalist, the highest awards in Australian journalism, for his coverage of the 1995 Zaire (now Democratic Republic of Congo) Ebola outbreak.
Prior to AEC News Today he was the deputy editor and Thailand and Greater Mekong Sub-region editor for The Establishment Post, predecessor of Asean Today.
In the mid-80s and early 90s he owned JLF Promotions, the largest above and below the line marketing and PR firm servicing the high-technology industry in Australia. It was sold in 1995.

Latest posts by John Le Fevre (see all)