Advertisement

In February this year Australian football player Hakeem al-Araibi reached out to, and gained support from football players, sporting bodies, and fans globally over his detention in Thailand. Now a dissident Thai band in exile is calling for musicians and performing artists globally to help them stay alive by tweeting #SaveFaiyen.
Taking to YouTube to describe their fear of being the next casualty in what they say is an attempt by the Thailand government to exterminate the remnants of the country's pro-democracy movement, two members of the band Faiyen say they have been told they will be next to be "disappeared"; a euphemism for those forcibly disappeared by state authorities.
In the past five months six of their friends have "disappeared". Two were later found dead on the banks of of the Mekong River in Nakhon Phanom province strangled with a rope, their wrists handcuffed, and their stomachs disembowelled and stuffed with concrete.
On May 9 the Thai Alliance for Human Rights (TAHR) reported that three Thai pro-democracy activists who had fled from hiding in Lao, Chucheep Cheewasut, Siam Theerawut, and Kritsana Tupthai had been arrested in Vietnam had subsequently extradited to Thailand.
No one has heard from or of any of them since. Thai and Vietnamese government officials, along with heads of security forces, all deny any knowledge of the three.
The deaths and "disappearances" this year follow the disappearance in 2016 of Ittipol Sukpaen, commonly known as DJ Sunho, and the abduction in 2017 of firebrand self-styled, anti-junta militant leader Wuthipong Kachathamakul, commonly known as Ko Tee.
#SaveFaiyen campaign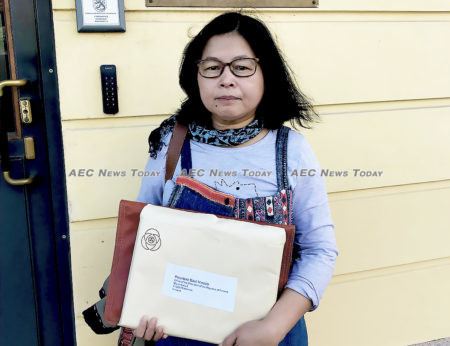 Faiyen came together following the 2010 pro-democracy protests in Bangkok. The musicians say they "were sickened by the killing of civilians by the (Royal Thai) Army (RTA) in April and May 2010".
The group, whose name means 'cold fire', were a regular feature at pro-democracy gatherings attended by tens of thousands of people prior to the May 2014 military coup which toppled the government of Yingluck Shinawatra. Their songs about oppression, fear, solidarity, and the determination to resist, striking a resonating chord with pro-democracy protesters.
In the subsequent crack-down by the Thailand junta against pro-democracy advocates Trairong Sinseubpol (Khunthong), Romchalee Sombulrattanakul (Yammy), Nithiwat Wannasiri (Jom), Parinya Cheewinkulpathom (Port), Worravut Thueakchaiyaphum (Tito), and Chaiyapruek Samanrak (Nui) fled with with many others to neighbouring Lao.
From a pro-democracy beacon heralded by the leaders of opposition parties, human rightists, and democracy activists, five years of suppression, harassment, and intimidation by the Thailand junta have, they say, seen them join the ranks of others who died in pursuit of a democratic Thailand, their names barely now mentioned.
Ms Yimprasert laments that nine years since Thailand army snipers shot dead 'red-shirt' protesters on the streets of Bangkok, and people sheltering inside a Buddhist temple including a nurse, few people mention the group or the names of the dead; not even the rich and powerful who once feted them.
Appeal to UNHCR and EEAS falls on deaf ears
Mr Sombulrattanakul says that the band has received no replies to correspondence sent to Jyoti Sanghera, Asia Pacific section chief at the United Nation High Commissioner for Human Rights (UNHCR) and to Nieves Cotero, desk assistant human rights at the European Union External Action Service (EEAS), on January 25 this year. We've only had lots of media, he says.
In the video Ms Sombulrattanakul speaks of the stress of waiting for a reply from UNHCR or the EU, noting that friends in France have offered to accommodate and shelter them.
She also speaks of the emptiness of being forced to mourn the death of her friends inwardly only, any outward sign of grief for her loss, even if for 'Khunthong', likely to have dire consequences.
In the video above Mr Sinseubpol tells of how he and Ms Sombulrattanakul have been told by multiple credible sources that they are next. The pair take it in turns to sleep, he says, adding "if a dog barks, if we hear a car, we have to go out a check".
With the opening of the Thai parliament and the previous ruling junta doing its utmost to retain power, Mr Sinseubpo says the government will want to eliminate all critical voices.
They'll capture us, kidnap us, kill us
"They are coming for sure. They'll capture us, kidnap us, kill us, for sure", says Ms Yimprasert.
Seeking international support from fellow musicians and performing artists, an emotional Ms Yimprasert begs musicians, performing artists, human rightists and democracy supporters globally to help prevent them being "disappeared" or killed by tweeting the hashtag #SaveFaiyen, and talking about them as much as they can.
In the meantime any group of ill intentioned people should be warned. Faiyen doesn't intend to be simply "disappeared". If any attempt is made to harm or "disappear" them Ms Yimprasert says they will immediately start live streaming, "because these guys are afraid of leaving evidence".
Emails sent by AEC News Today to UNHCR in Switzerland and Bangkok, along with EEAS in Belgium were not responded to.
People can show support for the band on the Faiyen Facebook page, or by going here and signing a Change.org petition (Thai), or here for the same petition in English, to UNHCR, the EU and the governments of France and Finland.
Feature video ACT4DEM – แอคชั่นเพื่อประชาธิปไตย
Related:
The following two tabs change content below.

John is an Australian national with more than 40 years experience as a journalist, photographer, videographer, and copy editor.
He has spent extensive periods of time working in Africa and throughout Southeast Asia, with stints in the Middle East, the USA, and England.
He has covered major world events including Operation Desert Shield/ Storm, the 1991 pillage in Zaire, the 1994 Rwanda genocide, the 1999 East Timor independence unrest, the 2004 Asian tsunami, and the 2009, 2010, and 2014 Bangkok political protests.
In 1995 he was a Walkley Award finalist, the highest awards in Australian journalism, for his coverage of the 1995 Zaire (now Democratic Republic of Congo) Ebola outbreak.
Prior to AEC News Today he was the deputy editor and Thailand and Greater Mekong Sub-region editor for The Establishment Post, predecessor of Asean Today.
In the mid-80s and early 90s he owned JLF Promotions, the largest above and below the line marketing and PR firm servicing the high-technology industry in Australia. It was sold in 1995.

Latest posts by John Le Fevre (see all)