Advertisement

The arrest of members of Jemaah Islamiyah (JI), an organisation linked to al-Qaeda, in Singapore in 2001 sent shock waves across the national security landscape. This portentous incident signalled both the need for Singapore to fortify national counterterrorism measures and the naissance of a new strategy that amalgamates existing kinetic and novel non-kinetic approaches to withstand the heightened threat of terrorism.
Singapore has enacted four pieces of legislation, including the Terrorism (Suppression of Bombings) Act, to tighten security measures. The Ministry of Home Affairs (MHA) supplements these laws with physical security measures.
The latest video released by the so-called Islamic State (IS) lists 'crowded places' as strategic locations to launch attacks because of the high potential to inflict mass casualties. In response to such tactical shifts the MHA announced the formation of Emergency Response Teams (ERTs) specialised in counter-assault skills.
A psychologist, a religious counsellor, & a social worker
The ERTs are dispatched to patrol major events, supplementing the heightened surveillance already provided by the PolCam 2.0 project. Transport Security Command (TSC) units also patrol mass rapid transit stations daily.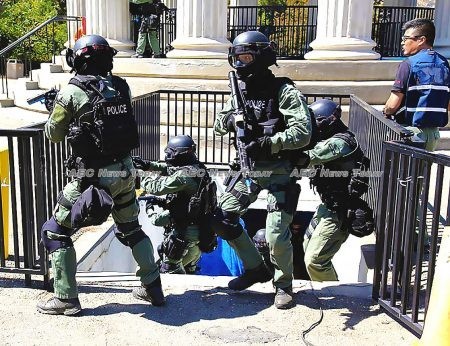 These kinetic approaches are buttressed by a range of non-kinetic approaches, namely counter-ideology, rehabilitation, and community engagement.
Throughout the detention period, detained extremists are attended by a psychologist, a religious counsellor, and a social worker.
During the same period, the families of detainees are socially and financially supported through community-support mechanisms, including financial grants, educational support, and counselling. Once a detainee is no longer deemed a security threat, the reintegration process — including job-matching exercises — takes place.
The formation in 2003 of the Religious Rehabilitation Group (RRG), a voluntary organisation consisting of Islamic scholars and teachers, was noteworthy. Dialogues between religious clerics and JI detainees have uncovered that indoctrination by distorted ideology is a fundamental problem in detainees.
To address this RRG counsellors provide religious counsel to detainees and their family members. The RRG has also expanded its role into the counter-ideology paradigm by launching a helpline and mobile app for members of the public to seek clarification on religious concepts, ideology and terrorism.
The RRG Resource and Counselling Centre enables further outreach to schools and the community and it has been recognised by the Singapore Ministry of Education (MoE).
Terrorist attacks aim to inculcate fear and distress in order to divide society.
A counterterrorism exercise organised by the Singapore Maritime Crisis Centre to intercept 'terrorists' in speedboats enter Singapore waters Video Channel NewsAsia
Weak societal cohesion brews scepticism and distrust of one another. As such, it is critical that Singapore preserve its multi-racial and multi-religious social fabric and erode any sense of 'us versus them'. The concept of a resilient nation has become the nucleus of Singapore's counterterrorism strategy.
This is underscored by the narrative 'One Singapore' against terrorism through the SGSecure initiative, a national movement that was launched in 2016 to "sensitise, train, and mobilise" Singaporeans in times of terror, it aspires to inculcate vigilance of indicators of radicalisation in the hopes that early detection reports will help authorities mitigate radicalisation and prevent terrorist attacks.
Singapore has been consistently prudent about counterterrorism, which is evident through the string of preventive arrests under the Internal Security Act (ISA) and the number of thwarted terror plots.
Singapore has not experienced a terrorist attack since the hijacking of a Singapore Airlines (SIA) flight in 1991 — but the greatest test of its existing measures and policies is yet to come.
Local threat levels to remain high
The volatile regional outlook means local threat levels will remain high. This is especially due to the prospect of returning foreign terrorist fighters.
The shrinking of IS's physical territory has spurred lone-wolf attacks in disparate countries. Such attacks place Singapore on the radar, as the country has frequently been cited in jihadist publications and listed as a member of the 'crusader coalition' against which jihadists are fighting.
Singapore's Island Defence Task Force (IDTF) conducts "just in time" counterterrorism training Video Today online
Foreign terrorist fighters pose both a physical and an ideological threat.
The circulation and availability of terrorist and extremist publications such as the Al-Fatihin newsletter and the Indonesian-language edition of Rumiyah magazine reiterate the region's vulnerability to terrorist and extremist ideology.
Moreover, the possible revival of al-Qaeda and regeneration of JI highlight the continued presence of radical ideology, even as these groups tactically shift towards a softer approach.
All these risks call for heightened vigilance against radicalism; there is a need to continually strengthen local and regional capacity to mitigate its impact.
Like Singapore, the rest of Southeast Asia will need to be vigilant through evolving strategies that meet the ever-changing threat of terrorism. The convergence of kinetic and non-kinetic strategies serves as a useful framework for fortifying measures already set in place.
While Singapore is taking a multi-faceted approach, developing national resilience is a critical hallmark of the country's counterterrorism strategy.
Amalina Abdul Nasir is a research analyst at the International Centre for Political Violence and Terrorism Research, the S. Rajaratnam School of International Studies (RSIS), Nanyang Technological University, Singapore. This article first appeared on East Asia Forum under a Creative Commons License and is reproduced here with its permission.
Feature photo Wikipedia
Related:
The following two tabs change content below.

East Asia Forum is a platform for analysis and research on politics, economics, business, law, security, international relations and society relevant to public policy, centred on the Asia Pacific region.
It consists of an online publication and a quarterly magazine, East Asia Forum Quarterly, which aim to provide clear and original analysis from the leading minds in the region and beyond.

Latest posts by East Asia Forum (see all)