Advertisement

Dramatic video has emerged from Lao PDR where a large-scale humanitarian operation is underway following the partial collapse of a hydroelectric dam being built by a Lao-South Korean-Thai consortium.
The video above shows people sitting on the roof of flooded houses, while additional vision shows crowded boats ferrying people to safety.
The ferocity of the more than five billion cubic metre (about 175 bln cu.ft) water deluge that arrived largely unannounced in the early evening of July 23 sweeping a path of death and destruction through quiet Laotian villagers is captured further in additional video and still photos which show people caught up in the raging torrent.
Other vision shows people struggling with meagre possessions through mid-calf-height water, while damaged infrastructure and what appear to be dead animals and people are also shown. According to Laotian authorities some 3,000 people remain stranded on structures or in trees, while at least 26 people have been confirmed killed.
Accurate information from inside Lao PDR is difficult to obtain due to the absence of any foreign media bureaux or resident accredited foreign correspondents, with all media state-owned and controlled.
The 400MW Xepian-Xe Nam Noy hydroelectric power plant is being built in a remote location in the southeast of Laos where roads in the region are largely untraversable at this time of the year due to the weather.
Thailand leads relief effort
An international relief operation has swung into operation to support an estimated 6,600 people who have been left homeless by the deluge, with China and Thailand quickly despatching humanitarian support.
Heavy-lift helicopters and a C-130 'Hercules' are transporting personal and equipment, in addition to medical supplies, fresh drinking water, and food from Ubon Ratchathani Airport in Northeastern Thailand, with one of the first relief flights to leave Thailand comprising some of 10,000 bottles of drinking water, 2,000 towels, 49 water filters, medicines, and other necessities donated by Thailand King Maha Vajiralongkorn Bodindradebayavarangkun.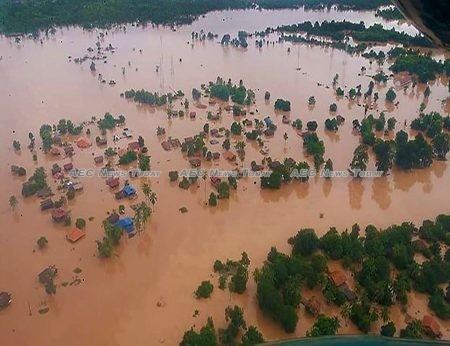 Additionally Thai volunteer rescue organisations from neighbouring border provinces have arrived with boats, while emergency relief collection centres have been established in all northeastern Thailand border provinces, with the nation's highest ranking Buddhist, the Supreme Patriarch instructing all temples and followers in the north-east to gather relief goods with haste.
Yesterday Thailand Prime Minister General Praut Chan-o-cha made an immediate preliminary grant of Bt5 million (about$149,770) to assist with relief efforts to Lao PDR Ambassador to Thailand, Seng Soukhathivong, telling the foreign diplomat that Thailand was ready to provide what support its northeastern neighbour needed.
Ineffective warning system
Meanwhile Laotian authorities have announced tougher safety measures for hydropower dam projects in the country, including the development of emergency response plans in case of disasters, increased mandatory reporting, and a requirement to notify resident downstream seven days prior to increasing water discharge rates.
Highlighting the ineffective warning system in place a statement by South Korean construction company SK Engineering & Construction (SKEC), said its engineers had struggled for almost 24-hours to try and prevent the dam being breached. It attributed the failure to heavy monsoonal rain in the area.
However, Chainarong Setthachua, a lecturer at Maha Sarakham University, disputed that. Speaking with The Nation Mr Setthachua said, "the reservoir was not even full when a part of the dam subsided and collapsed. This clearly shows that the true cause of this disaster was improper construction of the dam and the constructors of this project are fully responsible for all damages."
According to the Lao Energy and Mine Ministry, there are 54 operational hydropower dams across the country with plans for up to another 46.
The increased water levels resulting from the dam failure are also affecting Cambodia residents. Just days before the country heads to the polls for a national general election flood waters from Lao have swept through Cambodia's northern Strung Treng province forcing the evacuation of more than 1,200 families after the river level increased to 11.4 meters (37.4ft).
People in Thailand wishing to assist with relief efforts can donate money through a special bank account established by the Thai government at state-run Krung Thai Bank using account number 067-0-12886-4.Donation collection centres have been established at Thai-Lao border crossings, while the Thai Red Cross is also accepting donations. Residents of other countries should contact their local Lao People's Democratic Republic (Lao PDR) diplomatic mission, or local Red Cross or Red Crescent office.
Feature video BBC News
Related:
Thailand ramps up relief efforts to devastated Lao communities (HD video) (AEC News Today)
HM the King donates relief materials to flood victims in Laos (Thai PBS)
Rescuers battle to search for 131 still missing: PM Thongloun (Thai PBS)
Laos scrambles for food, medicines, coffins after dam burst (Reuters)
The following two tabs change content below.

John is an Australian national with more than 40 years experience as a journalist, photographer, videographer, and copy editor.
He has spent extensive periods of time working in Africa and throughout Southeast Asia, with stints in the Middle East, the USA, and England.
He has covered major world events including Operation Desert Shield/ Storm, the 1991 pillage in Zaire, the 1994 Rwanda genocide, the 1999 East Timor independence unrest, the 2004 Asian tsunami, and the 2009, 2010, and 2014 Bangkok political protests.
In 1995 he was a Walkley Award finalist, the highest awards in Australian journalism, for his coverage of the 1995 Zaire (now Democratic Republic of Congo) Ebola outbreak.
Prior to AEC News Today he was the deputy editor and Thailand and Greater Mekong Sub-region editor for The Establishment Post, predecessor of Asean Today.
In the mid-80s and early 90s he owned JLF Promotions, the largest above and below the line marketing and PR firm servicing the high-technology industry in Australia. It was sold in 1995.

Latest posts by John Le Fevre (see all)