Advertisement

Indonesian students wanting to undertake postgraduate studies (Masters or PhD/Doctorate level) in Australia have until April 30 to submit their application for Australia Awards Scholarships (AAS), part of the Australian development cooperation program in Indonesia.
Offered by the Australian government for over 60 years, the Australia Awards Scholarships in Indonesia has seen more than 11,500 Indonesians granted scholarships to study at an Australian tertiary institution since 1953 and are offered in two main categories: 'Targeted' and 'Non-targeted'.
The 'Targeted' category comprises those from geographic focus areas (GFAs) (currently Aceh, East Nusa Tenggara, West Nusa Tenggara, Papua, West Papua, Maluku, and North Maluku); from embassy partners; or from those employed by Indonesia government agencies. The 'Non-Targeted' category includes public servants and non-public servants not included in the 'Targeted' category.
Australia Awards Scholarships cover up to nine months of full-time language and academic preparation in Indonesia and cover the cost of all tuition fees, return air travel, establishment allowance, an A$82 (about US$66.50) per day contribution to living expenses, in addition to payment of the Overseas Student Health Cover (OSHC) required by Australian law.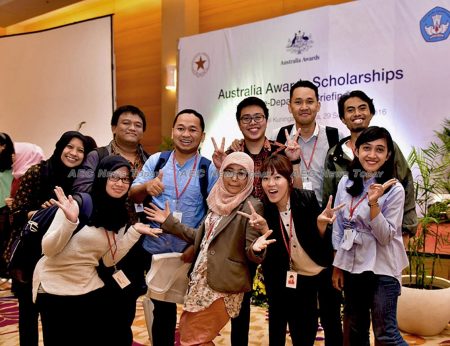 Applicants for Australia Awards Scholarships are permitted to nominate which Australian higher education institution they want to attend, while courses of study can be selected from a list of 39 priority topics designed to:
Produce effective economic institutions and infrastructure
focus on human development for a productive and healthy society
Encourage human development for a productive and healthy society
Promote inclusive society through effective governance
To be eligible for Australia Awards Scholarships applicants must be an Indonesian citizen and resident at the time of their application, and must satisfy Australian Government requirements for international student entry to Australia.
Current serving military personnel are prohibited from applying, while applicants cannot be 'married or engaged to a person who is eligible to hold Australian or New Zealand citizenship or permanent resident status, at any stage of the application'.
In addition, applicants for Australia Awards Scholarships must have a grade point average (GPA) of at least 2.9 for Masters' applicants, have an English language proficiency of at least 5.5 in IELTS (or 525 for paper-based TOEFL, 69 for internet based TOEFL, or 42 in PTE Academic).
Applicants for PhD study must have an English language proficiency of at least 6.0 in IELTS (or 550 for paper-based TOEFL, 79 for internet based TOEFL, or 50 in PTE Academic).  All test result must have been obtained in 2016 or 2017.
Those who make it through the initial selection process will be required to undergo an interview by a team of Indonesian officials and academics working in partnership with Australian academics to evaluate and rank candidates, with the final decision based on the principles of merit and equity.
Shortlisted applicants for Australia Awards Scholarships will be assessed on academic competence, potential outcome (including contribution to development outcomes in their home country), and professional and personal leadership attributes.
While the number of Australia Awards Scholarships is subject to the discretion of selection authorities, 85 percent of awards will be offered at the Masters Level, with an equal number of awards available for men and women.
The Australia Awards Scholarships provide for up to nine months full-time language and academic preparation in Indonesia, with students required to achieve satisfactory results in order to continue with their scholarships.
In addition, up to 350 Short Term Awards will be offered under the Australia Awards Scholarship programme to senior Indonesian decision makers and influencers who want to develop new skills and increase their networks and potential through tailored short courses at reputable Australian tertiary education institutions.
Typically lasting for less than three week and comprising up to 25 people, the Australia Awards Scholarships Short Term Awards cover a diverse selection of topics as varied as water and sanitation, livestock management, natural resource management, strengthening malaria prevention and treatment, or improving the implementation of public-private partnerships (PPPs).
More information and details on how to apply can be found on the Australia Awards in Indonesia website.
Feature Photo:  Australia Awards in Indonesia
Related: