Advertisement

A new report forecasts the Malaysia medical tourism market to grow at a compounding annual growth rate (CAGR) of 30.05 per cent over the next eight years, reaching some US$3.5 billion before the end of 2024.
According to Transparency Market Research (TMR), 'persistent government activities synergizing the medical tourism industry and lower cost of medical services compared to their counterparts in developed nations are boosting the Malaysia medical tourism sector'.
In short, the Malaysia medical tourism sector is booming. Partly due to the increasing influx of medical tourists from the Middle East and North Africa (MENA) region and neighboring countries, and partly due to various macro-economic factors, such as tax exemptions on revenue generated from foreign patients.
According to TMR additional factors such as a low language barrier, the presence of sophisticated healthcare infrastructure, excellent transport and recuperation facilities will continue driving opportunities in the Malaysia medical tourism sector for many years to come.
Dentistry, Cosmetic, Orthopedic Biggest Earners in 2016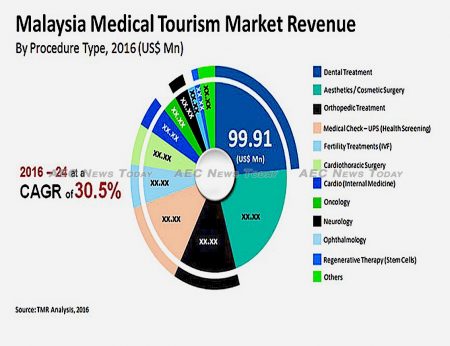 Identified as one of the 12 national key economic areas for development, the Malaysia government is taking proactive steps to help foster Malaysia medical tourism. Among other things it has established the Malaysia healthcare travel council (MHTC) to support foreign patients and their families.
The $5,795 single user licence TMR report notes that while the majority of Malaysia medical tourism visitors originated from neighbouring Indonesia in 2016, there was an increasing number of medical travelers from India, China, Nepal, Iran, Libya, Australia, the US, and the UK.
The TMR report also notes that the availability of full halal medical services is particularly attractive to visitors from Muslim countries where medical services are not as good, or more expensive.
For 2016 the TMR report notes that dental treatment was the largest earner by type of procedure, accounting for 36 per cent of Malaysia medical tourism visitors and generating some US$99.91 million. Aesthetics/cosmetic surgery came in second, followed by orthopedic treatment, and health screening/ medical checks. The four areas combined accounted for more than 70 per cent of the total Malaysia medical tourism sector in 2016.
Malaysia Healthcare System the World's Best
The release of the TRM report follows International Living listing the Malaysia healthcare system as the best in the world for people looking to retire overseas. In '4 Countries With The Best Healthcare In The World' published in January, Malaysia ranks number one ahead of Costa Rica, Colombia and Mexico, ranked second, third and fourth, respectively.
The listing says 'medical tourists arriving in Malaysia have increased on average by 100 per cent in the last five years, the report states the Malaysia medical tourism sector attracted more than one million people in 2016.
Among what makes the Malaysia medical tourism sector so attractive, the report states, is that 'Malaysia has some of the best-trained doctors in Asia–and the majority of them were trained in the US, Australia, or the UK. All of them speak English too, and that takes a lot of the stress away from what is already a stressful situation', the report states.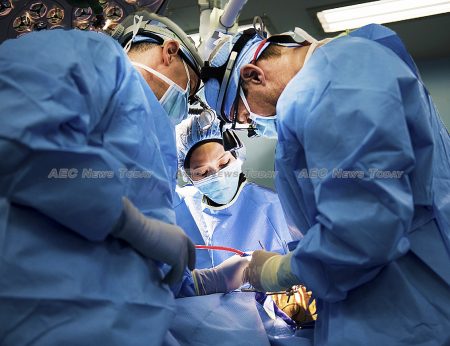 The report also highlights that Malaysia has eight hospitals (now 14) with Joint Commission International (JCI) certification – considered the gold standard for healthcare service providers around the world. In addition to the high-end, International Living also notes that there are 'some very good "not for profit" hospitals here too'.
While neighbouring Thailand, which also bills itself as a medical tourism hub has 56 JCI accredited facilities, in International Living's '2017 Annual Global Retirement Index' it finished well below Malaysia for both desirability and healthcare facilities.
Whereas Malaysia finished sixth most desirable location and number one for healthcare with a score of 97, Thailand finished in 12th position, with it's healthcare facilities scoring 89 points; equivalent to that scored by Spain, Uruguay, the Philippines, and Panama.
Related:
The following two tabs change content below.

Stella-maris graduated with a Bachelor of Arts, Education from Ebonyi State University, Nigeria in 2005.
Between November 2010 and February 2012 she was a staff writer at Daylight Online, Nigeria writing on health, fashion, and relationships. From 2010 – 2017 she worked as a freelance screen writer for 'Nollywood', Nigeria.
She joined AEC News Today in December 2016.

Latest posts by Stella-maris Ewudolu (see all)