Thailand morning news by AEC News Today is your one stop source for Thailand news on matters of governance and policies.
MPC ups GDP growth forecast, keeps policy rate
THE BANK of Thailand's Monetary Policy Committee (MPC) revised up its forecast for this year's economic growth to 3.4 per cent based on a further recovery of merchandise exports, while leaving the benchmark interest rate unchanged at 1.50 per cent at its meeting yesterday.
— The Nation
Escalated sea patrol to protect giant clams from poachers
Marine park officials at Phi-Phi islands have stepped up sea patrolling to watch out for poachers who are trying to steal giant clams and rare fish to feed the appetite of some Chinese tourists.
– Thai PBS
Call for superhighway to help move to 5G
Thailand urgently needs development of a digital information superhighway to support the transition in consumer lifestyles in the upcoming 5G era, says a key official.
— Bangkok Post
PPP Committee wants 6 more transport projects fast-tracked
THE PUBLIC Private Partnership (PPP) Policy Committee yesterday resolved to place six more transportation projects worth Bt600 billion on the fast track for implementation.
— The Nation
Advertisement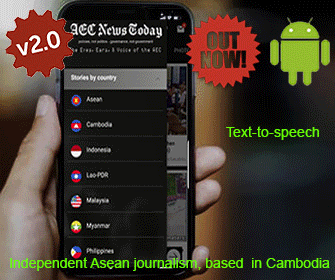 Transport Ministry prepared for public van strike
The Minister of Transport has assured the office is ready if public transport vans go on strike in April and has affirmed to adhere to the government's policy on improving transport for the public.
– NNT
Alibaba plans trade centre in Thai
E-COMMERCE giant Alibaba Group is still investing in Thailand, planning to set up a regional electronic-trade centre and logistics system here to link Cambodia, Laos, Myanmar and Vietnam (CLMV) markets, Industry Minister Uttama Savanayana said.
— The Nation
Attorney-General to announce whether to pursue criminal charges against Red Bull heir "Boss" today
The Office of the Attorney-General says it will make an announcement on whether to pursue criminal charges against Red Bull heir Vorayuth "Boss" Yoovidhya, 31, after a fatal hit-and-run accident that killed a police officer four years ago.
– Thai PBS
OAG to announce whether to indict Red Bull heir tomorrow
The Office of the Attorney General will announce tomorrow (Thursday) whether to indict heir of Red Bull energy drink empire Worayuth Yoowitthaya alias Boss in connection with a fatal road accident in which one traffic policeman was crushed to death on Sukhumvit road five years ago.
– Thai PBS
National oil company would be in 'national interest'
General Akanit Muensawat, spokesman of the National Legislative Assembly's (NLA) committee on energy affairs, insisted that the provision for the establishment of a national oil company would follow a thorough study and was in the national interest.
— The Nation
Alro clears wind farm development
The Agricultural Land Reform Office (Alro) said Wednesday that 16 wind farm projects located on Sor Por Kor government land are legal and can continue as planned.
— Bangkok Post
No bail yet for ex-TAT governor and daughter
The Appeals Court has not granted bail for former Tourism Authority of Thailand governor Juthamas Siriwan and her daughter, Jitsopha, after they were sentenced to 50 years and 44 years imprisonment respectively on corruption charges.
– Thai PBS
THAI Smile to sync with parent's GDS
THAI Smile is on course to adopt a new booking system in common with parent Thai Airways International (THAI) in June.
— Bangkok Post
Prawit defends sub purchase
Deputy Prime Minister Prawit Wongsuwon has dismissed criticism of the purchase of Chinese-made submarines, and insists the purchasing process is transparent.
— Bangkok Post
Thailand looks set to host MotoGP round in 2018
Thailand looks set to be the latest country to be granted a MotoGP race for 2018, with the Chang International Circuit the venue.
— GPxtra (press release)
RETHINK USE OF ABSOLUTE POWER, UN RIGHTS COMMITTEE TELLS THAILAND
Thailand's military government should reconsider the use of absolute power and end all military trials of civilians, the UN Human Rights Committee recommended Tuesday night.
— Khaosod English
Special stamp collection introduced commemorating King Rama 9
hailand Post has joined hands with the Office of the Royal Projects Development Board (RPDB) to create the "In Celebration of the 70 Year Reign" stamp collection honoring His Majesty the late King Bhumibol Adulyadej and his achievement as the world's longest reigning monarch.
– NNT
Feature photo John Le Fevre
Find our previous morning news feature photos in the AEC News Today Morning News Feature Photos gallery where you will find a pictorial display of daily life throughout the Asean Economic Community (AEC).
Introducing The AEC News Today Mobile App
In an era of hectic schedules where time is precious, the AEC News Today mobile app enables you to stay up to date with the latest Asean news on governance and policy issues affecting the Asean Community while you are on the move and whenever you have a few minutes to spare.
Advertisement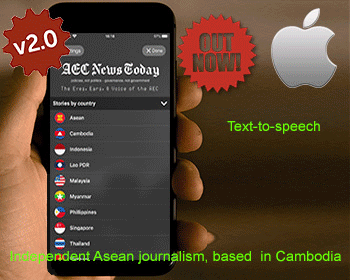 See full details, including our AEC News Today Mobile App Privacy Statement here: Stay up to Date With The AEC News Today Mobile App
Download the AEC News Today mobile app from Google play or the App stores by clicking the icons below.
Thailand morning news is published M-F by AEC News Today: Governance, not government; policies not politics.
The following two tabs change content below.

John is an Australian national with more than 40 years experience as a journalist, photographer, videographer, and copy editor.
He has spent extensive periods of time working in Africa and throughout Southeast Asia, with stints in the Middle East, the USA, and England.
He has covered major world events including Operation Desert Shield/ Storm, the 1991 pillage in Zaire, the 1994 Rwanda genocide, the 1999 East Timor independence unrest, the 2004 Asian tsunami, and the 2009, 2010, and 2014 Bangkok political protests.
In 1995 he was a Walkley Award finalist, the highest awards in Australian journalism, for his coverage of the 1995 Zaire (now Democratic Republic of Congo) Ebola outbreak.
Prior to AEC News Today he was the deputy editor and Thailand and Greater Mekong Sub-region editor for The Establishment Post, predecessor of Asean Today.
In the mid-80s and early 90s he owned JLF Promotions, the largest above and below the line marketing and PR firm servicing the high-technology industry in Australia. It was sold in 1995.

Latest posts by John Le Fevre (see all)