Singapore morning news by AEC News Today is your one stop source for Singapore news on matters of governance and policies affecting Asean business communities.

Singapore to attract more global funds
IN a move aimed at attracting more global funds to set up their legal entities here, the Monetary Authority of Singapore (MAS) on Thursday proposed introducing a corporate structure for investments.
— The Business Times 
Singapore remains Asia's most competitive economy: Boao Forum report
Singapore has been named Asia's most competitive economy for the fourth year running, according to the annual Boao Forum report released on March 23.
— Connected to India 
Price of formula milk in Singapore has gone up by nearly 40%
It was recently reported that a man had been arrested for suspected involvement in a series of milk powder theft cases islandwide. It was also understood that he had intentions to resell the stolen milk powder. As would seem to be the observation of that man, is milk powder such an expensive commodity that selling it on the black market would be lucrative?
— The Online Citizen 
MAS to roll out national KYC utility for Singapore
The Monetary Authority of Singapore (MAS) is piloting a national know-your-customer (KYC) utility for financial services, based on the MyInfo digital identity service, jointly developed by the Ministry of Finance and GovTech, the lead agency for digital and data strategy in Singapore.
— Finextra 
Advertisement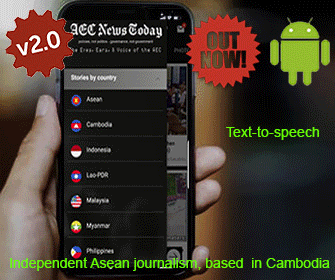 StarHub opens Hubtricity innovation center
Singapore's StartHub has opened a new innovation center and converged operations cockpit named Hubtricity, aimed at accelerating Singapore's transformation into a Smart Nation.
— Telecom Asia
Singapore to roll out green bond grants
Sustainable investments have gone mainstream, and Singapore is taking steps to match the demand by growing a green bond market, National Development Minister Lawrence Wong said yesterday.
— The Straits Times 
Singapore edges higher on Wall Street cues, Malaysia slips
Shares in Singapore rose on Thursday after Wall Street showed signs of steadying even though uncertainty about President Donald Trump's economic agenda persisted. Malaysian equities ended slightly lower.
— Nikkei Asian Review 
AIG Seeks Best Drivers in Singapore with New Smartphone App
AIG Asia Pacific Insurance Pte. Ltd. (AIG Singapore) has launched a nationwide search to find Singapore's best drivers with "AIG On the Go," a telematics-based smartphone application.
— Insurance Journal 
Only 1 in 4 Singapore companies say their talent strategies are 'change agile'
As the competition for talent continues to rise and business models are disrupted by technology and socio-demographic shifts, organisations are still taking an evolutionary approach to their talent strategies in the face of revolutionary changes.
— Singapore Business Review 
Hong Kong trails rival Singapore in Asian Competitiveness report for third year running
Despite its standing as one of the most robust Asian economies, Hong Kong's shortcomings in higher education and innovation have once again prevented it from outstripping regional rival Singapore in an annual survey of competitiveness.
— Business Vancouver 
Freedom with responsibility the Singapore way, unlike West
What moral authority do Westerners have to lecture Singapore when their societies are in a shambles? (S'pore hits back at Economist: Protesters not in court over criticism; March 18)
— Today Online 
Cash-strapped foreign workers in Singapore to receive 3G mobile phones
In light of telecom operators ending second-generation (2G) services on 1 April in Singapore, migrants group Transient Workers Count Too (TWC2) has started distributing 3G-enabled mobile phones to less-privileged foreign workers in Singapore; according to The Nation.
— Human Resource Online 
India notifies amended tax treaty with Singapore
The government today notified the amended India-Singapore tax treaty under which capital gains tax will be levied at source of investments with effect from April 1.
— The Economic Times 
Singapore's Carro lands $12M to expand its auto listings business to vehicle financing
Singapore-based auto classifieds Carro has a double whammy of news today — it has moved into the vehicle financing space and raised $12 million more from investors.
— Techcrunch 
Singapore Market May Hand Back Thursday's Gains
The Singapore stock market on Thursday snapped the three-day slide in which it had surrendered more than 50 points or 1.6 percent. The Straits Times Index now rests just above the 3,125-point plateau, although the market is expected to turn lower again on Friday.
—  Nasdaq
Jobless and unpaid, foreign workers face daunting fate
At least six Bangladeshi workers may have to go home as soon as next week, if they are not able to find a new employer.
The New Paper
VML creates new centre of excellence in Singapore
WPP's VML is creating a platforms and experiences (P&E) centre of excellence (COE) in Singapore. This center of excellence is one of the three P&E centres of excellence that VML as a network is building globally, the other two based in Kansas City and London.
— Marketing-Interactive 
Singapore consumer price index edges up, but core inflation dips
Singapore logged its third straight month of positive inflation in February, owing in part to gradually recovering oil prices.
— The Straits Times 
Advertisement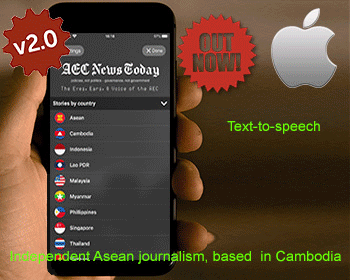 SMEs can tap A*Star Model Factories to go digital
Some 500 small and medium-sized enterprises (SMEs) will be able to benefit over the next five years from the Model Factories being developed by the Agency for Science, Technology and Research (A*Star), which spearheads research and development for the Government, said Minister of State for the Ministry of Trade and Industry Dr Koh Poh Koon.
— Today Online
Feature photo: Jason Goh
Find our previous morning news feature photos in the AEC News Today Morning News Feature Photos gallery where you will find a pictorial display of daily life throughout the Asean Economic Community (AEC).
Introducing The AEC News Today Mobile App
In an era of hectic schedules where time is precious, the AEC News Today mobile app enables you to stay up to date with the latest Asean news on governance and policy issues affecting the Asean Community while you are on the move and whenever you have a few minutes to spare.
See full details, including our AEC News Today Mobile App Privacy Statement here: Stay up to Date With The AEC News Today Mobile App
Download the AEC News Today mobile app from Google play or the App stores by clicking the icons below.
Singapore morning news is published M-F by AEC News Today: Governance, not government; policies not politics.
The following two tabs change content below.

Leakhena Khat
Leakhena is a junior journalist at AEC News Today who is also currently studying International Relations, which she finds adds perspective to her work reporting on the Asean Community.
"I love what I am doing so much as it gives me a lot of great experience and provides challenges to my mind.

Latest posts by Leakhena Khat (see all)