Philippines morning news by AEC News Today is your one stop source for Philippines news on matters of governance and policies affecting Asean business communities.

DIARY-Emerging Markets Economic Events to April 28
Philippine Central Bank Governor Amando Maglalang Tetangco will attend the Management Association of the Philippines economic briefing and membership meeting, at the Makati Shangri-La Hotel.
— Reuters
Hainan-Manila direct flights eyed under Belt & Road Initiative
The tourism sectors of Hainan, China's famous tropical province, and the Philippines are seen to benefit under economic integration strategy Belt & Road Initiative.
— Manila Bulletin
Central bank expects March inflation sustained above 3%
INFLATION likely stayed above three percent this month as higher power rates and a weaker peso pushed prices of widely used goods and services upward, although lower food and oil costs may have capped the overall increase, the Bangko Sentral ng Pilipinas (BSP) said yesterday.
— Business World Online
Philippines to conduct air patrols in Benham
The Armed Forces of the Philippines (AFP) will use its newly acquired TC-90 aircraft from Japan to patrol the West Philippine Sea and Benham Rise where incidents of China's incursion were recorded.
— Phil Star
Advertisement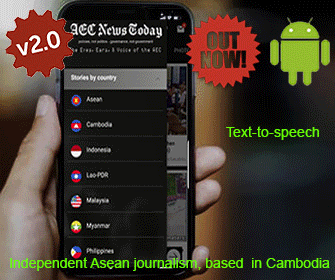 South-east Asia's children face 'double burden' of obesity and undernutrition – UN report
A joint report released today by the United Nations Children's Fund (UNICEF), the World Health Organization (WHO) and the Association of Southeast Asian Nations (ASEAN) has shed new light on the nutrition situation of children across the region.
— UN News Centre
EVAP prepares for 1st Asean electric and hybrid vehicles summit
THE Electric Vehicle Association of the Philippines (EVAP) is preparing for the first Asean Electric and Hybrid Vehicles Summit that it organized with the Board of Investments (BoI) and Manila Electric Co. (Meralco).
— The Manila Times
EU summons Filipino envoy to explain Duterte tirade
The European Union on Monday summoned a Philippine envoy to explain an expletive-laden tirade by President Rodrigo Duterte, who threatened to hang EU officials for opposing his efforts to re-impose the death penalty.
— Phil Star
Duterte plays a winning hand with foreign policy, but will his luck run out?
Rodrigo Duterte does not need your money. But he will take it. Since his electoral triumph last summer, the man famous for cursing foreign leaders and calling for mass killing seems to be raking in the cash for Manila.
— Washington Post
Philippines, Hungary bring ties to 'new dimension' with trade, economic pacts
Representatives of Hungary on Monday met here with their Philippine counterparts and ink several trade and economic agreements, putting the bilateral relationship between the two countries to a "new dimension."
— Inquirer.Net
Philippines aims to include casinos in dirty money law
The Philippines could tighten its money laundering law this year to cover casinos, its top lawmaker said on Monday, in a move aimed at plugging loopholes that allowed $81 million stolen from Bangladesh to pass through Manila gaming venues.
— ABS-CBN
PH, Asian shares recover as markets try to move past Trump's policy stumble
Philippine shares pulled ahead with the rest of Asia on Tuesday after Wall Street steadied and the dollar bounced from a four-month-low, as concern over Donald Trump's setback on his healthcare reform bill gave away to tentative hopes for the US President's planned stimulus policies.
— ABS-CBN
'Rody to respect lawmakers' independence on Leni'
It's up to Congress to decide on the impeachment complaint against Vice President Leni Robredo despite an earlier appeal by President Duterte to his allies to stop working for her ouster, chief presidential legal counsel Salvador Panelo said yesterday.
— Phil Star
Employers turn hopeful on contractualization rules
Employers are keeping their fingers crossed that the new labor department order (DO) on contractualization will not worsen the current unemployment situation in the country as they try to live with more restrictive rules.
— Phil Star
Oil firms roll back diesel, kerosene prices today
Oil companies roll back diesel and kerosene prices for the fourth straight week today amid oversupply in the international oil market.
— Phil Star
'Rody to respect lawmakers' independence on Leni'
It's up to Congress to decide on the impeachment complaint against Vice President Leni Robredo despite an earlier appeal by President Duterte to his allies to stop working for her ouster, chief presidential legal counsel Salvador Panelo said yesterday.
— Phil Star
Poe urges gov't to protect every Filipino
Extrajudicial killings (EJKs) or not, the government must protect the lives of every Filipino, especially the poor, Senator Grace Poe said on Tuesday.
— Inquirer.Net
SSS eyes mandatory OFW coverage
The Social Security System is eyeing the mandatory coverage of Filipinos working abroad, which is one of the proposed amendments to its charter now pending in Congress.
— Inquirer.Net
E.U. refutes Duterte on 'drugs stations'
The European Union on Monday denied President Rodrigo Duterte's claim that the bloc has suggested that the Philippine government build illegal drug stations in the country.
— ABS-CBN
Advertisement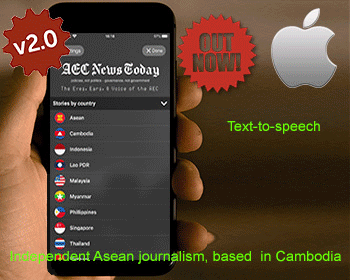 Too early for 'divisive' impeachment, says Robredo
Vice President Leni Robredo said Tuesday it was "too early" for the country to go through a "divisive" impeachment process barely a year after a bitterly fought election.
— ABS-CBN
Growth track deemed intact despite politics
THE PHILIPPINE ECONOMY is expected to see above-six percent expansion in the next two years on the back of increased public spending and an improving investment climate, according to a Moody's Investors Service report that said political issues pose minimal risk to the country's growth story.
— Business World Online
2 Philippine Navy MPACs with missile armament provisions to arrive soon
Two of the multi-purpose assault craft (MPAC), with provisions for missile armament, will be delivered by the third quarter of this year.
— Manila Bulletin
Feature photo International Labour Organization
Find our previous morning news feature photos in the AEC News Today Morning News Feature Photos gallery where you will find a pictorial display of daily life throughout the Asean Economic Community (AEC).
Introducing The AEC News Today Mobile App
In an era of hectic schedules where time is precious, the AEC News Today mobile app enables you to stay up to date with the latest Asean news on governance and policy issues affecting the Asean Community while you are on the move and whenever you have a few minutes to spare.
See full details, including our AEC News Today Mobile App Privacy Statement here: Stay up to Date With The AEC News Today Mobile App
Download the AEC News Today mobile app from Google play or the App stores by clicking the icons below.
Philippines morning news roundup is published M-F by AEC News Today: Governance, not government; policies not politics.
The following two tabs change content below.

Stella-maris graduated with a Bachelor of Arts, Education from Ebonyi State University, Nigeria in 2005.
Between November 2010 and February 2012 she was a staff writer at Daylight Online, Nigeria writing on health, fashion, and relationships. From 2010 – 2017 she worked as a freelance screen writer for 'Nollywood', Nigeria.
She joined AEC News Today in December 2016.

Latest posts by Stella-maris Ewudolu (see all)