Myanmar morning news by AEC News Today is your one stop source for Myanmar news on matters of governance and policies affecting Asean business communities.

Peace possible, but only if we want it: State Counsellor
In her continuing quest for peace, Daw Aung San Suu Kyi yesterday visited Myitkyina in Kachin State, one of the most war-torn regions in the country.
— Global New Light Of Myanmar
Chinese charity group provides medical treatment for children
Fifty children suffering from congenital heart problems born to poor families in Myanmar will receive treatment in China, according to the Yankin Children's Hospital in Myanmar.
— Global New Light Of Myanmar
25-bed hospital in Myebon to double its capacity
The Deputy Speaker of Amyotha Hluttaw U Aye Thar Aung, accompanied by officials from the office of the Amyotha Hluttaw and the township administrator, donated offertories to the monks from monasteries and Pariratti Sarthintaik in Myebon Township, Rakhine State on Monday.
— Global New Light Of Myanmar
Fruit, vegetable and flower wholesale market to be opened in Danyingon
Fruit, vegetable and flower wholesale market will be opened in Danyingon, Insein township, Yangon region at the end of April, according to an official from MAEX (Myanmar Agro Exchange Public Limited).
— Global New Light Of Myanmar
Advertisement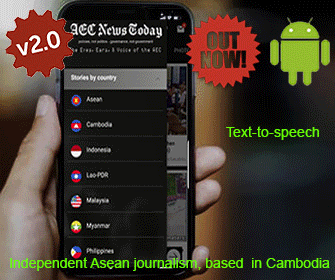 Centre asked to urge Myanmar to drop border fencing project
Nagaland Assembly today passed a government resolution appealing to the Centre to urge the Myanmar government to permanently drop the Indo-Myanmar border fencing project.
— Economic Times
Myanmar Mulls Ban on Temple-Climbing for Tourists
The stairs are worn down by a millennia of use, but soon the footsteps on some of Myanmar's most sacred temples may cease amid concerns about the damage done by increasing numbers of tourists.
— Voice of America
Renewed Activities by Myanmar Border Guards Create Fears among Rohingyas
The Myanmar Border Guard Police (BGP) has recently renewed suspicious activities in Northern Maungdaw that have been creating tremendous fears among the local Rohingyas of being targeted once again, it has been reported.
— Royingya Vision
Demand to stop dam projects
About 400 villagers gathered on the banks of the Namtu River in Hsipaw township, Shan State last week to protest the construction of a dam which they said will submerge their homes and lands.
— Myanmar Times
British trade mission targets ASEAN integration
The UK Department of Trade (DIT) is leading a trade mission to Southeast Asia and the delegation will visit Myanmar on March 30 and 31. The trade mission focuses on infrastructure, energy and education.
— Myanmar Times
China holds military drills near restive Myanmar border
China's army held drills near its border with Myanmar on Tuesday, state media reported, in a show of strength from Beijing following weeks of clashes between ethnic rebels and Myanmar's military.
— Coconuts Yangon
Government to provide cheap channels under national satellite programme
Myanmar has pursued a satellite programme named "Myanmar Sat 1" and plans are underway to provide channels for government ministries and private companies at reduced price rates, said Union Minister for Transport and Communications, Thant Sin Maung.
— Eleven
Myanmar legislation fuels investors' interest
Though multinational companies are still on the waitandsee move to enter Myanmar, the nation's recent legislative reforms to create a more enabling business environment will create positive signals for foreign direct investment inflows, according to a panel discussion by the global research and consultancy firm Oxford Business Group taking place on last Thursday.
— Eleven
Feature photo Duke Ng
Find our previous morning news feature photos in the AEC News Today Morning News Feature Photos gallery where you will find a pictorial display of daily life throughout the Asean Economic Community (AEC).
Introducing The AEC News Today Mobile App
In an era of hectic schedules where time is precious, the AEC News Today mobile app enables you to stay up to date with the latest Asean news on governance and policy issues affecting the Asean Community while you are on the move and whenever you have a few minutes to spare.
See full details, including our AEC News Today Mobile App Privacy Statement here: Stay up to Date With The AEC News Today Mobile App
Download the AEC News Today mobile app from Google play or the App stores by clicking the icons below.
Myanmar morning news is published M-F by AEC News Today: Governance, not government; policies not politics.
The following two tabs change content below.

Stella-maris graduated with a Bachelor of Arts, Education from Ebonyi State University, Nigeria in 2005.
Between November 2010 and February 2012 she was a staff writer at Daylight Online, Nigeria writing on health, fashion, and relationships. From 2010 – 2017 she worked as a freelance screen writer for 'Nollywood', Nigeria.
She joined AEC News Today in December 2016.

Latest posts by Stella-maris Ewudolu (see all)