Myanmar morning news by AEC News Today is your one stop source for Myanmar news on matters of governance and policies affecting Asean business communities.

Myanmar-based mobile payment provider MyPAY to acquire Singapore's fastacash
MyPay Ltd, a mobile payment transaction service provider will make a 100 percent acquisition of Singapore's fastacash, Mark Carter, general manager and chief commercial officer of fastacash told this portal. He did not disclose financial details of the deal, but said the acquisition will be complete in the next 60-90 days.
— Deal Street Asia
Govt contractors are inflating invoices for profit: report
Companies contracted to execute government projects are deliberately inflating their invoices for profit, the Public Accounts Joint Committee said in a report to parliament on March 6.
— Coconuts Yangon
EU draft resolution dismisses U.N. probe into Myanmar
Last week, the UN's rapporteur on human rights in Myanmar Yanghee Lee called on the organization to arrange a Commission of Inquiry (COI) to investigate Rohingya abuses within the country, particularly in Rakhine State.
— Coconuts Yangon
Hun Sen backs military chief's Rakhine crackdown
At the invitation of Cambodian armed forces commander-in-chief General Pol Saroeun, Senior General Min Aung Hlaing, the commander-in-chief of the defence services, paid a goodwill visit to Cambodia on February 8.
— Eleven
Advertisement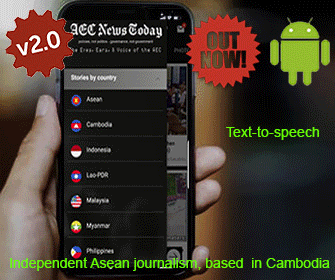 China urges end of conflicts near China-Myanmar border
China on Thursday urged parties in northern Myanmar clashes to exercise restraint and immediately cease fire in order to maintain peace and stability near the China-Myanmar border.
— Eleven
Exim Thailand to boost role in Myanmar through local presence
THE Export-Import Bank of Thailand plans to open a representative office in Yangon by next month as Thailand and Myanmar share the goal of boosting bilateral trade and investment.
— Eleven
Italian Ambassador to Myanmar Visits Volence-Hit Rohingya Areas
The Italian Ambassador to Myanmar, H.E. Mr. Pier Giorgio Aliberti, visited the violence-hit Rohingya villages in northern Maungdaw yesterday (on March 9) evening, it has been reported.
— Rohingya Vision
Mandalay cuts Thingyan budget by half
Mandalay is slashing its Thingyan budget by half this year, compared to the amount set aside for last year's event, city officials said.
— Myanmar Times
Myanmar violence: 20,000 people seek refuge in China
At least 20,000 people from Myanmar have fled across the border to China after violence erupted between ethnic rebels and the security forces.
— BBC News
Myanmar starts first audit of state-owned banks in decades
Myanmar is embarking on the first comprehensive audit of state-owned banks in decades, part of a push to modernise the financial system and tackle risks to the nation's rapid economic growth.
— The Straits Times
MIC devolves power to invest
Myanmar Investment Commission has announced that regional and state investment committees can permit investments worth up to US$5 million or Ks6 billion.
— Eleven
Controversial gold tax confirmed
The new income tax law for 2017 was approved by Parliament last week in Nay Pyi Taw, including a controversial gold purchase tax of 1 per cent.
— Eleven
Myanmar Is Next Vietnam With 10% Growth: British Diplomat
Myanmar could be the next Vietnam or Thailand, with the economy having the potential of growing as much as 10 percent, a senior British diplomat said.
— Bloomberg
Myanmar: New centre brings physical rehabilitation services to Shan State
The first physical rehabilitation centre in Shan State has officially opened its doors in Kyaing Tong. The International Committee of the Red Cross (ICRC) invested 1.86 billion Myanmar kyats (1.3 million US dollars) to build it.
— ICRC (press release)
7th Gems Expo to include 11 regions
The 7th Myanmar International Gems, Jewellery and Watch Expo 2017 will be held at Myanmar Gems Trade Centre in Yangon from March 24 to March 27.
— Myanmar Times
Feature photo: Francisco Anzola
Myanmar morning news is published M-F by AEC News Today: Governance, not government; policies not politics.
The following two tabs change content below.

Stella-maris graduated with a Bachelor of Arts, Education from Ebonyi State University, Nigeria in 2005.
Between November 2010 and February 2012 she was a staff writer at Daylight Online, Nigeria writing on health, fashion, and relationships. From 2010 – 2017 she worked as a freelance screen writer for 'Nollywood', Nigeria.
She joined AEC News Today in December 2016.

Latest posts by Stella-maris Ewudolu (see all)