Advertisement

Industry 4.0' has become a buzzword among Asean member countries, many of which believe that the '4.0' approach is the right way towards economic prosperity. But what exactly does 'Industry 4.0' mean?
To help people understand what the fuss is all about, and why it is so important, the folks at Thailand's National Broadcasting and Telecommunications Commission (NBTC) has put together a short video explaining what 'Industry 4.0' means to Thailand.
In this three minute-long video simply titled 'Thailand 4.0', viewers have the various levels of economic development models explained.
Thailand 1.0', the video explains, focused heavily on the agricultural sector, while 'Thailand 2.0' focused on light industries – churning out garments, as well as footwear manufacturing. Meanwhile, 'Thailand 3.0' focused on heavy industry and exports.
Thailand 4.0' ramps things up even further – it aims to turn Thailand into a value-based economy by focusing on stability, prosperity, and sustainability to meet the demands of the 21st century.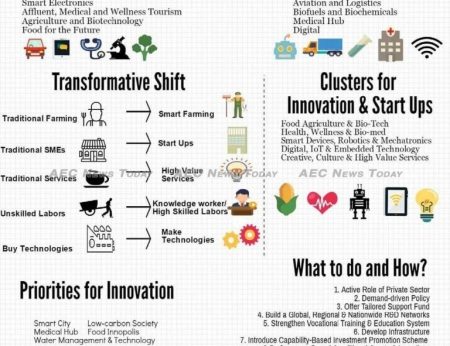 The main areas of focus are in the food, agriculture, biotechnology, healthcare, biomedicine, smart devices, robotics, automation, digital industry, internet of things (IoT), better technology, culture and creative industries, as well as a high-value services sector.
Under 'Thailand 4.0' there is no room for labour intensive, manual processes.
By pushing forwards towards 'Thailand 4.0', the country hopes to attract more foreign investors and entrepreneurs to innovative industries, such as automotive, robotics, and aerospace by handing out tax and non-tax incentives under the recently amended Investment Promotion Act (No. 4).
Thailand's Board of Investment (BOI) will be given the discretion to exempt foreign companies from corporate income tax for up to 13 years, and companies looking to establish their presence in Thailand will not be subjected to import duties for research and development (R&D) products, raw materials and machinery.
That said, a highly-digitalised economy requires a lot of skilled workers – something that Thailand is short of. The government is trying to overcome the shortage of skilled workers by constantly reforming its education system, but reforms take time to bear results.
The more pressing concern, is the matter of demographics. Will there be enough Thais to support the shift towards 'Thailand 4.0', by the time the government has managed to settle its' reform agenda?
With some 17 percent of its population already aged over 60, and only 31 percent aged under 24 and decreasing birthrates makes 'Thailand 4.0' not only necessary, but imperative for the kingdom's survival.
Take as an example, Thailand's agricultural sector, where government spending has dropped from 0.9 per cent of total expenditure in 1994, to 0.2 per cent in 2017. However, increasing productivity by buying modern farming machinery is largely out of reach for the average Thai farmer, who earns around Bt56,450 (about US$1,700) a year.
The 'Thailand 4.0' shift promises a sixfold increase in annual income for farmers to about Bt390,000 (US$11,000) per year.
The government has recognised the need to jump start public private partnerships (PPPs) with banks as well as education and research institutions. The importance of improving telecommunication infrastructures to link start-ups and small and medium enterprises (SMEs) to the market is a major focus with the Pracharat internet connectivity project said to have connected more than 11,500 villages across the country to the Internet already.
Although five agenda items have been defined to prepare the country for the new economic development, the question that remains is, will it be enough to carry Thailand over and into the Asian Century?
Feature image Royal Thai Embassy, Washington D.C/ Thailand Ministry of Commerce (MoC)
Related:
The following two tabs change content below.

Leakhena Khat
Leakhena is a junior journalist at AEC News Today who is also currently studying International Relations, which she finds adds perspective to her work reporting on the Asean Community.
"I love what I am doing so much as it gives me a lot of great experience and provides challenges to my mind.

Latest posts by Leakhena Khat (see all)