Advertisement

The Laos garment industry has been on the decline for the past five years. The value of exports increased from US$87 million in 1995 to a peak of $219 million in 2011, before gradually falling to $174 million in 2015. The share of garments in total exports also declined from an average of 36 per cent during 2001 and 2005, to only eight per cent during 2011 to 2015.
Foreign direct investment (FDI) in the garment industry has also fallen significantly from a total value of $65 million during 1991–2000 to $29 million during 2001 and 2010 and less than $10 million during 2011 to 2015. So what explains this decline?
The Laos garment industry has been losing its competitive edge. The revealed comparative advantage (RCA) index of the Laos garment industry decreased from an average of 13 during 2001 to 2005 to just four during 2011 to 2013 due to the emergence of other major export commodities from Laos PDR such as mining, electricity and electronic parts. Although the RCA remains above one (meaning that Laos garment industry still has a comparative advantage), its decline signals that the industry has lost competitiveness over time.
Declining demand in the world market is one of the key reasons for the slowdown. The majority of the Laos garment industry provide cut, make, and trim (CMT) services and are usually sub-contractors of other larger companies, often located in neighbouring countries. The size of the Laos garment industry is much smaller than its neighbouring competitors.
Most Laos garment industry base production quantities on export demand. So the slowdown in European economies and other markets has led to a decrease in orders for the Laos garment industry. In addition, the Association of the Lao Garment Industry (Algi) suggested that the European market not only makes fewer orders, but demand has also recently shifted towards cheaper products.
Labour Shortages & Low Productivity Plague Laos Garment Industry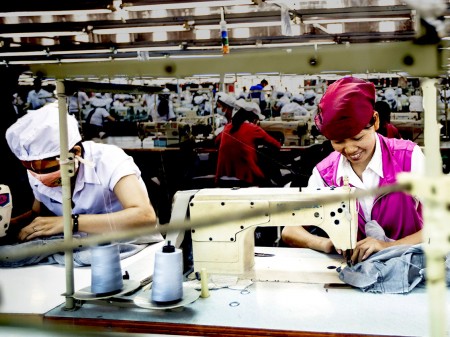 Labour shortage is another major bottleneck in the industry. A major increase in Thailand's minimum wage in 2012 has made the Thai labour market very attractive for workers from neighbouring countries, including Laos. There has also been an increase in competition for labour from other sectors in the domestic economy, such as the booming services sector as well as other manufacturing sectors, particularly those in Laos' special economic zones. This has made it more difficult for the garment industry to find and retain labour, especially in major manufacturing hubs.
Low labour productivity in the garment industry has translated to a higher unit production cost. Laos' minimum wage in nominal terms is quite competitive in the region, but labour productivity in the garment industry is significantly lower than that in neighbouring countries. So when labour productivity is accounted for the implied real wage is considerably higher, making the profit margin quite thin. This is especially so for the CMT-based factories in which wages cover more than half of their production costs.
The Lao garment industry also lacks supporting industries. The majority of inputs are sourced from overseas, usually through their parent companies, contractors or buyers. Carton boxes are the only input that can be found domestically.
The lack of domestic inputs limits the possibility of backward linkages. The small scale of the Laos garment industry coupled with the lack of experience and capabilities in the private sector have locked Laos garment factories into simple CMT services with little scope for them to integrate into regional and global supply chains. This lack of supporting industries has hindered expansion.
What can be done to support Laos' garment industry? The immediate measure is to mobilise more labour, especially by promoting the movement of labour from the agricultural to the manufacturing sector. Wage premiums between the agriculture and manufacturing sectors will need to be sufficiently high to attract such movement.
Increasing wages alone will place a higher burden on the industry. The government therefore needs to provide additional support to improve the labour productivity and to educate industrial workers about labour standards and expectations for behaviour
The Laos garment industry needs to increase its cooperation with regional garment producers — especially larger companies located in Vietnam, Thailand and Cambodia — so that it can grow together with the region. This subregional market would be better treated as a single integrated production block with a clear division of labour based on each country's strengths and limitations.
This article was written by Vanthana Nolintha, a Researcher at the National Economic Research Institute (Neri) in Laos. It first appeared on East Asia Forum under a Creative Commons license and is reproduced here with its permission.
Related: 
The following two tabs change content below.

East Asia Forum is a platform for analysis and research on politics, economics, business, law, security, international relations and society relevant to public policy, centred on the Asia Pacific region.
It consists of an online publication and a quarterly magazine, East Asia Forum Quarterly, which aim to provide clear and original analysis from the leading minds in the region and beyond.

Latest posts by East Asia Forum (see all)