Advertisement

An undercover sting operation by Indonesian police in the Central Java province of Sukoharjo has led to the arrest of a suspected dog meat trader said to be at the centre of the dog meat trade spanning the island of Java for more than 20 years and saved 52 dogs from Javanese cooking pots and barbecue grills.
The dogs are currently in the care of Humane Society International (HSI) and Dog Meat Free Indonesia (DMFI), who police notified of the raid before it occurred, enabling the organisations to have people on-hand immediately to care for the dogs.
A media release issued by HSI, says that the Sukoharjo police had infiltrated a dog trafficking operation in Java in order to move in on the dog meat trader and dog butcher.
According to HSI, this one individual is suspected of coordinating shipments of hundreds of dogs for slaughter every month, killing on average 30 dogs every day.
When the truck arrived at the dog meat slaughterhouse armed Indonesian police swooped, in what was the country's first ever large-scale police raid on an illegal dog meat slaughterhouse.
Inside the truck the rescuers found 53 dogs, most less than one-year-old and all individually bound and packaged in sacks, some with mouths bound shut. One dog was dead.
Family pets snatched from the streets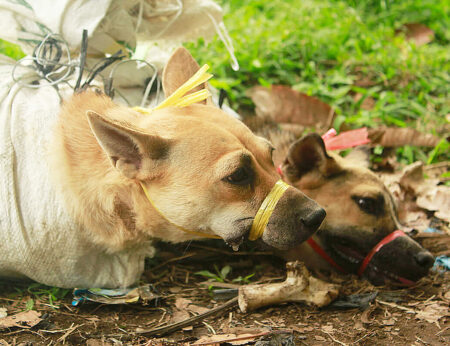 Lola Webber, from HSI (a DMFI coalition member group) was present when the raid took place and said, "all of the dogs were extremely traumatised and frightened.
"Many of them were still wearing collars, and were no doubt many miles from home, likely stolen pets grabbed from the streets. They will have endured the most horrific and terrifying journey, thrown in the back of a truck to be taken to this disgusting and filthy slaughterhouse where they would have been bludgeoned over the head and had their throats cut".
Ms Webber said the DMFI coalition member group was "immensely grateful to the authorities for taking action", noting that this is only the second major dog meat trade bust by the police in Indonesia.
Dog meat consumption prohibited by Islamic law
The realities of the dog meat trade in Indonesia are disturbing and confronting at this North Sulawesi Live Animal Market. This video may disturb some viewers. Viewer discretion is advised
Video Dog Meat Free Indonesia

Head of of the Criminal Investigation Unit at Sukoharjo Police, police chief inspector (AKP) Tarjono Sapto, said "we receive many complaints about illegal dog meat traders' operations. People do not want this trade or slaughter in their communities. Dogs are friends, not food, and the trade is already illegal and is strictly prohibited (haram) by Islamic law (sharia)".
Explaining that "dog meat consumption is considered culture by some", AKP Sapto added, "but cultures evolve and so must we. We initiated this interception and confiscation to protect our communities and to support the Central Javan government's efforts to eradicate the dog meat eating culture and trade".
The DMFI coalition has conducted numerous investigations since 2016, exposing the brutal reality of the trade in dogs destined for human consumption. Every month, tens of thousands of dogs are transported across Indonesia, jeopardising anti-rabies measures because of the dogs' unknown disease status
Jeopardising rabies-free status
Karin Franken from Jakarta Animal Aid Network, who also attended the raid, said "rabies is a grave concern in Indonesia. Central Java is one of only eight provinces declared rabies-free. Cities and regencies such as Solo, where thousands of dogs are slaughtered and sold in local restaurants every month, are jeopardising their rabies-free status and the health of the communities by allowing this trade to continue.
"A zero-tolerance approach by the authorities is absolutely vital to protect citizens from the public health risk posed by the dog meat trade and we need other regencies and provinces across Indonesia to follow this lead", she added.
HSI said the 52 dogs rescued from the slaughterhouse received emergency veterinary treatment from the DMFI team before being relocated to DMFI's temporary shelter 'where they will receive loving care to get them back to health'.
While the chances of being able to reunite the dogs with their families is slim, DMFI will make local appeals.
For those that can not be reunited with their owners HSI said it is hoped that some will be adopted locally by Indonesia's passionate dog-loving community, while others will be flown to HSI's temporary shelter in Canada, from where the organisation hopes to find them forever homes.
Across Asia opposition to the dog and cat meat trades is increasing, with an ever-growing number of countries and territories (Taiwan, Hong Kong, the Philippines, Thailand, Siem Reap province in Cambodia, and two major cities in mainland China) banning the trade in and slaughter, sale, and consumption of dogs.
Those interested in assisting in the medical treatment, rehabilitation, and rehousing of the dogs can donate to a special HSI appeal here.
Feature video Humane Society International (HSI)
Related: 
Dog meat: First Cambodian province bans sale and consumption (BBC)
Shutting Down the Dog Meat Trade (Humane Society International)
Authorities Just Rescued 53 Dogs Tied Up in Sacks on the Way to a Slaughterhouse (Vice)
Police in Indonesia intercept a notorious dog meat trader, saving 53 terrified dogs awaiting slaughter (Dog Meat Free Indonesia)
Cambodia's silent wildlife slaughter for bushmeat risks zoonotic crossovers (Asean News Today)
Sukoharjo dog meat rescue slide show
Gallery slideshow photos: Humane Society International (HSI)